Being the huge gremlin that I am, the first thing I did after firing up the Alienware m15 R7 was install Final Fantasy XIV. Not the most graphically demanding game to test a laptop that'll run you a cool four grand, I know, but it's also where I spend most of my PC gaming time, so it seemed an apt first dance. Is an RTX 1060 a little overkill for a game where a GTX 970 is the recommended spec? Probably, but what can I say: I could get used to playing on max settings at upwards of 100fps—I'm not exactly a "frame rate above all" kind of person, but if I'm going to spend a couple of hours a day in a fantasy world, it may as well be as comfortable and pristine as it can.
But for something more fitting, I took the m15 R7 for a spin on some more intensive games: Microsoft Flight Simulator, Forza Horizon 5, and Halo Infinite. At 1080p—the max resolution for the review unit's screen, though you can pay a little extra for a 1440p display—handled all of them with ease, rarely dropping below 60fps even on the highest presets available. You can squeeze some more out a bit of setting fiddling or by dropping to a lower preset for a pretty negligible drop in graphical quality; either way, the games look good, and run beautifully. There's a breakdown of some performance tests below, but in short, I don't think there's much you could throw this laptop's way that it wouldn't be able to take in stride, and probably for a few years to come.
| Game | Preset | P95 | Avg | P1 |
| --- | --- | --- | --- | --- |
| Final Fantasy XIV | Max (questing) | 156.4 | 123.7 | 87.1 |
| | Max (alliance raid) | 104.7 | 96.2 | 76.9 |
| Microsoft Flight Simulator | High | 94 | 76.5 | 48.8 |
| | Ultra | 77 | 61 | 46 |
| Forza Horizon 5 | Ultra | 90 | 82.3 | 71.7 |
| | Extreme | 80.7 | 66.4 | 51.2 |
| Halo Infinite | High | 77.6 | 62.2 | 42.3 |
| | Ultra | 94.3 | 54.9 | 35.8 |
FPS recorded using CapFrameX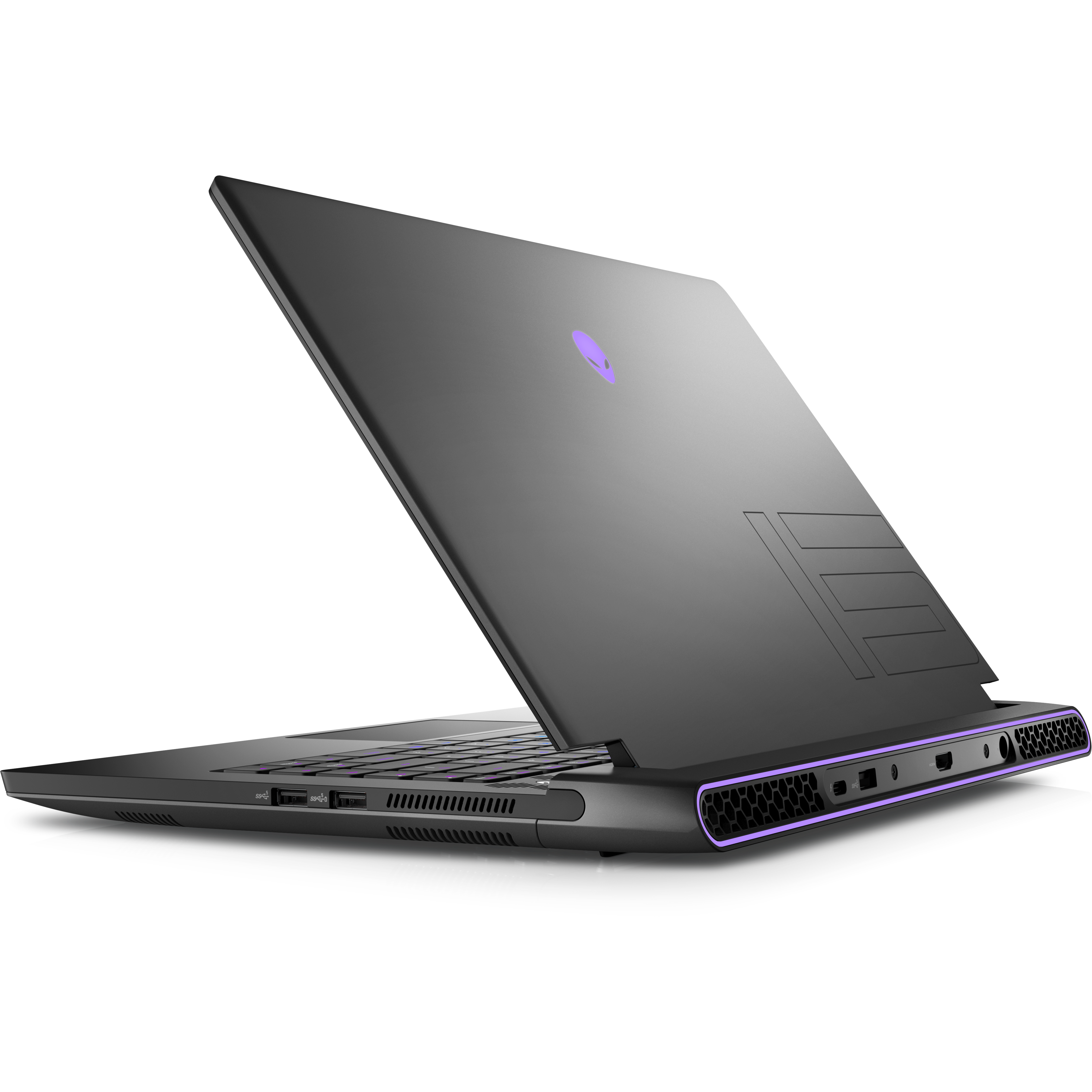 The review unit I tested packs an RTX 3060 GPU and 12th Gen Core i7-12700H CPU, though it's worth noting that the m15 R7 has RTX 3070 Ti and 3080 Ti configurations available too, if you want even more power. The 165Hz full HD screen makes the most of that hardware, with the space for less demanding games (or with lower settings) to easily run in excess of 120fps with room to spare. Again, Final Fantasy XIV—I was getting the 90s in the most effects-heavy 24-person raids, but easily capped out at 165fps in quieter moments like Island Sanctuary. The screen itself looks great, too: a crisp, clear display with rich colours and smooth, G-sync-assisted refreshing. (And for those who want to kick it up a notch, there's a QHD 240Hz option, too.)
But all this power comes at a cost—in a literal sense, with prices ranging from NZ $3,000 to $5,900, depending on configuration—but also in terms of battery life, heat, and fan noise, as you'd expect. I was actually pleasantly surprised at how effective the m15 R7 is at managing its temperature: it gets hot under a high load, but the cooling system and sheer number of fans do a good job of dispersing that heat. The main vents are at the back of the system's body, expelling most of the heat in a place where it's not going to be uncomfortable, with additional vents just above the function keys and on the underside of the chassis. Crucially, the system does an excellent job of keeping the heat away from points of contact—I've used a few gaming laptops that get hot under the keyboard or palm rest, which isn't exactly comfortable, but that's not an issue here.
Battery life is the bigger issue, if not an unexpected one. High performance chews through power, and a 6 Cell, 86 Wh battery can only do so much. Playing less demanding games on low settings, with battery saver mode enabled, I'd generally get around an hour to an hour and a half of play. More demanding games cut that shorter, and non-game use can run a little longer, but the longest stretch of unplugged use I got—just browsing and doing office work—was around 2.5 hours. So while you can play a short burst off the battery in a pinch, it's generally not practical—you're going to be plugged in most of the time. That's par for the course with gaming laptops, but a bigger battery (or at least the option of one) wouldn't hurt.
Storage space can also be an problem, depending on configuration. The review unit had a 512GB SSD, which is the only option for the RTX 3060 build; put bluntly, that's just not enough for the sorts of games that benefit from a system like this. The games that justify these sorts of specs are generally going to take up 50GB apiece, minimum—Flight Simulator alone is upwards of 120, depending on what add-ons you want to install. With Windows taking up a decent chunk, too, you realistically have space for three or four "big" games at a time, tops. A 1TB hard drive feels like a necessity, and to not even have it as an option for the 3060 config is disappointing.
In terms of build, the m15 R7 sports a sleek, solid design. The body has a modern, relatively understated finish with a slight touch of that Alienware sci-fi feel in the honeycomb vents above the keyboard and the ring of RGB lighting that surrounds the rear panel. It feels sturdy and durable; at 2.5ish Kgs, it's a little on the heavy side, as gaming laptops tend to be, but it doesn't feel excessively bulky. Don't expect the portability of an ultralight laptop, but it's not too much of a hassle to move from room to room with. Lugging it around for any extended period of time is a bigger ask, not so much because of the laptop itself but the absolutely enormous power brick it comes with—this thing is huge, and weighs close to a kilogram on its own. And given the battery life, you're always going to need to have it nearby
The same lighting adorns the keyboard, underneath each key—nothing overboard, but just a nice, "classy futuristic" vibe that suits the whole design well. The keyboard itself is nice to use, with low-profile keys that are nonetheless decently responsive, and a spacious, comfortable layout. It's also got a column of dedicated media keys disk the right edge, which is always welcome. The trade off, though, is a lack of numpad—and as a dedicated numpad user for both typing and game shortcuts, I found this tough to get used to. It'll all come down to personal preference, really; what you lose in the numpad you gain in a more comfortable, less cramped keyboard layout and media keys. A compromise, but not the worst one in the world.
I'm less forgiving on the trackpad, though. It's awkwardly placed, just slightly too far to the left, in a way that both makes it uncomfortable to use and means you don't have much palm rest space for the left hand. I don't think I have unusually larger hands, but I couldn't fit my whole palm in that space without at least partially resting on the angular edge of the body, which gets more than a little uncomfortable in extended past sessions. The trackpad itself is good enough, though the seamless buttons—not an unusual design, in and of itself—are a little inconsistent; pressing too close to the middle, even while firmly within the right half, would get me a left click as often as it did a right. Most people would probably be using an actual mouse most of the time, but it's an uncomfortable, slightly annoying trackpad when you do need to use it.
The m15 R7 has a decent array of connection points: three USB-A ports, one USB-C, an HDMI out, an ethernet port, and a headphone jack. It's a good spread, especially at a time when a lot of laptops are cutting down on USB ports, and they're all positioned in a way that's convenient but not in the way: HDMI, one USB-A, and one USB-C out the back, two more USB-As on the right, and the ethernet and headphone jack on the left. The HDMI-out is handy for dual-screening, as always, and it's not too shabby for big-screen gaming when hooked up to a 4K TV—though you'll want to be wary of heat if you close the lid, as that'll block some of the vents. There's also a built-in webcam, albeit a fairly standard, low-resolution one—fine for the odd video chat, but not something you'd want to use for anything where video quality is of particular concern.
Verdict: The Alienware m15 R7 gives you a lot of power in a sleek package, with the option of an RTX 3080 Ti if you really want to go all out. A few little design oversights can be mildly annoying, and short battery life means you won't get far trying to game unplugged, but that's the trade off for a powerful machine that can easily handle anything you throw at it. It's not cheap, but if you want max-spec gaming in a semi-portable form, the m15 R7 has the goods—just make sure to get go with the 1TB hard drive if you don't want to spent half your time uninstalling stuff.
---
How I tested the Alienware m15 R7
I used the Alienware m15 R7 as my primary computer for daily gaming and work over a four-week period, across many hours of Final Fantasy XIV (as always), and a few hours each with Forza Horizon 5, Microsoft Flight Simulator, Halo Infinite, Power Wash Simulator, and Cult of the Lamb, among others. The laptop loaned to me for reviewing purposes.