Koei Tecmo and Kou Shibusawa have unveiled some of the new tools players will be able to use in their quest to unify Japan in Nobunaga's Ambition: Awakening: Province War Tactics and castle support.
With Province War Tactics, regents appointed to allied provinces will sometimes propose new strategies, with different scenarios unfolding depending on the ability of the regent in question. Tactics available include:
joint offensives, with all troops marching towards the same target as the daimyō province
ranging attacks, where provinces attack multiple castles of the same enemy clan all at once
bolster, where troops in the rear send soldiers to the allied units in the frontline
feint, where troops march near enemy borders, luring them out of their castles to create opportunities for an allied units' attacks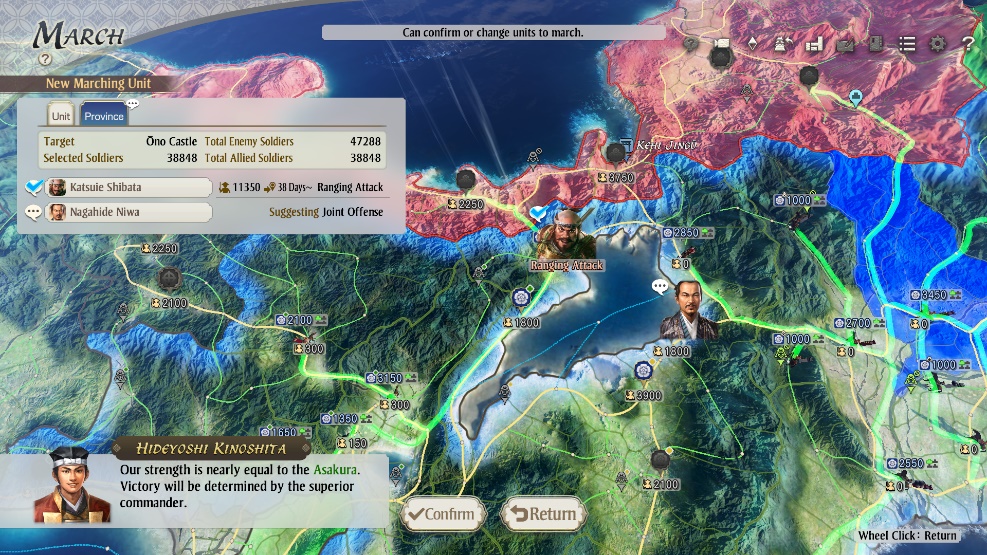 Another new feature is the ability to assign roles to castles, specialising their functions within the player's empire and opening new strategic possibilities. For example, a castle deemed to be a "defensive base" can help prepare for a siege, and a nearby "assistance base" can send additional troops to help weather the attack.
Nobunaga's Ambition: Awakening is the latest in a series that's been kicking around since 1983, when the original Nobunaga's Ambition helped cement the foundations of the grand strategy genre and Koei's place as a developer worth paying attention to. Each game sees players trying to unify Japan during the turbulent Sengoku era, and while the setting and overarching goal are the same, each iteration introduces new mechanics, tactical options, and scenarios.
Nobunaga's Ambition: Awakening is due out on 20 July 2023 for PlayStation 4, Nintendo Switch, and PC.