Before Final Fantasy Tactics, there was Tactics Ogre. It's hard to overstate the significance of Yasumi Matsuno's Super Famicom epic—not just in how heavily its ideas drove the iconic FF spinoff, but in how it influenced a whole breed of tactical RPGs. Even if you set that legacy aside, Tactics Ogre is just a damn good game in its own right, among the best of its genre. And with some thoughtful tweaks that both modernise and bring the game closer to the vision of the SFC original (than the 2010 PSP remake), Tactics Ogre: Reborn is the best way to experience something so noteworthy.
Let's start with the story, because that's one thing that remains—rightfully—untouched. Anyone familiar with Matsuno's work will understand his fascination with fantasy war stories that are full of political intrigue, scheming personalities, and above all, humanity. Tactics Ogre is no exception, and in a way, it's where Matsuno's particular narrative style really found its feet: a tale of a bloody, messy war that, for all its twists and machinations, puts the human cost of that conflict at the centre. It's a nuanced exploration of what drives people to war—be it a sense of duty to a lord, the desire for change, or mere circumstance—in a world divided along class, religious, and ethnic lines. So too is it about the weight of those decisions, on a personal level as much as a political one. There's no good or evil in Tactics Ogre, just people who all judged their own ideas about how best to remake a broken world. It's a fascinating and thought-provoking journey to undertake.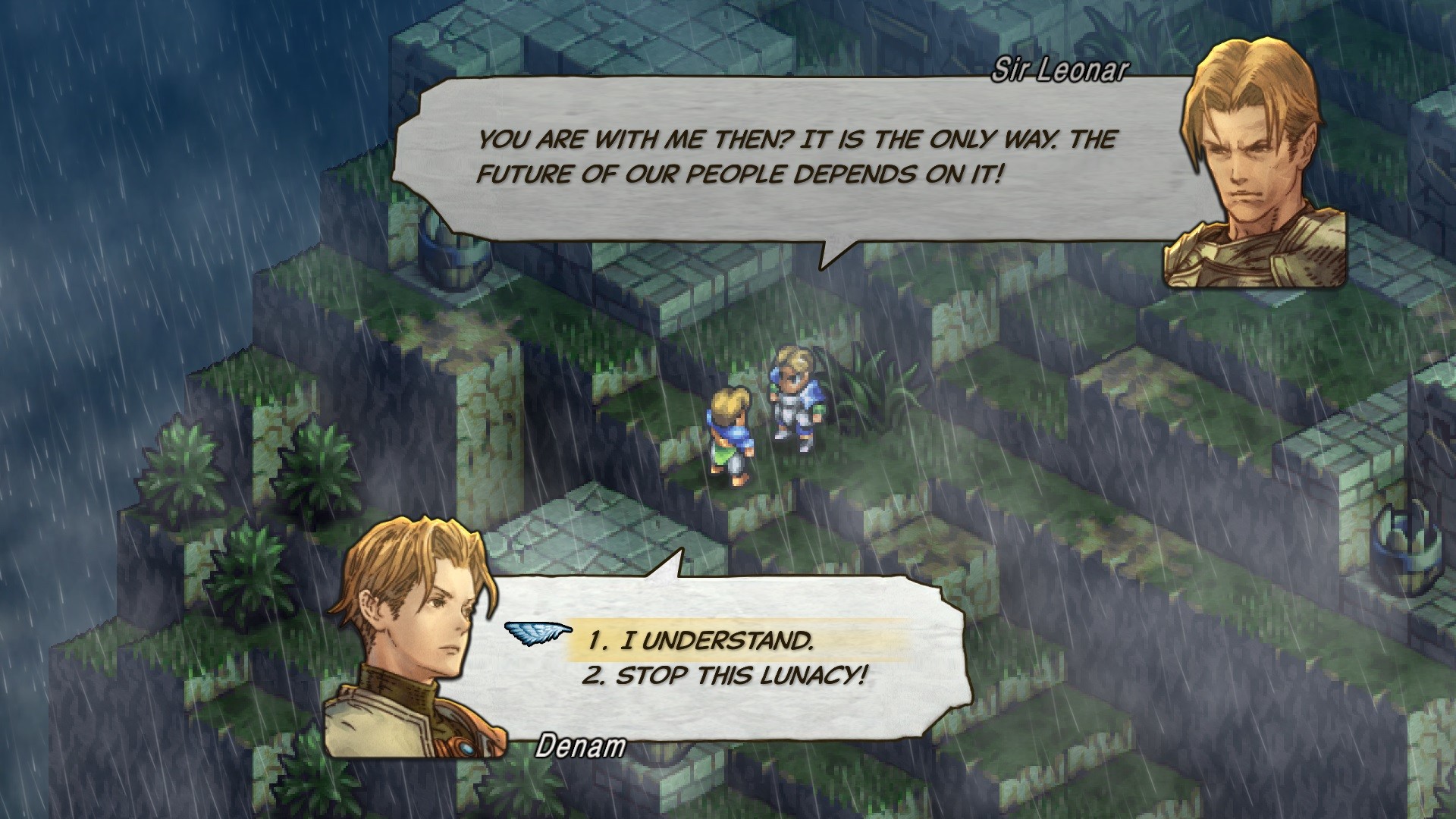 Against this backdrop, the original Tactics Ogre raised the curtains on its chess-like battles played out on the isometric maps that are now so familiar. Things like terrain elevation, arrow trajectories, and unit facing became crucial considerations, with a wealth of different characters classes to unlock, each with their own quirks and unique capabilities, taking those tactical possibilities to impressive depths. It's a format that found success in everything from Matsuno's own Final Fantasy Tactics to the unlikely mashup of Pokemon and Nobunaga's Ambition in Pokemon Conquest—like I said, the influence of Tactics Ogre can't be overstated.
The gripping story and tactical possibilities haven't changed since Tactics Ogre's earliest incarnation, though the PSP remake—upon which Reborn is based—made sweeping changes in the details. Completely reworked levelling, equipment, and skill systems made party management both more customisable and more complex. At the same time, it made some of the more brutal aspects of the original more forgiving: characters could survive a few "deaths" in battle before being permanently killed off, and even gave you the option to rewind a few turns in battle if things don't go your way. Perhaps most notably, this version also added the "World Tarot" system: after completing the game once, you could return to certain anchor points in the story to explore different branches with your current party, rather than having to start a new game.
The rewind and World Tarot tools remain thankfully intact in Tactics Ogre: Reborn, with all the convenience they bring. But many of the earlier remake's other changes have been revamped again, in a way that cuts a little closer to the original game. Character levels are individual once again, instead of class-wide as they were in the remake. Skill and equipment management still plays a vital role in building your party, but without stat requirements or the need to grind skill points, there's more room to experiment with the system. Characters who fall in battle don't die instantly; as in the remake, you've got a few turns to revive them while they're incapacitated, but if you fail to do so, they're dead—permanently, without the leeway of "Life Points" that Tactics Ogre 2010 had.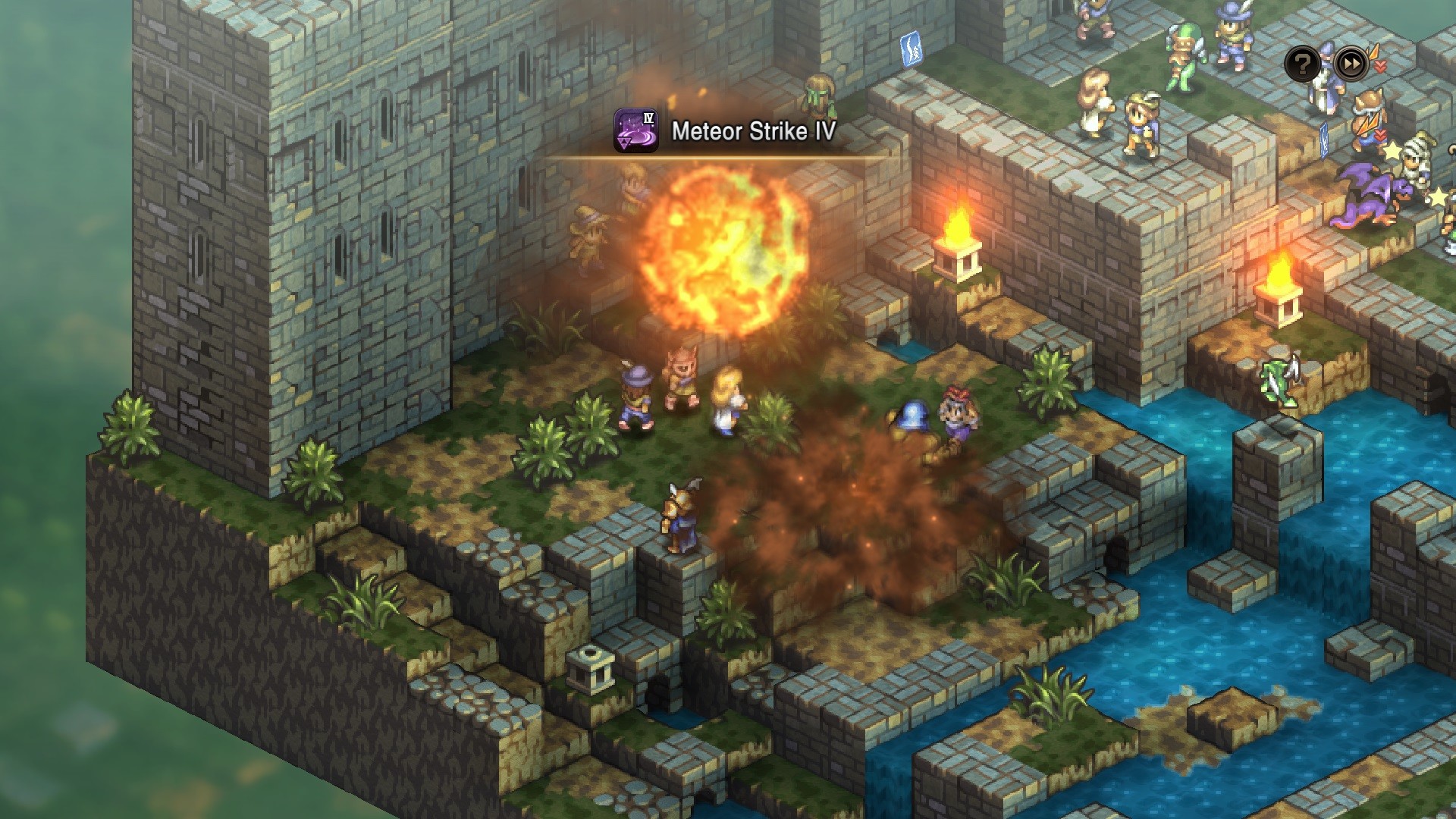 On top of that, Tactics Ogre: Reborn makes a raft of other little tweaks. Some are simply for convenience: you can now see a trajectory preview with ranged attacks, for instance, which comes in extremely handy in a grid-based game where characters' lines of sight aren't always clear. The option to save five different preset battle parties and scout the map before a battle starts help a lot with making sure you're well prepared for the fight ahead. Random battles are no more, and in their place, you can undertake training battles at will when you want to farm experience.
Other changes are more transformative. Buff cards now randomly pop up on the battlefield throughout the battle, conferring generous boosts to attack power, magic, MP recovery, or skill activation chance for whoever picks them up. These cards can dramatically turn the tide of battle, especially since they can be stacked: a couple of attack cards can turn a mediocre fighter into a killing machine; a couple more, and they'll kill just about anything they touch in one hit. As such, these cards can have a heavy influence on tactical decision making—in terms of both the cards you go out of your way to collect, and stopping foes from picking up ones that could prove disastrous—and add a degree of unpredictability to a battle system that's already quite scrappy.
The other big change that comes along with the (old) new levelling system is a party-wide level cap: no unit in your team can exceed your "Union level", which increases at preset points through story progression. The result? Power-levelling and overcoming the game's challenges through brute strength isn't an option. Instead, each battle is hard-fought and tense; even when your whole team is at the cap, you can expect most fights to pose a fierce challenge. Things won't go your way, and you'll need to find ways to adapt when things go awry. It can feel a little overwhelming at times, but the options available to you at any given time mean nothing's ever a foregone conclusion. No matter how banged up you get, there's always a way to scrape out a win.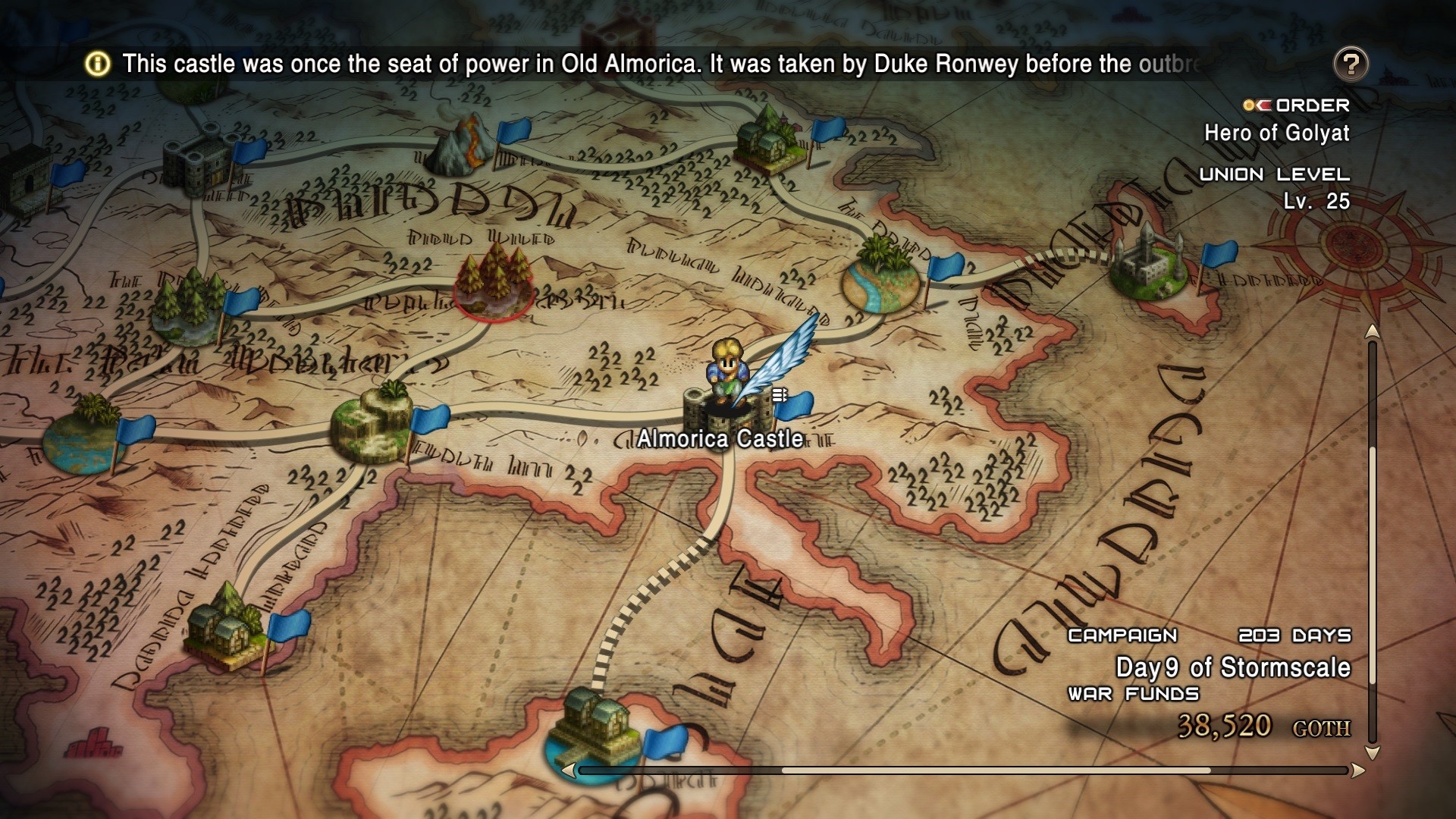 And it's that that really makes Tactics Ogre: Reborn stand out, even from earlier versions. A lot of tactics games are puzzle boxes that encourage you to concoct elaborate solutions to problems and then put those plans into action with medical precision. Tactics Ogre is more along the XCOM route: you can and should do everything you can to prepare, but things will go wrong, and the excitement is in how you deal with those situations. The level cap, buff cards, and threat of permanent death make each fight intense and dynamic, while things like the rewind tool and revamped character growth systems give you the space to explore different possibilities. It's a finely-tuned balance between player freedom, challenge, convenience, and a thematically-fitting sense of risk and tension.
There's been more attention given to the updated graphics of Reborn than a lot of Square Enix's other retro remasters that often slap an upscaling filter on and call it a day. Character sprites are higher resolution versions of the PSP ones, but still in a pixel-art style, and they retain the style and personality of the originals. Character portraits look great in HD, too, and the revamped UI is clean, crisp, and easy to use. Some maps do still show their age a little, if only in the heavy reuse of assets—a product of the technical constraints of the very first version, and the desire for the subsequent remakes to reproduce those maps accurately.
The biggest downside with Tactics Ogre: Reborn is the voice acting. A fully-voiced script should be an exciting feature, but—despite a lot of talent across the voice cast—most performances are dry and stilted, with a few that verge on excruciating. (Vyce is a particularly egregious example: an intentionally annoying character, but with a voice performance that takes that particular character flaw past the point of farce.) On the other hand, a rearranged orchestral soundtrack is simply gorgeous, perfectly setting the backdrop for a tale that often feels like a Shakespearean tragedy playing out across a theatre stage.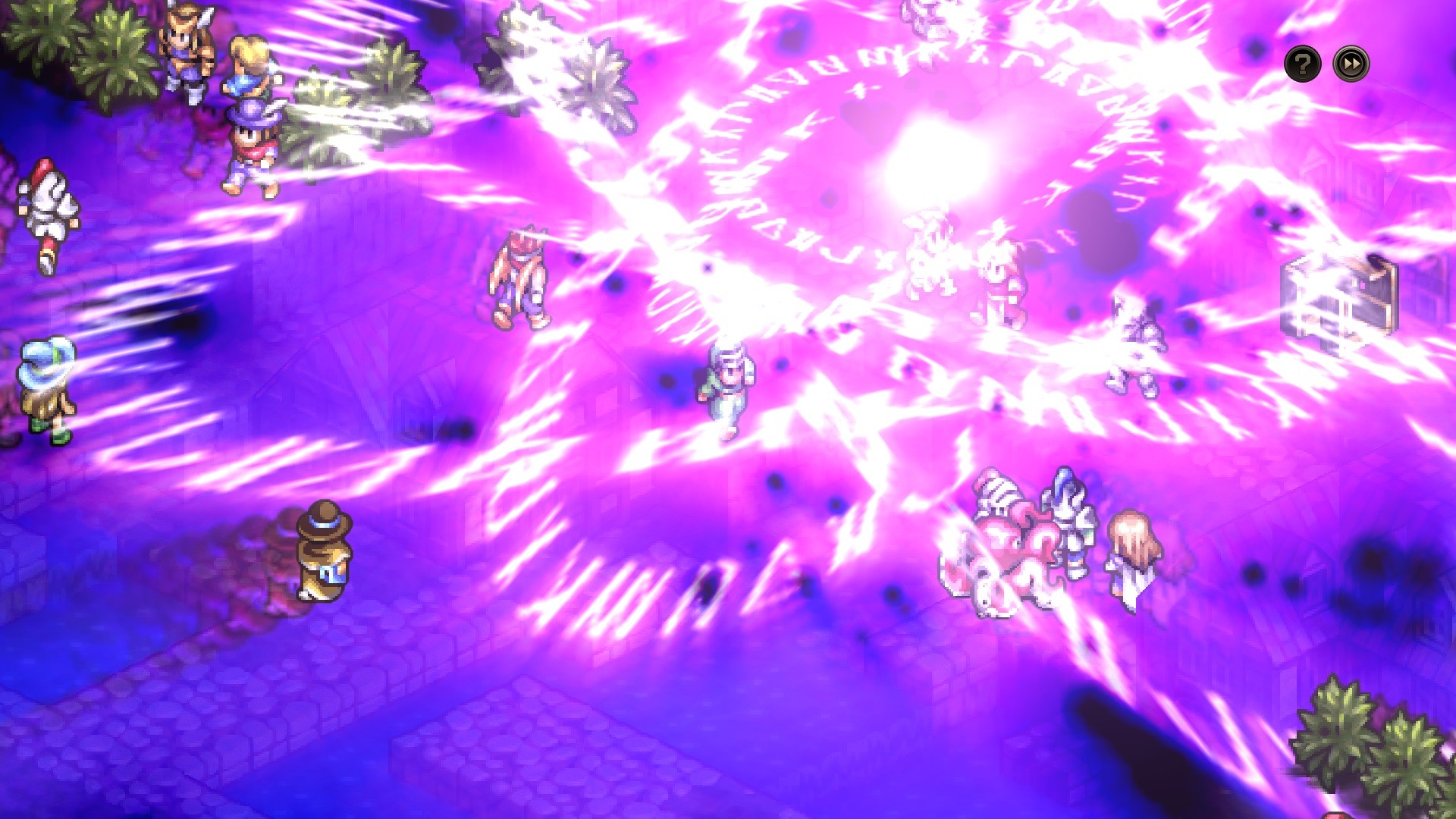 Voiced dialogue aside, Tactics Ogre: Reborn is easily the definitive version of a classic game that's been through a few very different iterations. Instead of stopping at a graphical overhaul and some quality-of-life features, it reimagines a lot of the game's core systems in a way that strikes a fine balance between the thematically-fitting brutality of the original and the depth and tactical freedom of the PSP remake. There's no better way to revisit the legacy of Tactics Ogre than this.
---
Tactics Ogre: Reborn
A review copy was provided to Shindig by the publisher.