Tiny Tina's Assault on Dragon Keep is one of the better things to come out of Borderlands. Turning the over-the-top, irreverent sense of humour of the main series into a gun-toting parody of Dungeons & Dragons is a lot of fun—arguably even more so than the original games. In that light, it seems only right that the diminutive little Bunker Master to bring her "Bunkers & Badasses" shtick into a full game spinoff. Enter Tiny Tina's Wonderlands, another zany, laughter-filled—but one that also proves that sometimes, going bigger isn't necessarily better.
At heart, Tiny Tina's Wonderlands is a Borderlands game, driven by the same foundation of a comedy-driven loot shooter. Almost everything in the game seems designed to set up some gag or another, from silly weapon names and thematically-appropriate but goofy enemies ("Mortar Shroom" is exactly what it sounds like), to the frequent banter between party members, to the slapstick way that just about every story beat unfolds. It's a game that wants nothing more than to get a laugh out of you by any means necessary, and anything that can be turned into a joke is.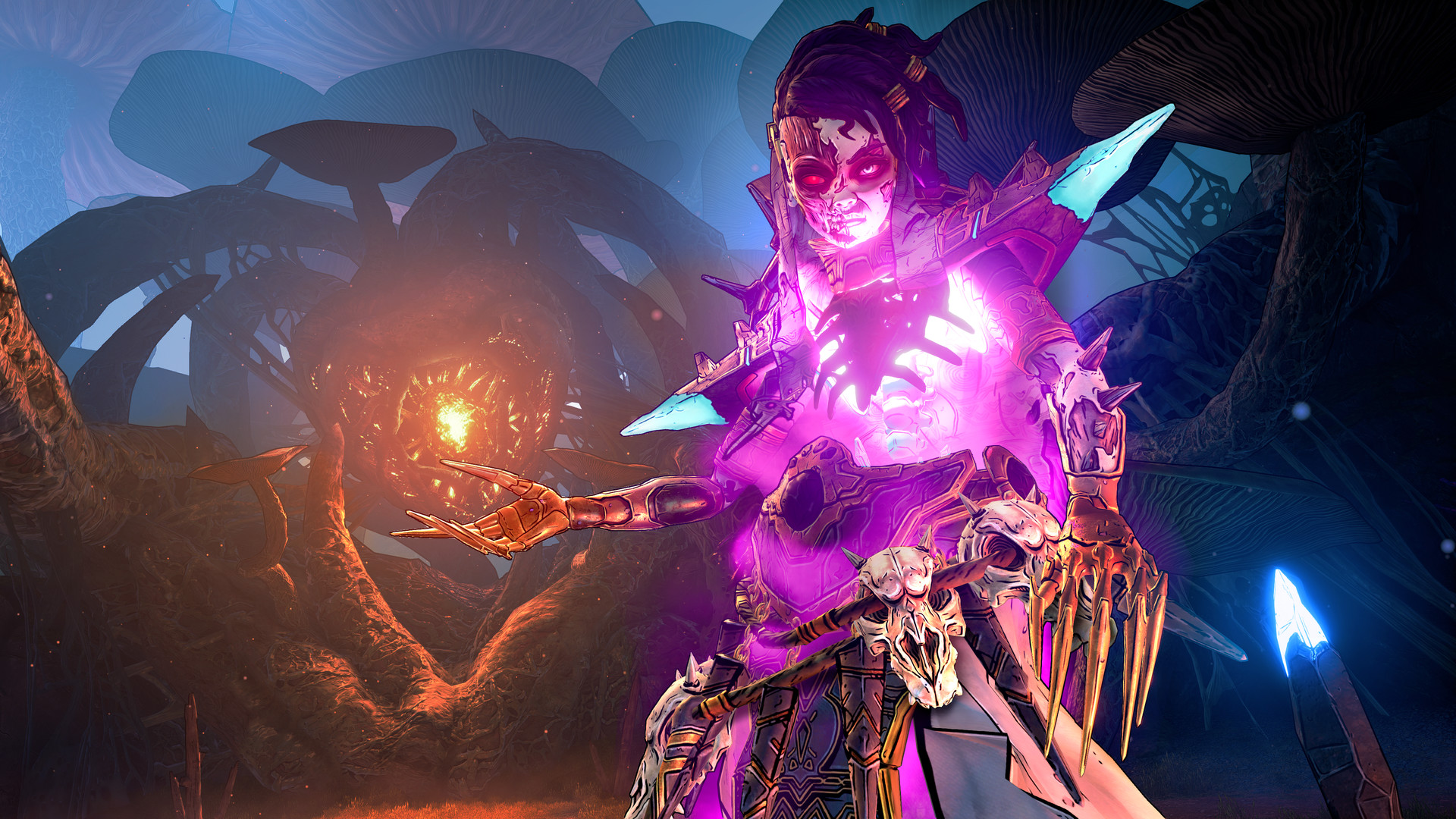 Without a doubt, it's at its funniest when it ramps up the tabletop gimmick. Tiny Tina is a terrible dungeon master, and the ridiculous events that emerge from her scrambling to patch over plot holes (or try to pretend that a Cheeto she dropped on the table was a planned part of the campaign all along) are some of Wonderlands' best moments. The game is played from the perspective of your character's Bunkers & Badasses character, but the wall between game wall and the "real" one is paper-thin, at best, with out-of-character dialogue and Tina's eccentric style of DMing constantly disrupting—deliberately and hilariously—the unfolding adventure. It's also a chance for Borderlands-style riffs on fantasy and classic RPG tropes, and if that means a whole sidequest built around a senile old knight fighting a castle that he thinks is a cyclops, I'm here for it.
Related: For a less comedy-driven homage to tabletop games, Voice of Cards is a must play. Check out our review of the second game in the series, The Forsaken Maiden.
But the onslaught of jokes is so constant and unrelenting that they start to lose impact before long. The sheer volume of gags mean some will land and some won't; that's pretty much Borderlands' MO, and while it isn't necessarily a terrible thing if the balance at least skews in favour of funny (which it does, mostly), overexposure means even the good jokes start to lose their edge over time. The early moments of the game are genuinely laugh-out-loud funny, but that turns to mild chuckles once the novelty starts to wear off. That said, there are a handful of moments that are so unexpected and comically bizarre that they still manage to the spot, even much later in the piece.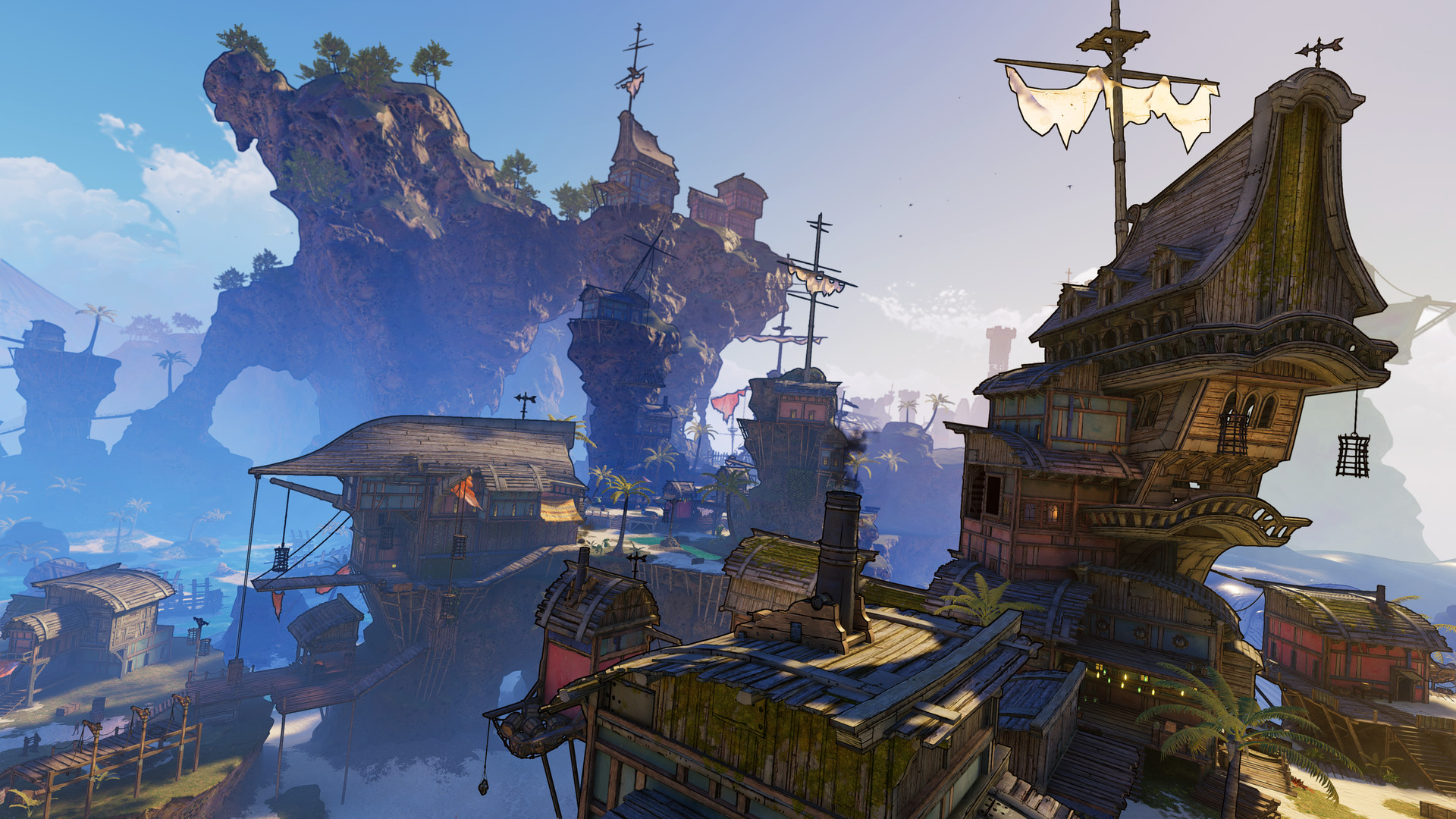 The fantasy setting doesn't hold Tiny Tina's Wonderlands back from the other pillar of Borderlands: big, ridiculous guns. When Tina's your bunker master, "they shoot Magic Missiles" is reason enough to have all manner of assault rifles, SMGs, shotguns, sniper rifles, chain guns, and grenade launchers. The variety available is impressive, and even within the same class, different bonus effects, firing modes, and the unique quirks of different manufacturers' firearms cater to a wide range of different playstyles and builds. And if you're not happy with your current loadout? Don't worry, there's a constant string of new weapons dropped by slain enemies and from the many, many chests scattered about—Wonderlands really turns up the "looter" part of "looter shooter".
While guns are the clear focus, Wonderlands does at least try to keep a bit of the fantasy element with the introduction of melee weapons. Swords, greatswords, axes, and hammers all give you ways to get up close and personal with your foes, and a dedicated equipment slot for them means you can (and should) always be packing one. That said, that don't offer the same variety as firearms—"slow and hurty" or "fast and less hurty" are pretty much the two archetypes—and even with melee-oriented classes, guns are still always going to be your primary source of damage. It's a neat idea, but one with a potential that gets left untapped in favour of the tried and true.
Spells and unique class abilities do bring a lot more of that classic RPG feel into the mix, though. A handful of different classes, each a comicall riff on a D&D staple, do a lot to differentiate one character from another and create room for different styles of play—especially once you're able to set a subclass and reap the benefits of both. Spells add another piece to your arsenal, with a range of effects from raw damage to helpful buffs; even if you're not playing a casting-oriented class, they're always a useful option.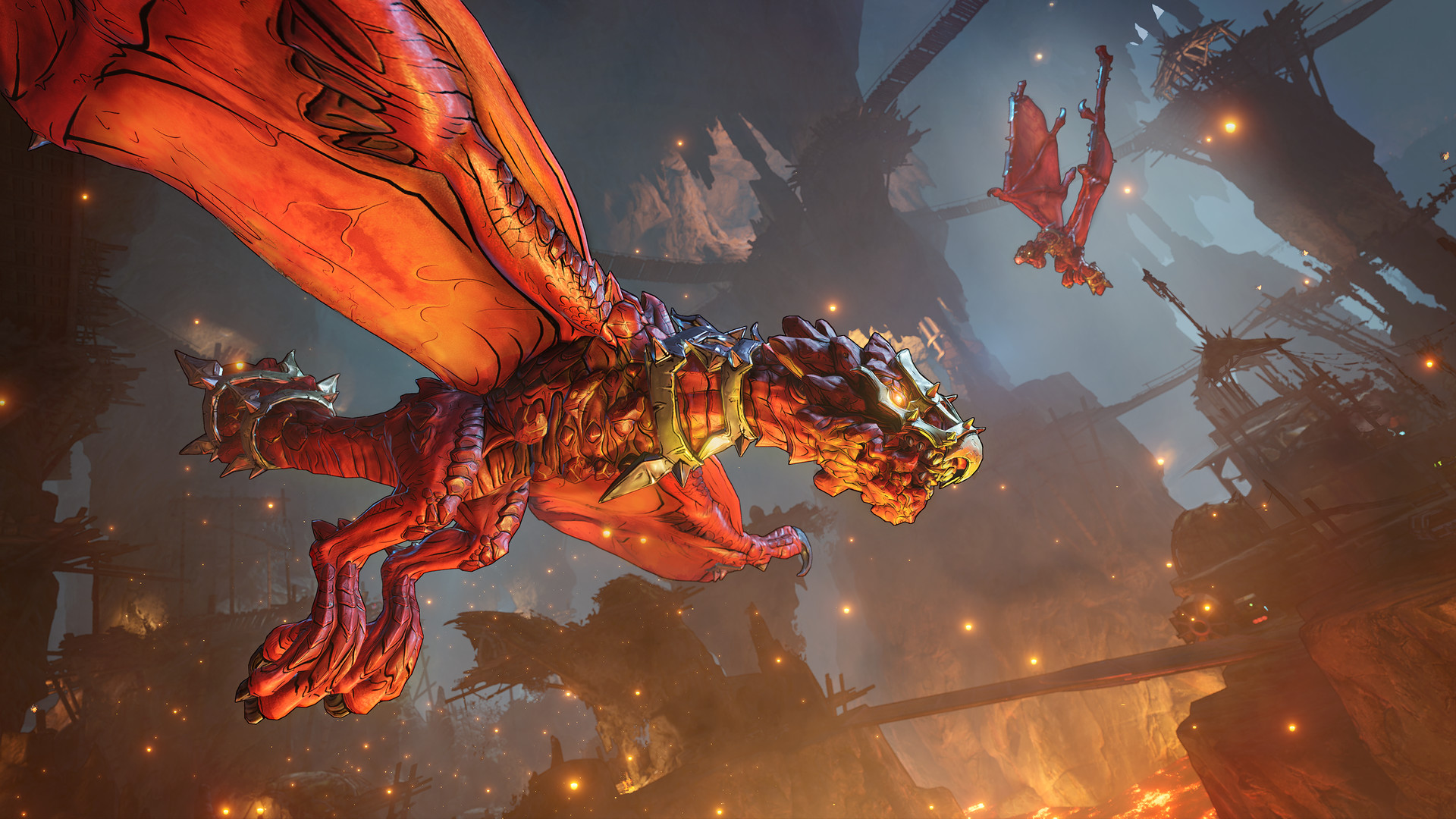 The combat at the core of Tiny Tina's Wonderlands is as frantic and dynamic as you'd expect. Enemies playfully combine fantasy and FPS archetypes to keep you on your toes, while interesting level layouts encourage mobility and creative use of the terrain—verticality, in particular, plays a big role in taking the upper hand. But it's also an approach to combat design that works best in small, concentrated bursts, and loses its edge when things get artificially drawn out—something that happens far too often here. Wave-based marathon encounters have their place, but Wonderlands' overreliance on them gets tired quickly.
When the game fights the urge to turn everything into some big arena fight—something it often does with a knowing wink, but does all the same—a little bit of breathing room does wonders. The occasional bout of light platforming and puzzle-solving brings welcome variety into the mix, and sidequests often encourage exploration to a degree that the main quests don't. Of particular note is the overworld: a nod to the game's tabletop inspirations in its diorama-like design (complete with soda cans and junk food for decoration), with a host of fun little quests to open new paths and find hidden secrets.
Tiny Tina's Wonderlands is exactly what you'd expect from a full-game follow-up to Assault on Dragon's Keep: a raucous, often hilarious parody of Dungeons & Dragons built on Borderlands' looter-shooter foundations. Bigger isn't always better, and it can feel needlessly drawn out at times, but the shooter-looter action, wild energy, and Tina's Bunker Master antics are a whole lot of fun.
---
Tiny Tina's Wonderlands
Developer: Gearbox Software
Publisher: 2K Games
Genre: FPS, RPG, looter-shooter
A review copy was provided to Shindig by the publisher.