Last Thursday, I woke up at 11:30PM, played Tears of the Kingdom till midday on Friday and then went to sleep. That was my entire day.
To say it's difficult to describe just how extraordinarily absorbing The Legend of Zelda: Tears of the Kingdom is would not be disingenuous. That personal anecdote was my attempt, albeit far from unique, as this journey is one that will universally be difficult to disconnect from, being as immersive, creatively invigorating and awe-inspiring as it is. Before we break down all of its qualities, let's first, quickly delve into…
A Frame Rate Issue
If I was hard pressed to identify an area where Tears can come up short, the answer would be simple: frame rate. Activating either Ultrahand or Recall, two of Link's crucial abilities, consistently results in an immediate FPS drop and depending on the density of the surrounding environment, more sustained periods of the framerate dipping below the 30FPS target. I also experienced heavy framerate drops in a specific dungeon, located on the northern side of the map. It's not unplayable by any means, however the loss in responsiveness is definitely perceptible. Outside of that, there are more imperceptible drops when the game is rendering other dungeons, bosses, flurry rushes, and areas that feature large amounts of fluid or particle effects. For the average player, it's a minor issue and is unlikely to result in significant frustration, especially once they have sufficient experience with combat and both of the aforementioned abilities.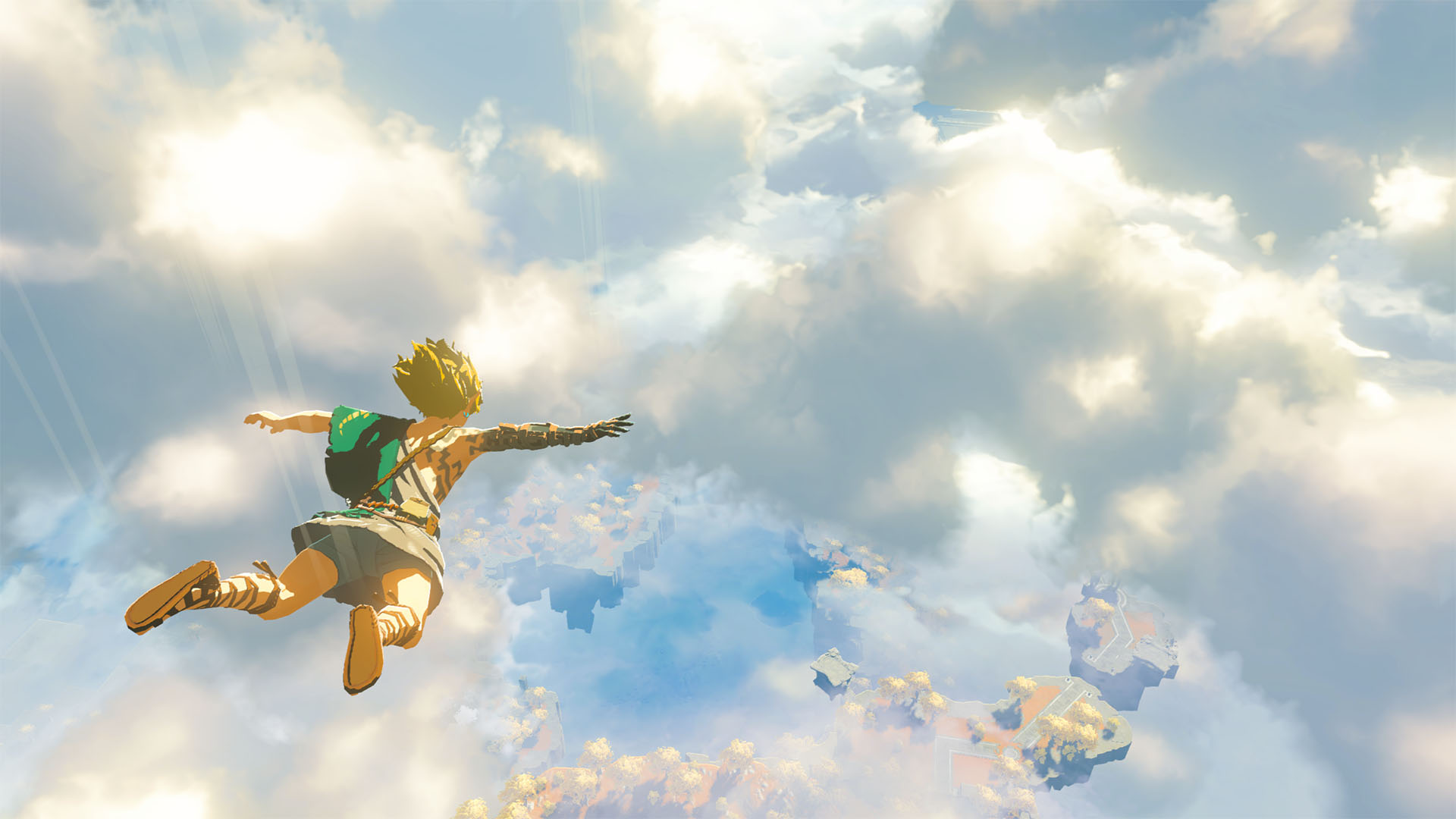 As for the other flaws?
…
And that about covers them.
A Hand to Turn the World
Tears of the Kingdom sees Link return to the Hyrule depicted in Breath of the Wild (BOTW), with notable adjustments, including the addition of caves and vastly improved enemy variety. There are flying creatures, Horriblins that hang onto cave ceilings, and demonic gloom monsters that suddenly emerge out of the ground and stalk Link, changing the music and colour of the skies in the process. This is all on top of the returning enemies from BOTW: the lanky Moblins, the fearsome Lynels, but none of those pesky Guardians. They're replaced by Zonai Constructs, similar machine-like foes with glowing eyes, themselves capable of using a dizzying array of different weapons against Link. The monsters are impeccably designed, each evoking a wholly unique feeling, whether it be the chaotic charm of a standard Bokoblin or the intimidating presence of a three-headed Gleeok. Their differing attack patterns, sizes, and weapon choices demand a heightened level of approach and combat flexibility from the player, further contributing variety to a gameplay loop that is already laden with it.
The action combat is flashy, responsive, and offers different combos and playstyles depending on the weapon type in use. Link's flurry rush punish ability is also satisfying and the dodge window needed to activate it is often quite generous, as the majority of enemies forecast their attack well in advance. By and large, the moment-to-moment combat in Tears is similar to BOTW, with the main difference maker coming in the form of the new Fuse ability.
Fuse allows Link to attach devices, gems, and enemy parts to his weapons, increasing their attack power and durability. I found this to be quite brilliant because it partially addresses the complaints about weapon degradation in BOTW while also encouraging exploration of the world for rare materials and rewards, as doing so would yield them a more effective offensive arsenal. Remember our discussion about the strong enemy variety? The majority of them drop unique fuse-able parts, so the player is heavily incentivised to hunt powerful foes to improve their attacking potential, baking yet another rewarding layer into the gameplay loop. For example, fusing a silver Bokoblin horn to any standard early game weapon could multiply its power, dramatically elevating Link's chances of using it to defeat a tough opponent.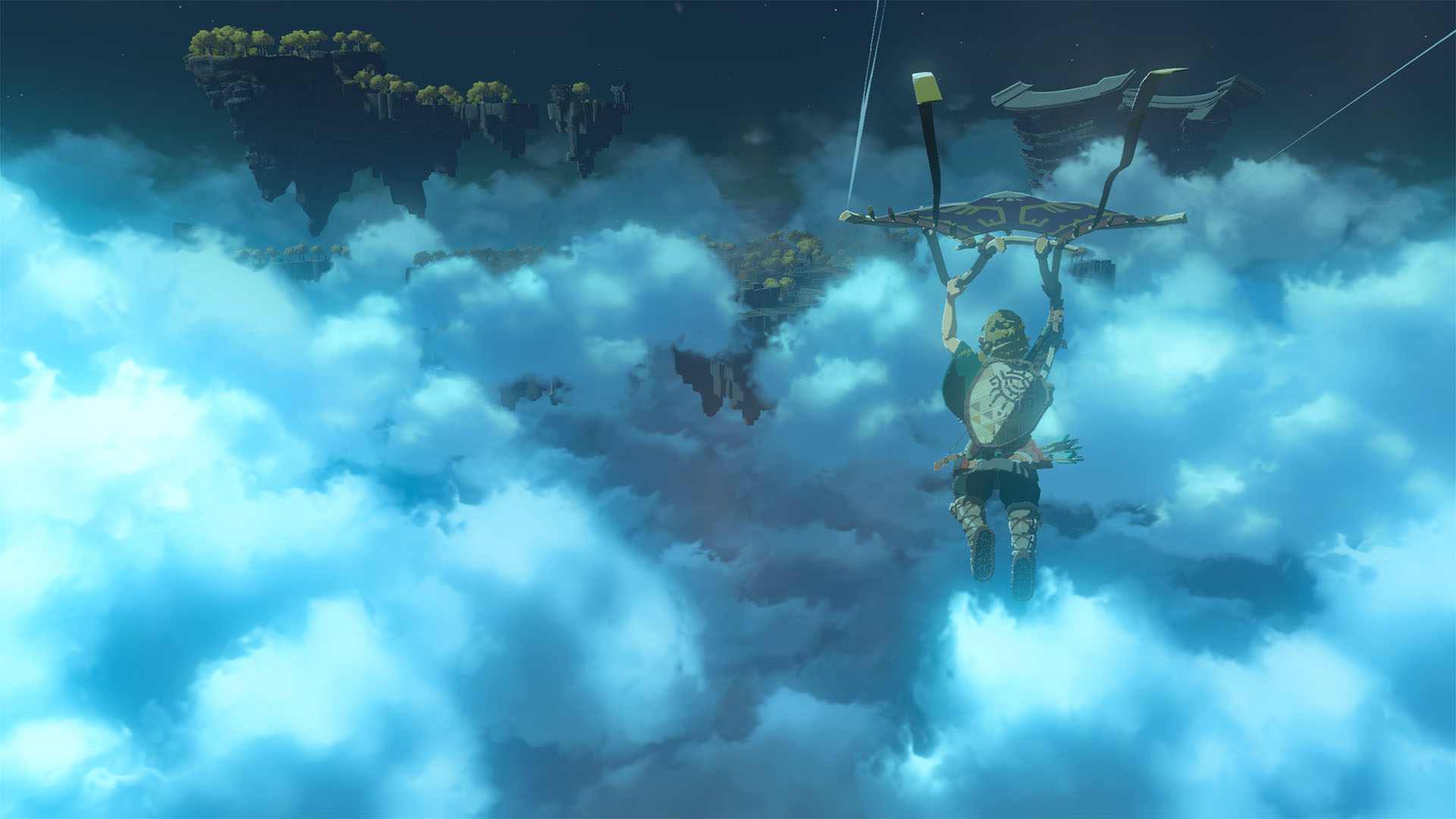 Similar to BOTW, there is a fairly aggressive equipment durability system in place. Relying on an early game shield to tank consecutive attacks or using the same weapons consistently will undoubtedly result in those things breaking, perhaps even sooner than the player would expect. Frankly, this is an essential cog in the gameplay wheel, as it encourages scrappiness and creativity, which can lead to some of the game's greatest moments. In these moments, when non-standard options of eliminating foes have to be considered, like fusing a Zonai flame emitter to a wooden stick and praying that the resulting weapon can incinerate the remaining enemies, Tears of the Kingdom's combat soars, as it showcases just how dynamic and exciting it can be.
Speaking of Zonai, the civilization was responsible for creating their namesake devices, functional equipment like fans, rockets and flamethrowers, that are now obtainable in-game. Which brings me to Ultrahand. Ultrahand is one of the most wildly inventive gaming mechanics I have ever witnessed, allowing Link to stick together objects, devices and general bits and pieces that aren't bolted down to create vehicles, makeshift weapons, and practically anything the player would like to make, with the materials available in their surroundings and inventory. It's surprisingly robust too: the selected materials hover in the air and can be moved around once selected, as well as rotated 360 degrees to find the correct alignment and finally, attached to any other selectable parts to form a creation.
Ultrahand is a traversal game changer. Personally, I experimented with this feature for hours, looking for holes, glitches or crashes that would arise from the engine bending to my insanity and at times, admittedly, my ineptitude. For example, after I stuck four rockets to a wooden board, it propelled me… sideways. I didn't attach them to the corners, instead trying to line them up in a row and because of that, the board took off, flipping in the air and then sandwiching Link between itself and the ground, like a top rope Swanton from Kevin Owens to some poor schmuck. However, even my most unhinged efforts could not get Tears to break. Instead the feature was mighty helpful: my fan-powered boat allowed me to sail across bodies of water without the possibility of drowning, and while the rocket-board never quite worked, fusing a rocket to my shield let me skip parts of long, arduous climbs up mountainsides. My creations didn't always function as intended, but when they did, I felt nourished by the experience of having crafted them myself, with my… well, Link's very own hand.
A Land to Live in
Hyrule continues to be one of the rare open worlds with a soul. From the roaming wildlife and the abundance of pickable herbs and flowers, to the many monster patrols and camps, there are so many individual design choices that combine to form this tangible, lived-in world. The regions are all distinct from one another; the dry Gerudo desert, for example, contrasts nicely with the overcast marshlands found near Lanayru. Towns and stables are detailed, filled with vibrant NPCs that ooze personality. The scattered Koroks that assist with inventory expansion are suitably whimsical and immature, whereas stable keepers are enthusiastic and helpful, telling Link about their rewards system and encouraging him to interact with the stables to rack up more "Pony Points". Similarly charming characters are scattered across the land and discovering their presence is made all the more special, as Link still spends the majority of the journey on his lonesome or in battle with monsters.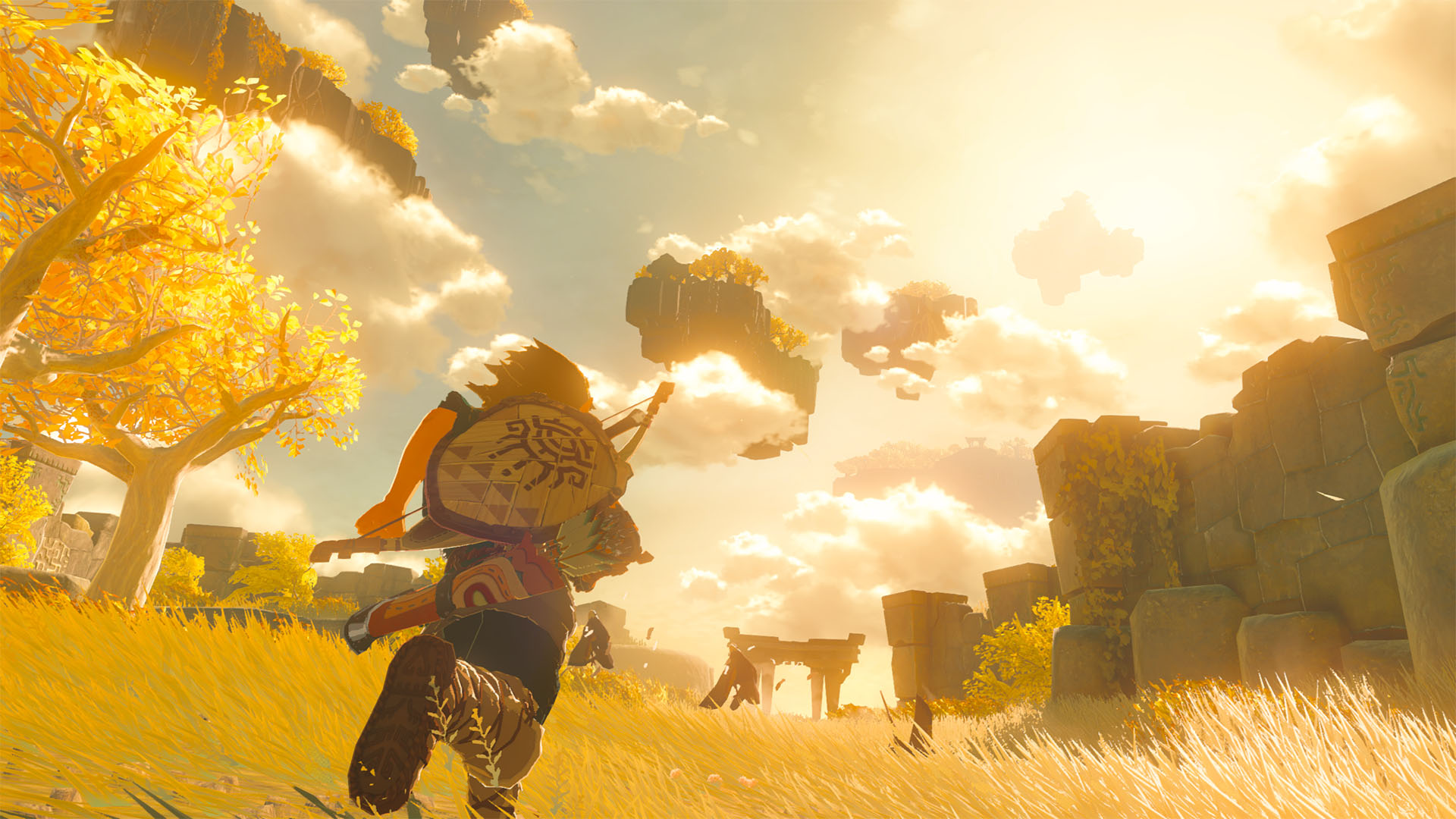 The shrines from BOTW also make a return. These structures are scattered throughout the world and typically teleport Link to another area, before presenting him with tasks. Once completed, the player is rewarded with a Light of Blessing. Pooling together four of these can grant increased stamina or health, respectively. Tears has an increased number of shrines compared to its predecessor and the puzzles are an improvement as well, due to them making better use of the available abilities, especially the Ultrahand-focused ones, which demonstrate the flexibility of the mechanic. There's even added variety to the gameplay structure of the shrines: while many I came across involved manoeuvring a ball through or past varying obstacles and into a hole to open up the next section, there were also tougher shrines named "Proving Grounds" that take away all armour, inventory, and weaponry, forcing the player to be ultra efficient and use only the materials inside the shrine to take out all the enemies.
On top of that, there were some un-enterable shrines that were in pieces and had to be reassembled, typically by transporting the crystalised shrine top back to the base with Ultrahand. Once rebuilt, these didn't feature any additional tasks and just contained a room with the reward, breaking up the repetitiveness of the "find shrine->enter shrine -> complete puzzles -> leave with blessing" loop that some may have fallen into in BOTW, particularly if they desperately needed additional hearts or stamina to overcome a difficult scenario.
Many of the strengths discussed so far regarding the open world are inherited from Tears' immediate predecessor and will not surprise players familiar with that game. What may shock them, however, aside from the incredible new abilities explored in the previous section, is that this world now has three separate, completely different layers. The middle is the Hyrule you remember, with slight modifications, while the top layer is made up of clusters of floating islands and the bottom layer… might as well be hell.
That bottom layer is the Depths. In this area, the red sludge covering the floors and ceilings, as well as the glowing enemies, all deal Gloom damage on contact, which gradually lowers Link's total health. It's also dark, almost pitch black at points, requiring the player to actively light the surrounding environment using resources from the surface, like Brightbloom seeds or cooking food that add a glowing effect to Link's character model.
Exploring the Depths can be challenging, the atmosphere is eerie, the monsters more threatening than they are above ground and, often, it boils down to desperately hunting for the next Lightroot, a checkpoint of sorts that restores the hearts lost to Gloom damage and automatically brightens that part of the region. It's an entirely different experience to exploring the surface of Hyrule, as the survival horror elements add a thrilling, intense dimension to the gameplay. And it's rewarding too, with the Zonaite found in the Depths allowing for the expansion of Link's batteries, extending the amount of time Zonai devices can be active before the battery has to recharge.
The Sky Islands, on the other hand, can be enjoyed at a more leisurely pace. Most of the time I spent up there involved me constructing contraptions to fly from one island to the next, hunting for shrines and Zonai device dispensers. There are more Zonai construct enemies here when compared to the other layers, but in general, the exploration is almost relaxing by comparison; the sun-soaked fields filled with flowers, trees, and occasionally small lakes are a great contrast to the eerie, threatening Depths.
The Great Sky Island, like the Great Plateau before it, is one of the finest tutorials in a video game. It gradually introduces all of the new abilities, while assuredly emphasising the importance of each of them. Recall, for example, can instantly stop then reverse the movement of objects and projectiles, whereas Ascend allows Link to rise straight through a solid surface above him. These abilities were crucial in shrines to solve their puzzles, however, personally I entered shrines with a rocket fused to one of my shields, often allowing me to just take off into the air, then paraglide to the end of them. I skipped the bulk of so many shrines this way, that at a certain point, I had to stop myself and complete them as intended, so I could properly evaluate whether the puzzles were actually competent.
Speaking of puzzles, the dungeons in Tears are chock-full of them. These temples are breathtaking, featuring clever, interconnected level design and grand boss fights to cap each one off. The puzzles are interesting and the rewards granted upon completion made a genuine difference to traversal and combat in the open world. Even discovering these temples is a joy, as some are hidden away in unexpected parts of the map and require a herculean effort to reach them, due to combinations of enemy placements and chaotic weather conditions. Once sought out, their structure and overall design will please series veterans who prefer the sprawling, classic Zelda dungeons over the simpler Divine Beasts in BOTW. The temple boss fights are each designed around the ability granted to Link for that specific dungeon, ensuring the player understands when and how to use the aforementioned abilities. The final boss is a different beast altogether, with a menacing design and damaging move set that effectively conveys their threat level.
While it's not the main focus of Tears of the Kingdom, the story can be surprisingly powerful at times. The majority of the cutscenes are hidden away in specific locations in the open world, much like BOTW before it, however this time around the plot is more ambitious, telling an intriguing tale that fleshes out a relevant family from the past, their monumental battles and subsequent impact on Hyrule. These optional cutscenes involve many powerful, heroic moments, emotionally charged sacrifices and more, but can be missed if not actively sought out. The orchestral score, which is fantastic across the board, plays an integral role in elevating these scenes. For players who only complete the main quest, cutscenes and voice acting are sparse, but dramatically more effective when used. Link's journey in finding Zelda is shrouded in mystery and features some unexpected twists. Most of the voiced characters are uniquely charming and play integral roles in the narrative. The acting is strong, especially Matt Mercer who crushes it as Ganondorf, turning in a fittingly brooding, sinister performance.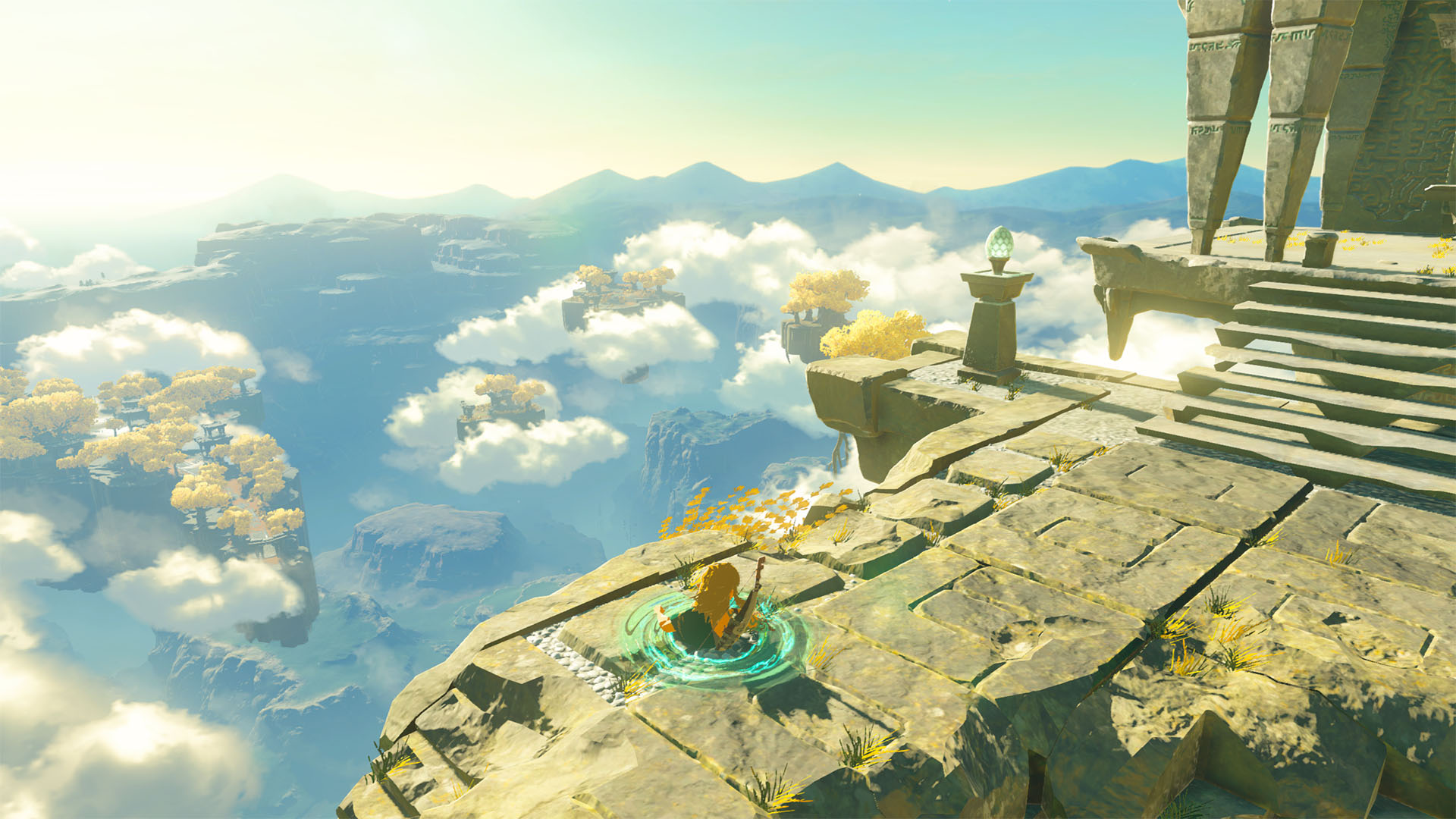 Ultimately, though, the greatest stories in Tears will undoubtedly come out of its varied gameplay and open world. Exploring mountain ranges on a makeshift plane, skipping entire sections of gameplay by using a rocket-shield, burning Bokoblins alive, accidentally discovering the location of the Master Sword—these are the experiences that I'll remember, because they felt distinctive to my playthrough, a result and reflection of my decision making in the moment. This distinctive feeling is one I rarely feel in an open world game, despite the genre seemingly championing flexibility. Tears of the Kingdom is an unfathomably versatile sandbox that somehow manages to reward both orthodox and unorthodox playstyles, ensuring considerable variation in the individual experiences of each player. It's a remarkable achievement in game design, which'll likely win its fair share of awards. But above all, it deserves to be remembered for its unbroken commitment to providing the player with dynamic, flexible gameplay opportunities at every possible turn.
Summary: Despite its numerous towering accomplishments, chief amongst them an atmospheric, multilayered open world with staggering environment variety and expertly calculated level design that encourages its many thrills, Tears of the Kingdom's real strength lies not in what it achieves but in what it reveals itself to be: a reflection of the player's intuition and creative spirit. As a result, the experience shines not on its lonesome but with the player in tow, their shared Legend destined to be remembered as one of gaming's very best.
Reviewed on Nintendo Switch with a review code provided by the publisher.