In a genre largely designed around human expansion and dominion over the natural world, along comes Terra Nil: a "city builder" of sorts that's not about building a city so much as restoring the natural environment in a series of lifeless wastelands—the presumed leftovers of human settlement. Environmental themes have been growing increasingly prominent in the genre, especially of late, and this kind of inversion of the status quo is a particularly inventive twist. But Terra Nil is more than just a good idea; it's a game that takes a clever but potentially risky concept and turns it into an engrossing strategy puzzler.
The essence of the "reverse city builder" is this: take a slice of barren terrain and build back its natural resources with an assortment of machines and facilities, before finally cleaning up every last scrap of human intervention. A windmill generates energy to power a toxin scrubber, which in turn detoxifies nearby soil so that other structures can grow grass and shrubbery, before a solar amplifier sets the plantlife alight to create the necessary biofuel for forests to start growing. Different biomes have different needs, pose different challenges, and require different approaches, but that core loop of balancing an increasingly complex ecosystem persists. And when all is said and done, when the environment is thriving once again, it's time to leave: destroy every machine and building you've constructed, recycle the parts to build a spaceship, then take off without leaving so much as a footprint.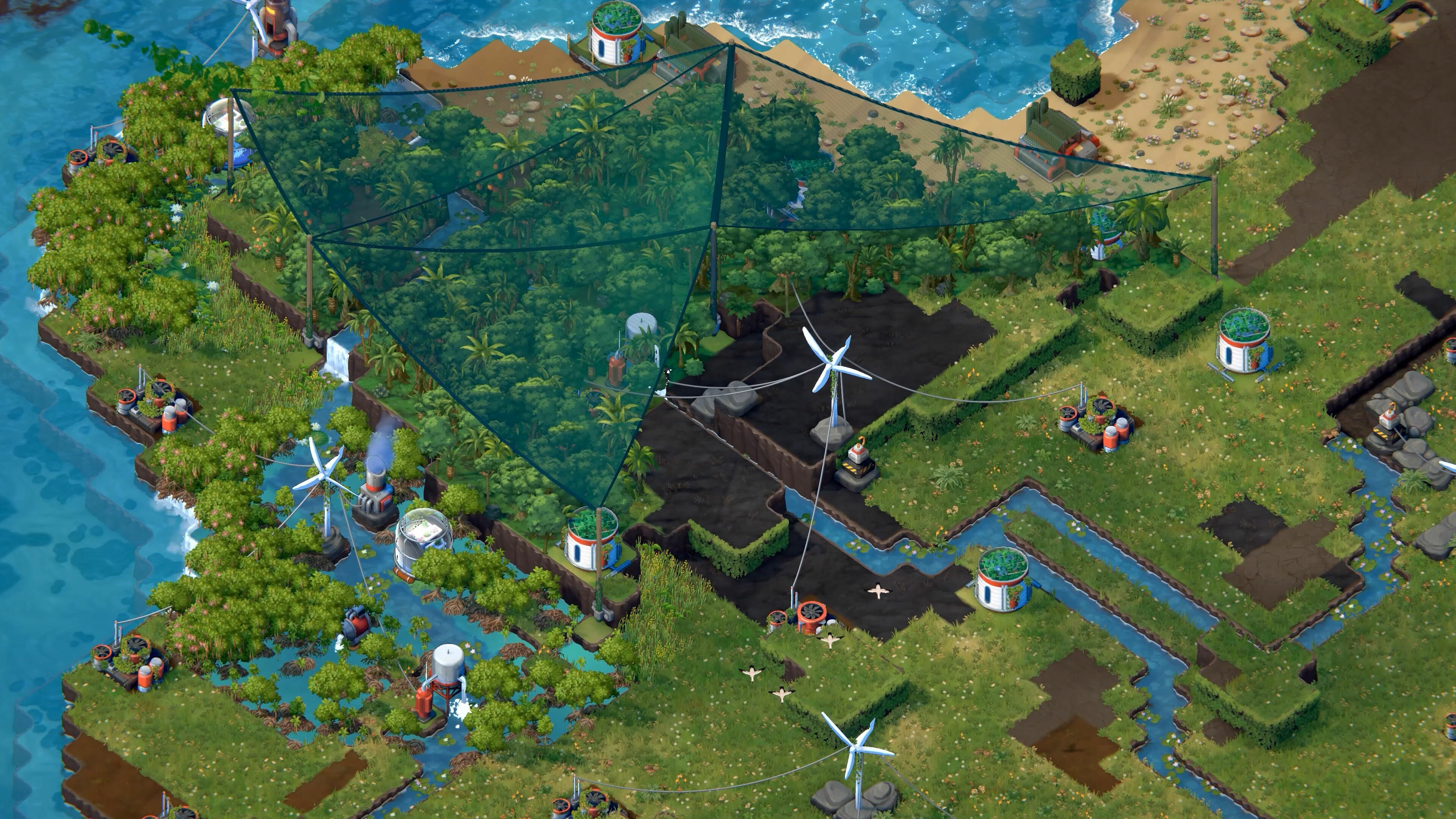 The message in that concept couldn't be clearer. The whole game revolves around restoring natural balance to ecosystems that have been disrupted and destroyed, and even if it's not stated explicitly, the implication that that destruction is a product of human civilisation—whether that's through deforestation, toxic byproducts of industrialisation, or climate change—is clear as day. But Terra Nil doesn't settle for a simple, black-and-white "humans are destroying nature" take. No, its approach is more nuanced: rather than laying blame, its focus is on the role that we play in cleaning up our mess, and in building an understanding of the complex web of environmental factors that are needed to sustain any ecosystem.
Case in point: success in Terra Nil very often depends on heavy intervention, even to the point of further destroying parts of the terrain you're trying to revive. You'll be using heavy machinery to carve new riverbeds (and dealing with the pollution generated by those machines), deliberately burning forests to produce organic fuel for other growth, or even redirecting and cooling lava flows to wholesale reshape the land—all with as part of adjusting climate conditions or creating the resources necessary for more diverse natural life to flourish. It's often a back and forth: create, destroy, create some more, as needs change and you realise the foundations you laid aren't quite right. And at the end of it all, you have to find a way to remove every last building and piece of equipment, and find a way to transport all those materials to your spaceship for recycling. There's a potent message in the way Terra Nil balances the need to both intervene heavily and also leave no mess behind.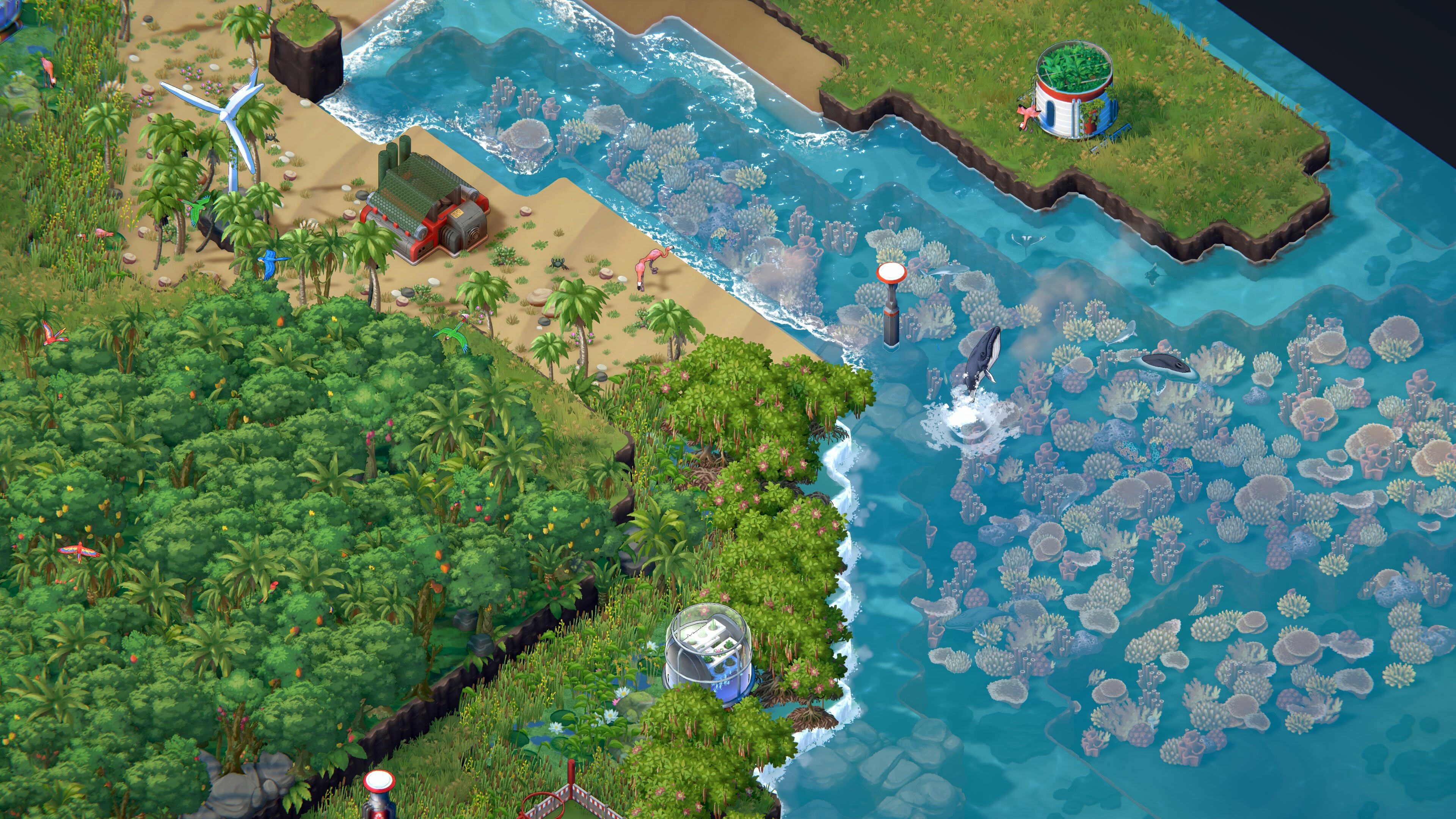 It also makes for some engrossing strategic puzzles. Each map starts in a fairly simple fashion, with a simple goal—increase the amount of greenery or clean water, for example—that mostly revolves around putting the right buildings in the right place to turn dirty tiles into clean ones. But as the needs of each ecosystem grow more complex, there's more need to think about the ways different buildings, the consequences of placing those buildings, and environmental details all intersect. It's not just about starting small and expanding as your resources grow and technology develops; the way you actually use the land available to you—clean or otherwise—changes over time. You'll often find yourself destroying your creations so that you can rebuild in a different way that better meets your current aims, and constantly rethinking your approach.
It's a satisfying approach to a strategy game, and one that works well regardless of which difficulty you choose to play on. On its easiest mode, resources are functionally limitless and there's little scope to make mistakes with long-term consequences, giving the freedom to explore the nuances of the game's systems with little worry about failure. Harder settings make resource management and forward thinking a bigger factor, putting a different spin on the way the pieces of the game all fit together. But in every case, those fundamental mechanics come together in ways that are satisfying to explore, whether you're playing for a relaxing, quiet time or the cerebral demands of more complicated and consequential strategy.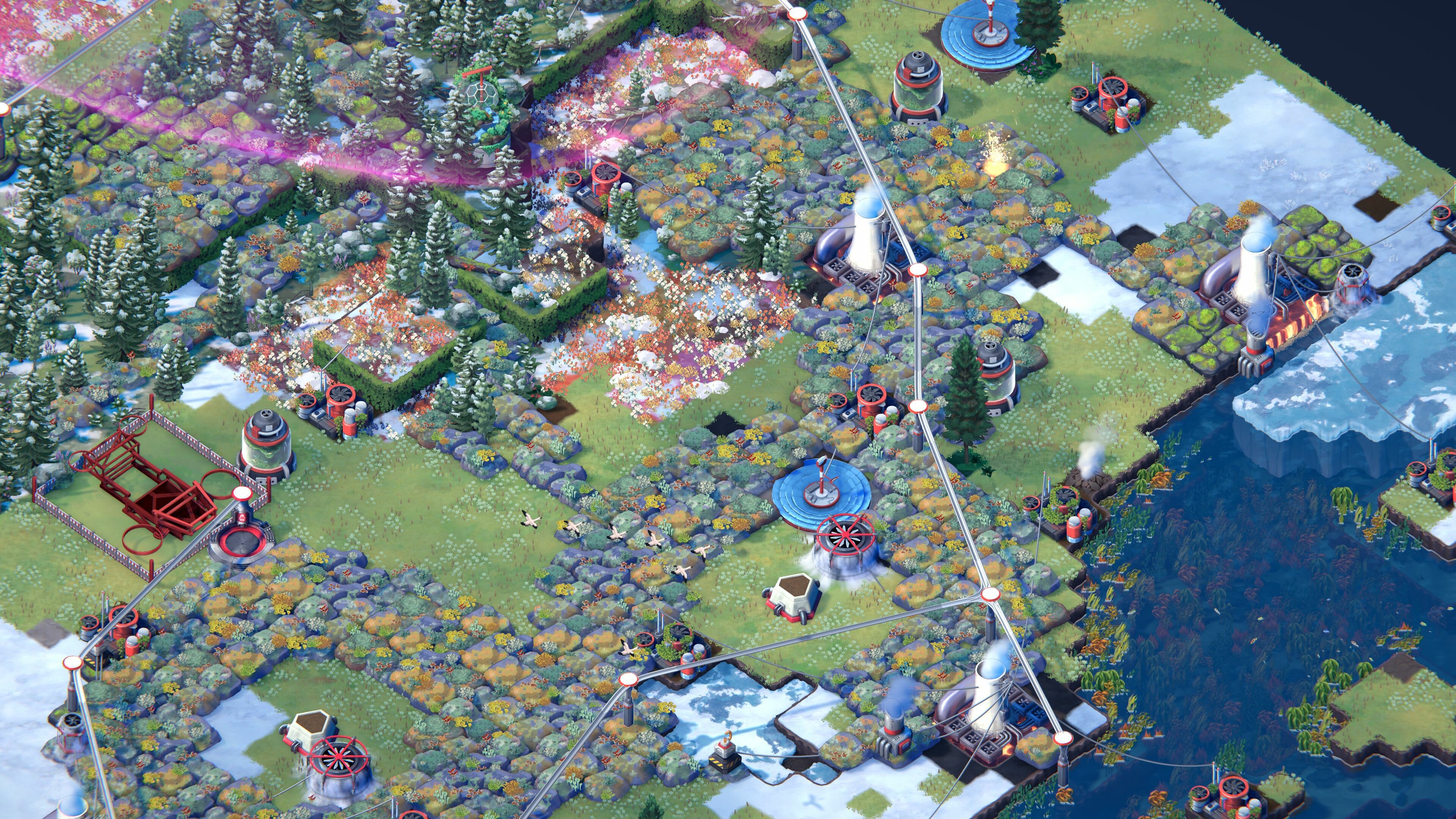 The most impressive thing about Terra Nil is how it manages to effortlessly balance all these different goals. It's both a relaxing city-unbuilder and a brain-bending strategy puzzler, because the underlying mechanics lend themselves to both styles of play. It's a satisfying, extremely enjoyable game to just sit down and play, but also a powerful environmental message—and rather than being at odds with each other, those aspects feed off each other, build upon each other, and the whole game benefits. Sometimes I want to play a game with a statement to make and a cause to uphold; sometimes I want to challenge myself; sometimes I want to just turn my brain off and relax. Terra Nil is the rare game that lets me do all of the above at once.
---
Terra Nil
Platforms: PC (reviewed)
Release date: 29 March 2023
A review copy was provided to Shindig by the publisher.