A compelling art style can do a lot for a game. Cuddle Monster Games' Lone Ruin is a modest game from a small development team that doesn't do anything to shake up the twin-stick roguelike formula, but the moody atmosphere conjured up by murky neon colours is enough to pull you into the "just one more try!" loop that a good roguelike relies on.
You know the drill: a mysterious adventurer delves into a mysterious-er ruin for reasons mostly unknown, to face off against hordes of monsters and fearsome bosses. New spells and upgrades come in a semi-random fashion, and while luck plays a part, there's skill and strategy in how you wield the cards dealt. When you die, you die—this isn't a "roguelite", there are no systems of permanent upgrades or meta progression—but each death is a chance to try again, with a new arsenal, and a better understanding of how those different pieces can fit together.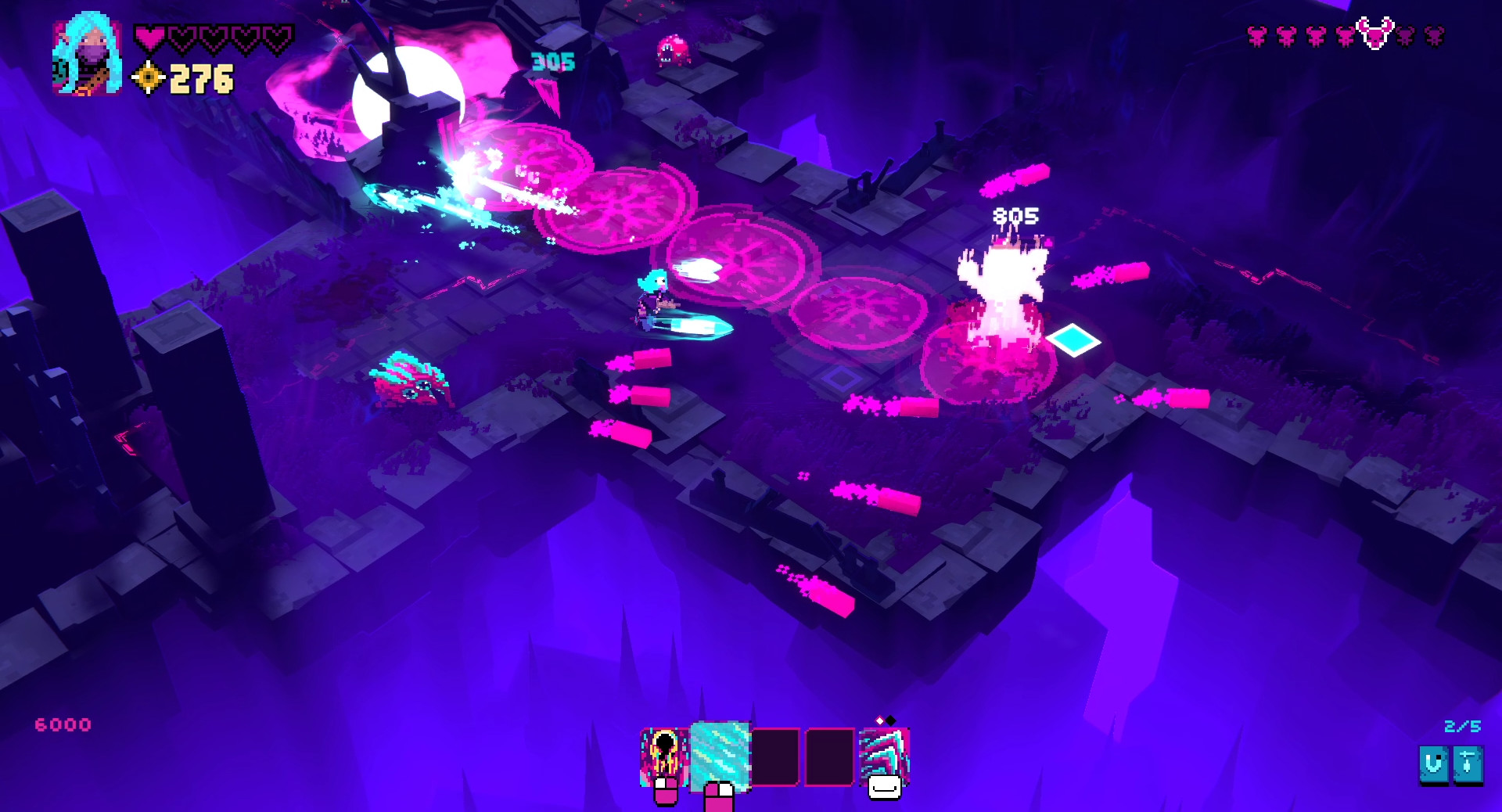 That's the loop that drives every action roguelike, from The Binding of Isaac to Rogue Legacy to Children of Morta to Hades to… you get the idea. Like I said, Lone Ruin doesn't do much to twist the established formula: there's nothing here, mechanically, that won't be familiar to anyone who's played even a handful of similar games. But by its nature, it's a formula that doesn't need constant reinventing, and the roguelike loop clicks comfortably into place in Lone Ruin.
Where the game finds its identity is in the art style, and in particular the use of a limited colour palette. Shades of neon pink, cyan, and deep blacks define most of Lone Ruin's look, creating an eerie, alien atmosphere that's fitting for this sort of game. A pixel art filter over 3D models completes the vision of something that's sort-of retro, sort-of not, but wholly its own thing—and certainly something that's easy to lose yourself in, even when you're playing on Switch in handheld mode. There's little by way of authored narrative, which only adds to the surreal atmosphere.
Beneath all that is, as I said, a familiar roguelike experience. There's a decent assortment of weapons and upgrades, with good synergy between them that allows for creative, fun builds. Everyone will have their preferences, but crucially, nothing feels useless or excessively situational—whatever tools you wind up with, you'll have a chance of success, especially as your understanding of the enemy patterns builds. You can become an absolute powerhouse when everything clicks into place just right, but Lone Ruin doesn't rely too heavily on working towards a particular build or trying to game the RNG system as much as you can.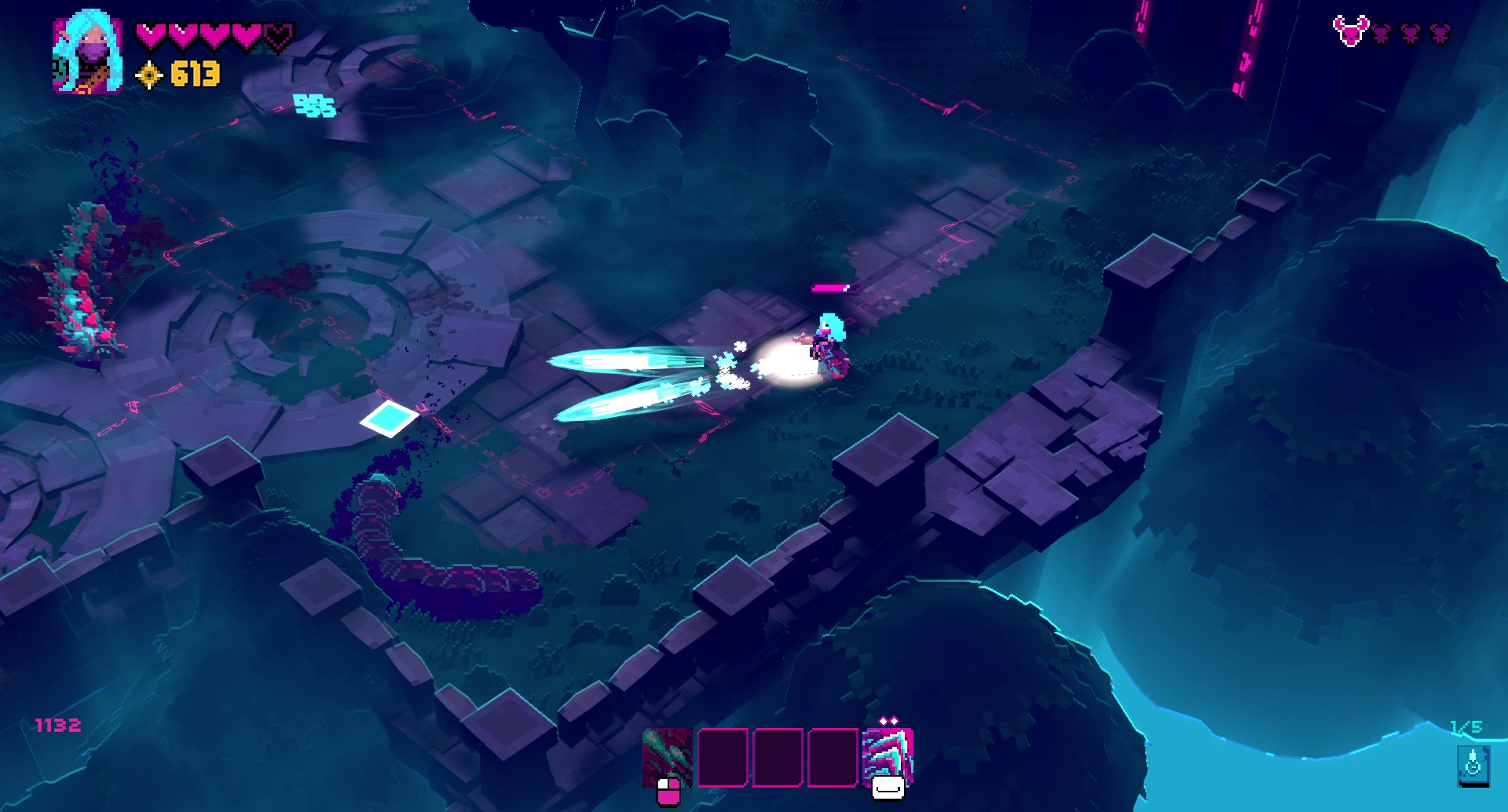 That's a blessing and a curse, though. Everything is viable, but few weapons really stand out, and there's a degree of homogeneity among them. Sure, they have different shot patterns, ranges, and clip sizes, but every spell is, in essence, a gun of some sort: you aim and shoot, while dodging whatever's getting thrown your way. Passive upgrades all help, but none of them dramatically alter how you approach the game. And with that, Lone Ruin lacks a certain degree of long-term strategy: one of the appealing things about a roguelike is the growing understanding of the intricacies of the different elements, how they can work together, and how you can turn fate in your favour; when everything just kind of fits together out of the box, there's little need or incentive to explore that sort of meta-game.
But it does mean that Lone Ruin is an easy game to just jump into and unwind with—a "comfort roguelike", if you will. Short runs help with that: A successful run is half an hour, tops, and failure can come much quicker, making it ideal for short bursts of play. The price of that brevity is a relative lack of variety in enemies and bosses, and even a novice roguelike player will be able to see all Lone Ruin has to offer before too long, but different difficulty modes, a wave-based survival mode, and leaderboards for the more competitive players provide ample reason to keep playing after seeing the credits roll for the first time.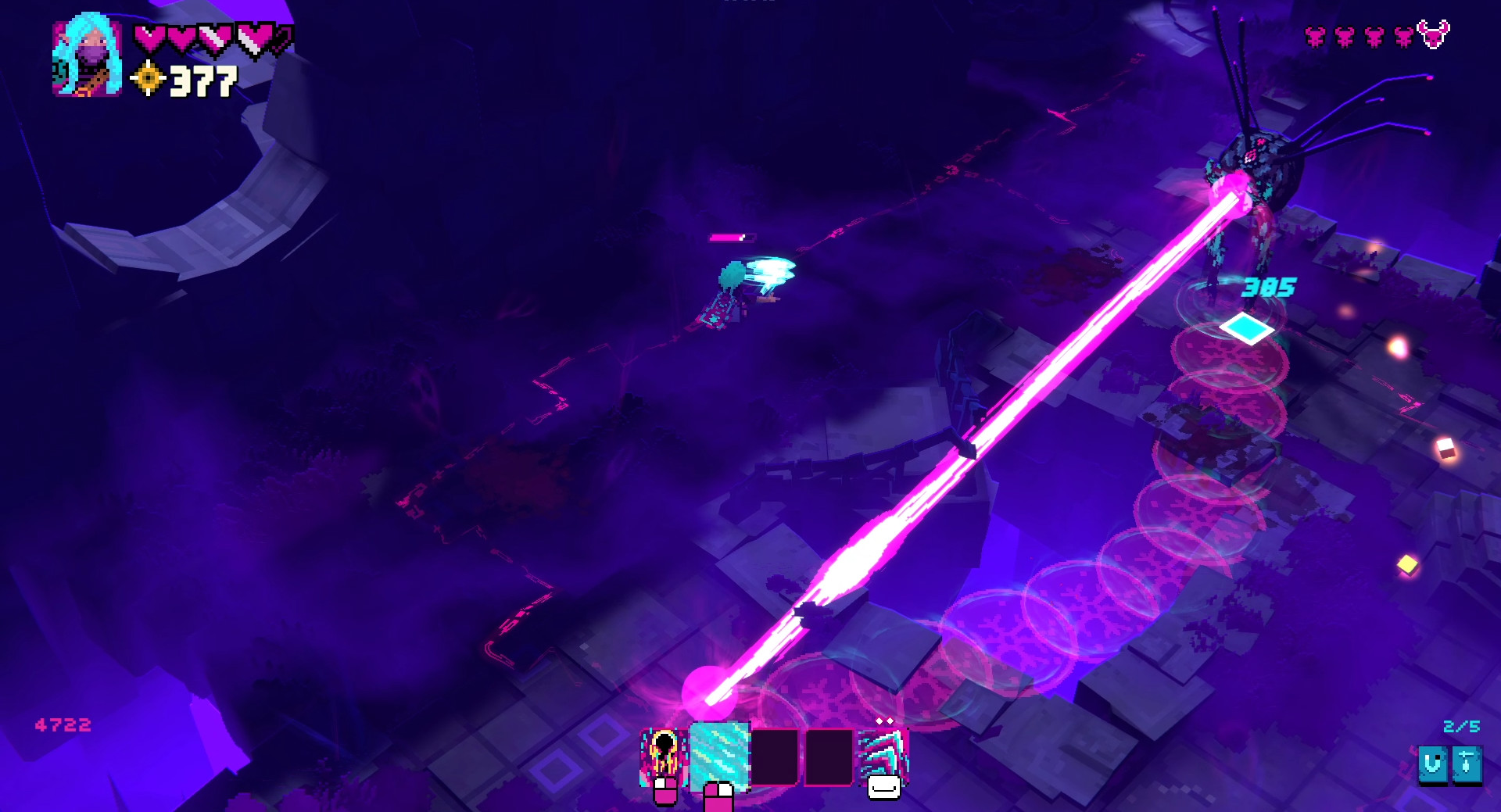 Lone Ruin doesn't push boundaries, and a lack of complexity means it can wear thin before long, despite the random dynamic inherent in a roguelike. Even so, it's a game that finds a good foundation in short bursts of play, with a compelling art style to help pull you in. Hardcore roguelike fans may find it limited, but there's fun to be found here if you want a simpler, more relaxing take on the genre.
---
Lone Ruin
A review copy was provided to Shindig by the publisher.