Don't scratch too far beneath the surface, and it'd be easy to write off Harvestella as a somewhat undercooked mashup of JRPG and farming sim. Indeed, I've seen more than a few comments asking such lines since the game launched a few months ago (sorry for this extremely late review!), and can sort of see why: both its RPG and farming sim sides can feel a little shallow compared to other games of the ilk—of which there is no shortage these days—and a more traditional JRPG narrative structure doesn't always mesh well with the slow ebb and flow of a life sim.
But to view Harvestella only through the lens of those rough edges does a disservice to an ambitious, captivating game. What Harvestella forgoes in the mechanical complexity of its individual components, it makes up for in the provocative story it sets out to tell, and the way those disparate pieces come together to really go places. Comparisons to Harvest Moon and Final Fantasy are inevitable, but the better point of reference is NieR Automata—not in style or budget, but certainly in tone and theme. Harvestella is a sombre, melancholy existential thought experiment… just, with a healthy dash of farming to help pull it all together. 
What begins with a slew of familiar tropes—an amnesiac protagonist, an abandoned farm that the village elder happily gifts to said amnesiac protagonist, crystal-like entities fundamentally connected to the natural order of the world, a mysterious, evil empire full of heavily-armoured goons—gives way to something far more interested in the age-old question of what makes us human. It's a thesis that unfolds slowly, at first; the standard JRPG narrative structure sees our growing band of heroes travelling the world, helping the locals with their local woes.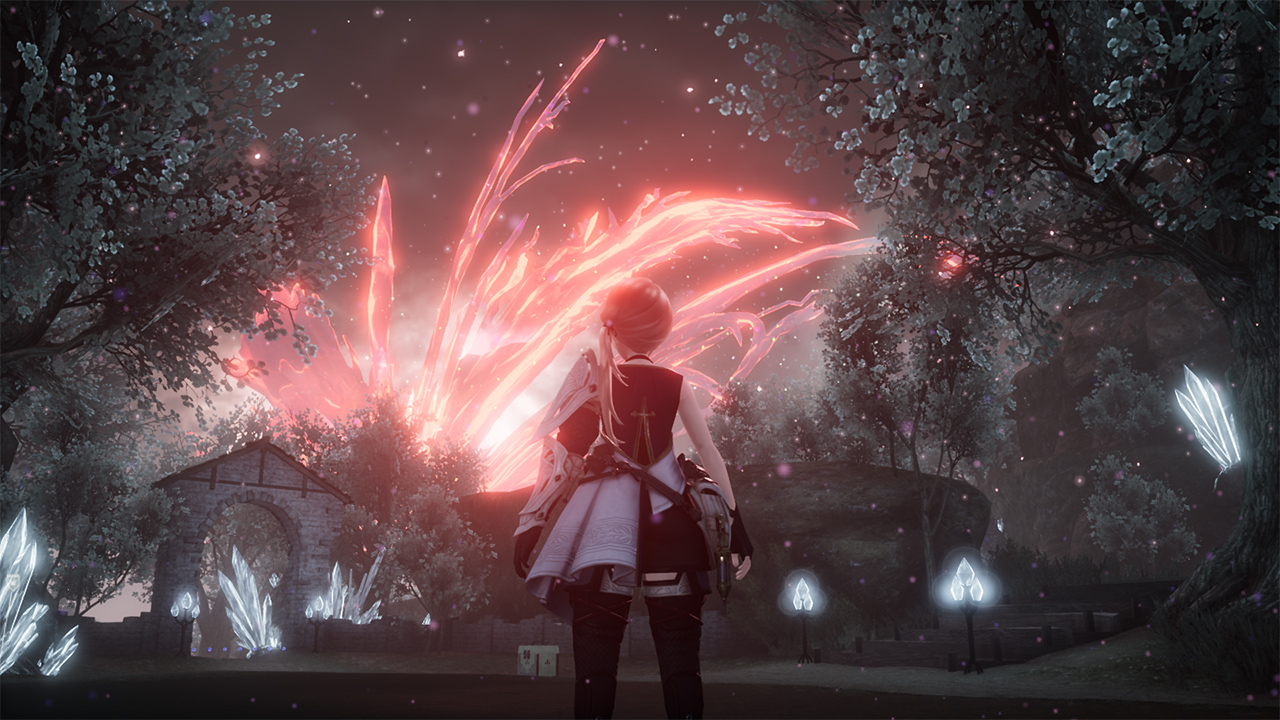 But the themes that bubble away quietly within those tales—of identity, religion, morality, history, connection with the place one calls home—all touch on different aspects of what it means to exist. At the same time, they sow the seeds for a late-game rug pull that, without getting too much into spoiler territory, really puts that question front and centre. And not just "what makes us human", but what is the consequence of how we answer that question? How do technology, physical existence, spiritual existence, emotion, and the concept of a soul connect with one another, and how does one go about finding their own definition of existence in such a murky context? What is your role in all this—you, the player—as the person pulling the strings of the protagonist on the screen?
Thus the NieR Automata comparison. Sure, Harvestella doesn't reach the same degree of depth or nuance in its exploration. It does push the boundaries of the medium to the same extent. It doesn't have the Yoko Taro touch—that perfect balance of humour, humanity, provocation, and subversion. It doesn't have the same budget or level of polish. But even if it doesn't reach the same peak, Harvestella is still operating in that same thematic, philosophical space, to some fascinating and surprising ends. That it invites the comparison at all is already high praise.
So what's farming got to do with it? Not a whole lot, admittedly. Harvestella's unique spin on the farming RPG is Quietus, a natural disaster that sweeps through at the end of each season and ruins all your crops. As a result, all your growing and harvesting has to be contained within a single season—even if you have a crop that can grow in both spring and summer, it won't survive the Quietus that bridges the seasons. There's the hint of existential subtext in there: the impermanence of what would, in any other game of this ilk, be far more resilient. But, disappointingly, it never becomes more than a hint, and the themes that Harvestella's RPG side channel are largely left at the farm gate.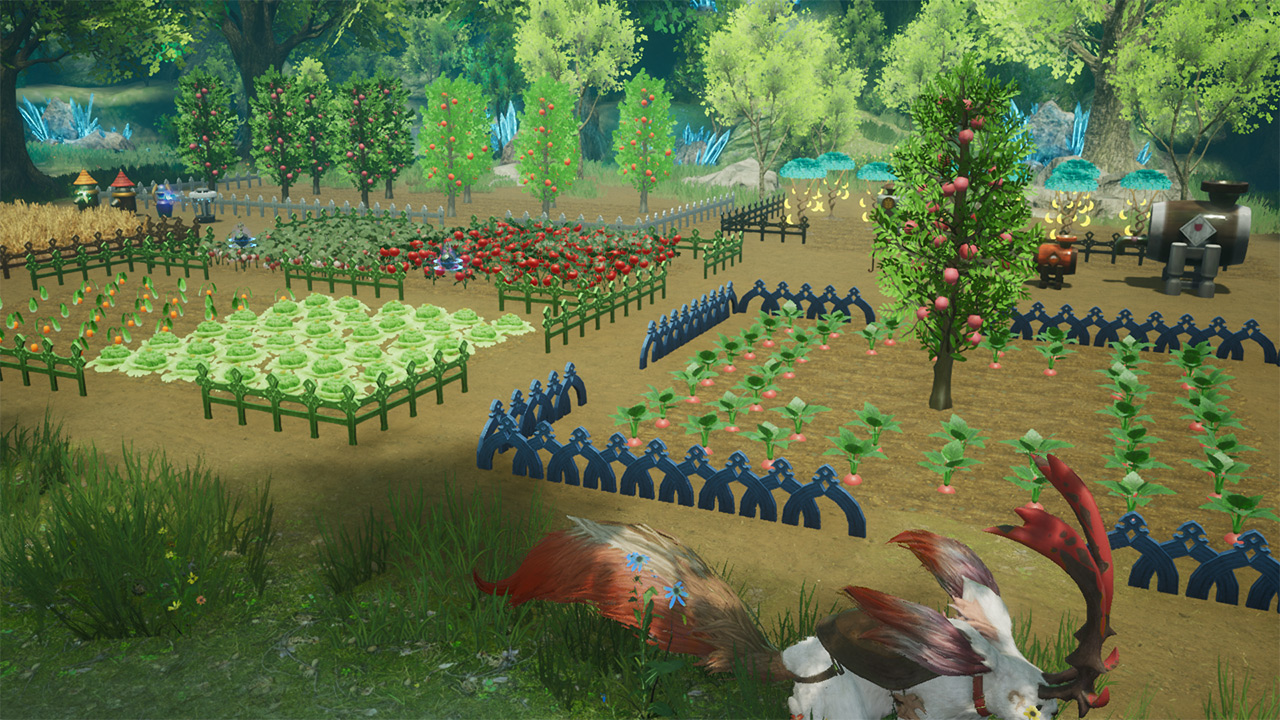 That said, the necessity of maintaining a farm (it's a vital source of consumables and character growth) and the daily cycle forces moments of quiet reflection. It mandates downtime between story beats, letting those heady themes sink in, and the constant shadow of Quietus helps embed a melancholy atmosphere that's a far cry from the playful energy typical of farm life RPGs. Even if the farming aspect doesn't push the thematic envelope as much as it could, the overarching narrative is better for these moments of downtime—notwithstanding the odd occasion where taking a break from saving the world to harvest some onions feels a little odd.
As ambitious as Harvestella is in the ideas it sets out to explore, its individual components are, admittedly, less substantial than other games of its ilk. The action RPG combat is just fine—not terrible by any stretch, but nothing especially momentous, either. There's a decent selection of different jobs with sufficiently distinct fighting styles, but a limited pool of abilities for each and an equipment system that's borderline non-existent means there's little depth—what you see is what you get.
Farming sticks close to the established formula, and so it generally scratches the same itch that Story of Seasons and its ilk do. But it's a more constrained version of that formula—there are fewer types of crops, a much more limited approach to farm management, and little in the way of social aspects—which limits its longevity. It hits the same spot, but you'll see all there is to see before, and there's less scope to delve into systemic nuances. Everything that's here works, but more layers wouldn't go amiss.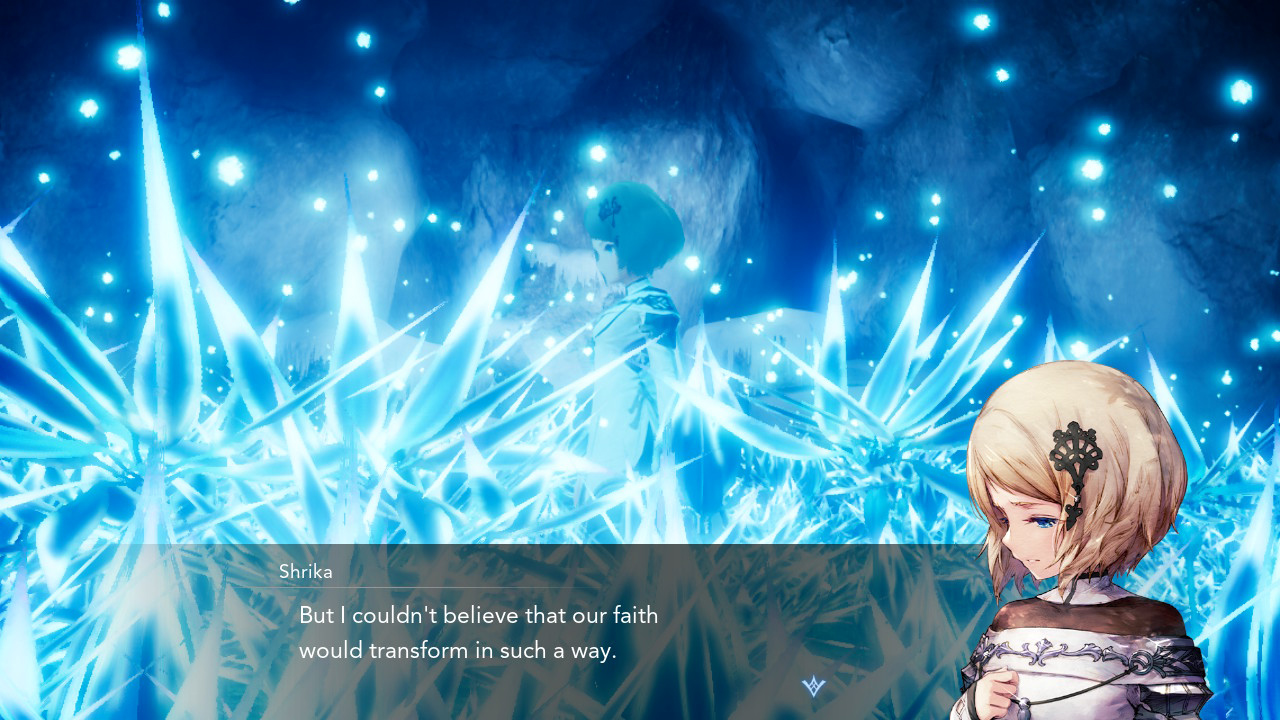 But to look at Harvestella purely in terms of the functionality of those individual components is to miss the point. What it lacks in the complexity of its game systems it makes up for in its narrative ambition. Here's yet another farming RPG, but one that turns the familiar setup in a philosophical, existential direction—and dares to really, really go places with it. What at first looks like another descendant of Harvest Moon ends up bearing a closer resemblance, thematically and tonally, to NieR Automata. That's not a comparison that's easy to live up to, but Harvestella manages to leave its mark.
---
Harvestella
A review copy was provided to Shindig by the publisher.