As far as video games are concerned, there is one attribute that I appreciate more than any other: entertainment value. And there aren't many affairs more entertaining than an exceptional action game, something I haven't had the opportunity to experience since Capcom's brilliant Devil May Cry 5. Luckily for me, the kings at PlatinumGames have returned to their flagship franchise and delivered another phenomenal instalment with Bayonetta 3.
The gameplay is impeccable. Like previous entries, the sharp responsiveness and sheer speed of the combat is noticeable from the first frame, along with the agility of Bayonetta herself, who is the most amenable she has ever been. Her movement, particularly in the air, has been adjusted from the second entry to great effect, allowing for easier juggle combos or repositioning to different areas on larger enemies, in case the player wants to target a weak spot or avoid an oncoming attack. The animation quality is excellent and combines effectively with the dazzling particle effects to deliver the markedly smooth yet distinctly chaotic gameplay experience veterans of the series will be oh so familiar with… and newcomers will undoubtedly grow to adore.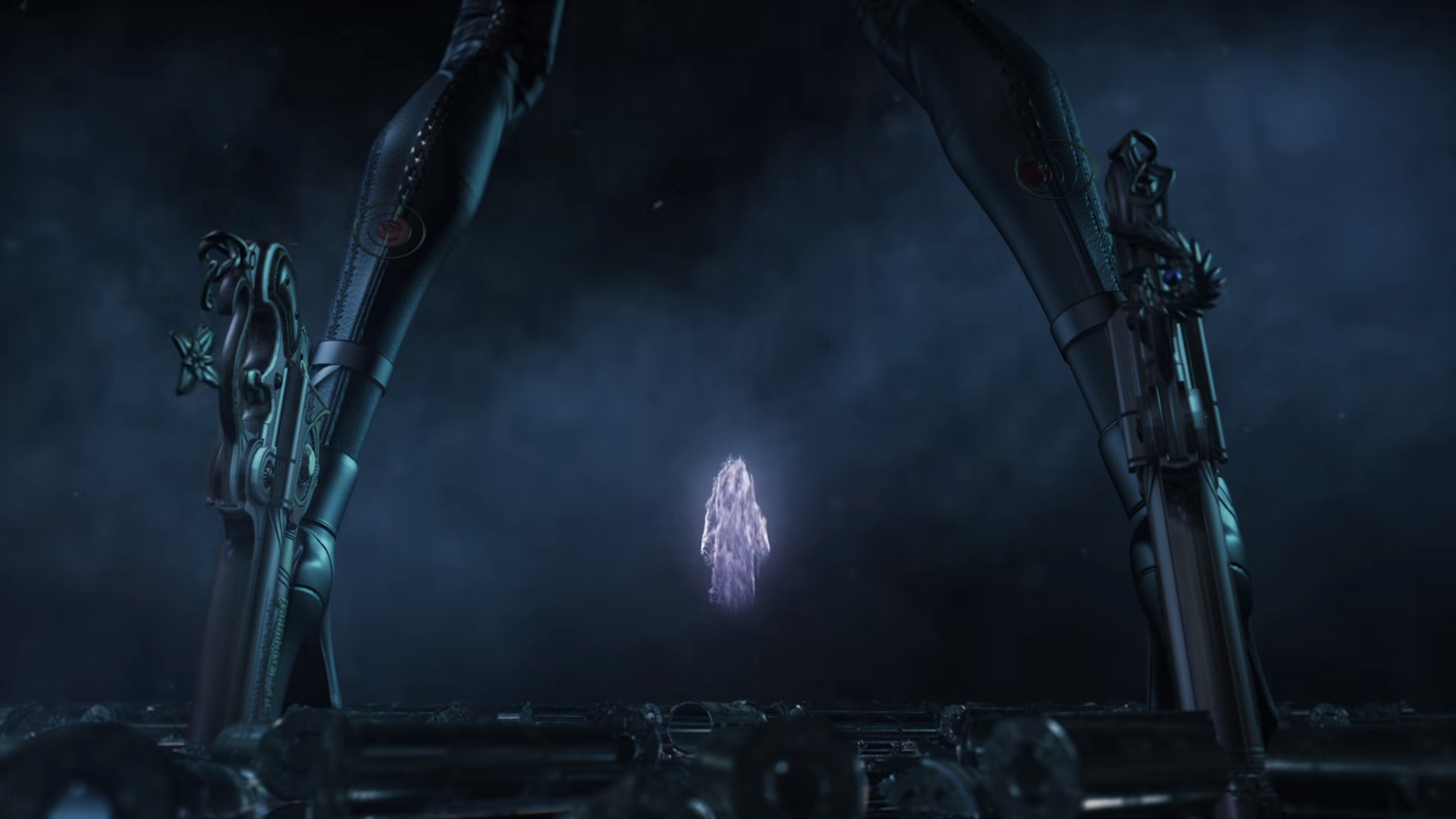 Camera controls and hit detection were perfect. There weren't many instances where I was staring into the side of wall or a crashing building, despite how insane a number of the set pieces became, the camera would position itself to the right positions even when I wasn't actively moving it around. It helps that the view is often more zoomed out than previous entries, allowing for a convenient, wider look at the environment and enemies. Another area deserving of praise is the weapon variety. Aside from the initial 'Colour My World' setup that offers the flashy, martial arts heavy playstyle the franchise is synonymous with, a couple of other weapons are doled out throughout the duration of the journey, offering their own fresh gameplay opportunities and perks. For example, the G-Pillar, a dragon club of sorts, is given to the player early on and deals enormous melee damage at longer ranges, with the trade-off being swing speed. This nicely contrasts with the rapid strikes and close-up attacks offered by the default weapons and each of the new armaments introduced to the player continue this trend, of being both effective and possessing unique quirks that make them a joy to use.
The most notable addition to Bayonetta 3's combat is the 'Demon Slave' mechanic, which essentially allows Cereza to summon a giant, playable demon to fight alongside her. When it was first revealed at the September Direct last year, I was sceptical of the mechanic and wondered if it would take away from the signature, rapid hack n slash gameplay the series is renowned for. Fortunately, its implementation here is flawless, leading to yet another branch of fresh gameplay opportunities. I unlocked about ten of these demons and they offer a similar level of variety to the weaponry, albeit with more devastating effect to the enemies. They can be summoned by hitting the left trigger and are surprisingly agile, with Malphas and the spider even capable of flying and hanging from webs respectively. Their attacks are wildly inventive as well, like the demon train being able to ride along a set of player-defined tracks while blowing up enemies in its vicinity or the bird possessing the ability to sweep up everything underneath it into a destructive whirlwind. What really makes this mechanic special is how quickly they can be summoned and unsummoned, allowing them to be versatile options to increase the damage of otherwise regular combos. Alternatively, they can also be a useful crutch if health is running low or when in the presence of a larger enemy or mini boss. Simply put, the Demon Slaves' usefulness and diverse move sets go a long way towards justifying their existence beyond just a gimmick or selling point for the game.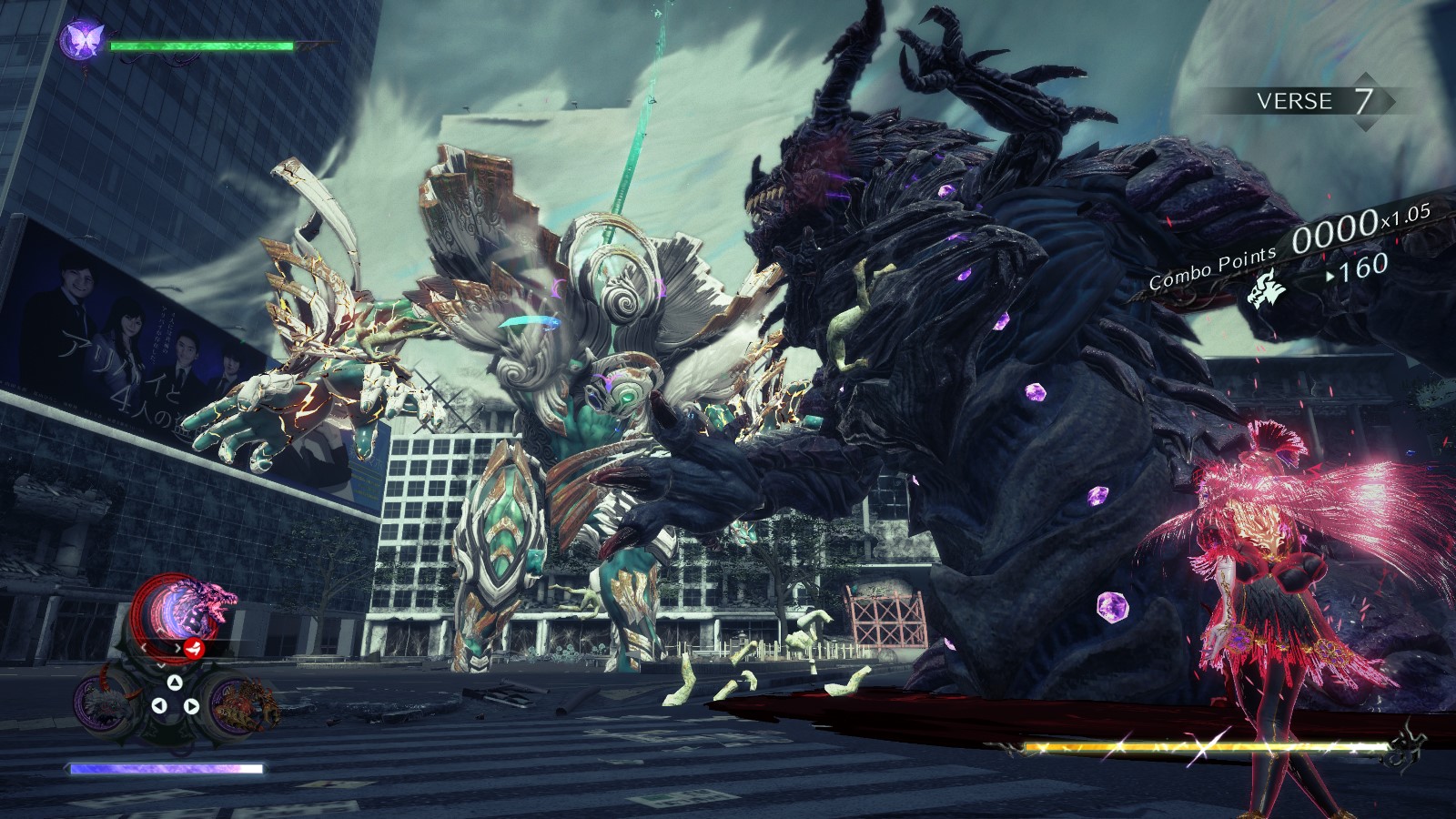 Bayonetta 3 also introduces a new playable character: Viola. She only gets a fraction of the playtime you'll spend as the titular witch but her presence is justified both within the story with her relations to returning characters and through her vastly different, sword-based playstyle when compared to Bayonetta. Her sword combos are satisfying, precise and dynamic enough to deal with larger enemy hordes and her decent sized skill tree of useful moves, including powerful homing and charging attacks, means there is a great amount of depth to be found with this character. Returning favourite Jeanne is also playable very briefly, in a few 2D stealth sequences sprinkled throughout the game, where she has to race to the far end of the stage while quietly dispatching of enemies and obstacles. Although these sequences are a huge departure from the core gameplay, they don't overstay their welcome and are charming enough to not take away from the overall experience.
The story is relatively light and mostly serves as a backdrop to the bonkers action, however, that isn't to say it doesn't have its strong points. Its main source of excitement stems from its use of the multiverse to allow for the existence of alternate versions of characters and known settings. The resulting journey is incredibly chaotic as Bayonetta could find herself travelling through time periods and across hundreds of miles, meeting different versions of familiar people, sometimes all in the space of one chapter. The rapid pacing and environment variety is appreciated, as are the strong designs of both the new and returning enemies, who can provide quite the fight if the player's health or upgrades aren't up to snuff.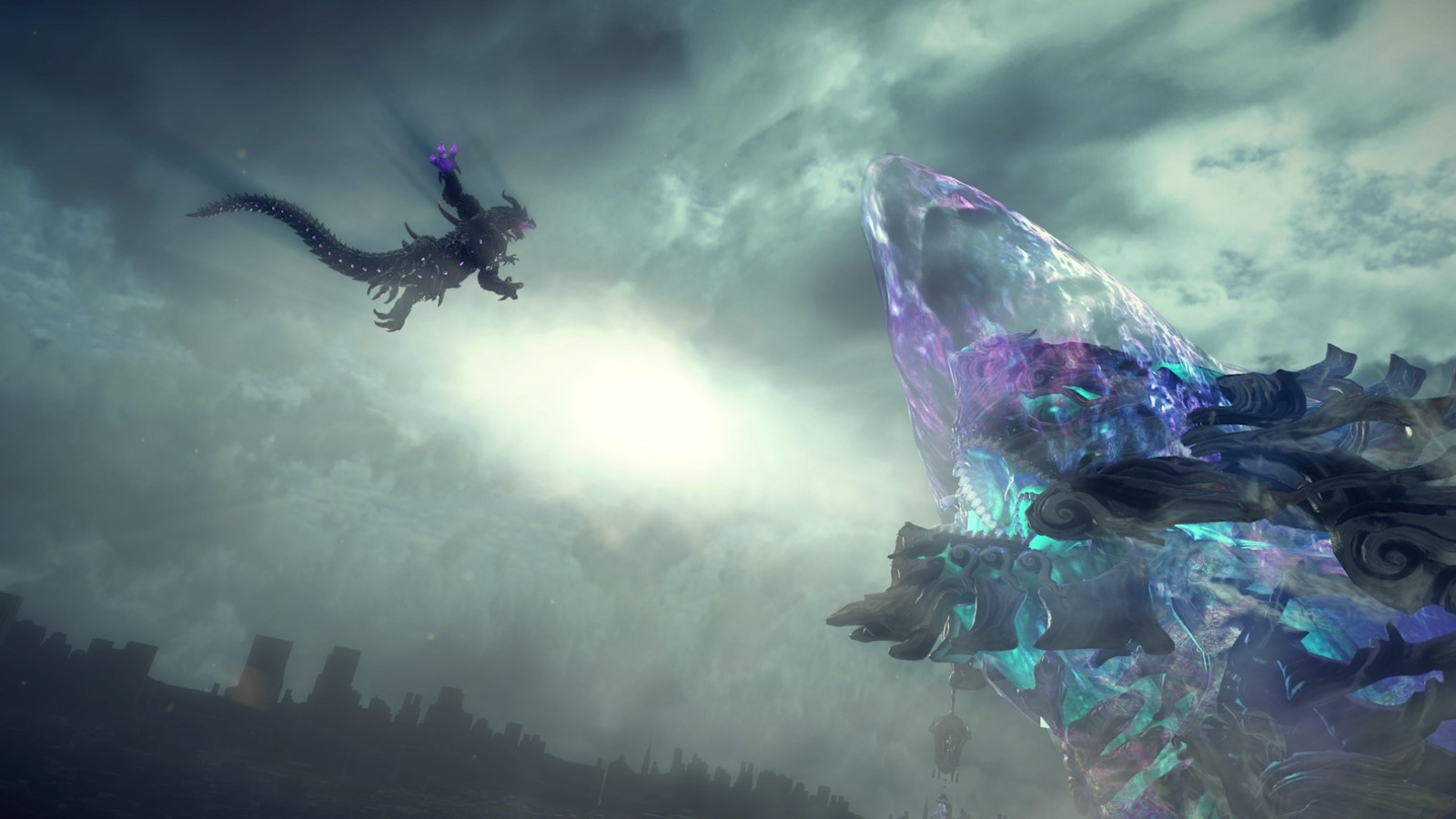 The set pieces in particular are really impressive and push the Switch to its limits. The scale and overall destruction involved in them is palpable, for example there is a playable sequence here where Bayonetta rides her demon spider through a crumbling city, with buildings tumbling over and exploding in near sight. There are countless others but my favourite has to be a specific Kaiju bout in the clouds, where the player fights by flicking and blowing bubbles at the enemy. The draw distance and level of detail, not just in these set pieces but across the entire game is undeniably impressive considering the limitations of the hardware. There are noticeable framerate drops at points but considering how ambitious the overall presentation is, it can be forgiven to a point, with the knowledge that the developers were simply trying to fulfill their vision and that outside of the set pieces, the framerate doesn't dip hard enough to take away from how responsive the game is.
In spite of all the insanity, the story does a sound job of subtlety capturing the heroic qualities of Bayonetta, specifically her underlying kindness and empathy. While the cutscenes have no problems depicting her power and skill emphatically with her constantly defying gravity and physics by jumping a thousand feet in the air, fashioning dresses out of tablecloths and dancing while summoning demons, it captures her inner goodness with brief concerned glances and when necessary, more overt reactions to further accentuate the loss or tragedy in the given scene. There are also some genuinely touching interactions she has with other members of the cast, that deepen both existing and newly introduced relationships.
Jennifer Hale replaces Hellena Taylor in the titular role and the change is definitely noticeable, albeit intentionally. There are clear storyline reasons why this iteration of Bayonetta would sound different and ultimately, once I accepted those reasons, I grew to really enjoy this performance. The circumstances leading to Taylor being replaced were thrust into the spotlight and if she was indeed offered such a paltry sum for her work, I can't exactly hold anything against her for not returning. That being said, the veteran Hale does a great job of delivering the witch's trademark sass as well as her serious lines, coming off as cheeky or threatening as needed. Anna Brisbin is also excellent and brings a boatload of likeability to Viola, a character who seems poised to become an audience favourite.
I got exactly what I wanted with Bayonetta 3. It's ambitious. It's unapologetically crude. Its gameplay expands limitlessly over its 15-hour runtime. I irrationally feared that the enormity of its set pieces would set my OLED Switch ablaze. And I wouldn't have it any other way.
Summary: Much like its iconic protagonist, Bayonetta 3 is remarkably agile. By deftly managing its glorious combat, incredible set pieces and surprisingly meaningful story beats, PlatinumGames has delivered a truly spectacular experience and one of the finest action games in years.
---
Bayonetta 3
Developer: PlatinumGames
Publisher: Nintendo
Genre: Action
A review copy was provided to Shindig by the publisher.