From the moment you start a new game, the setting is the star of A Space for the Unbound. It's vision of rural '90s Indonesia is mesmerising; even as—especially as?—someone who didn't grow up there, and with limited knowledge of the country's history, the way the setting comes to life makes it feel familiar, somehow. The spectre of the sociopolitical turbulence of the time is ever-present in the backdrop, providing context and giving weight to the game's coming-of-age themes, but taking centre stage is a small village where everyone knows everyone, and the stories a handful of young people trying to figure out their place in this changing world.
At the heart of A Space for the Unbound is Atma. He's your average high schooler, really: neither delinquent nor model student, neither outcast nor part of the popular clique. He's carefree and tends to get lost in his own imagination, but also good-natured, generally gets along well with everyone around him, and likes to crack jokes (or try to, at least). A diligent student from a strict family, Raya is the polar opposite of Atma in a lot of ways, but as high school sweethearts, they find comfort in each other's arms—and a desire to make the most of their youth before having to head out into the "real world". Thus the creation of their Bucket List of all the things they want to do together before finishing school: befriend a bunch of cats, eat an entire chocolate gateau, go see a movie together—the usual.
Well, "the usual" until a supernatural disaster threatens the world, Atma and Raya discover psychic powers of their own, and the significance of a series of strange dreams witnessed by Atma starts to come to the fore. It's a roller coaster with more than its share of surprising turns, but in the same vein as Life is Strange and The Kids We Were, it moved seamlessly between bending reality and pulling you into the quiet charms of Atma and Raya's everyday lives. Being able to "space dive" into a manifestation of someone's anxieties and help them find a way forward is s useful for assisting a local musician in finding their groove again as it is in saving the world.
Those spaces dives form the foundation of A Space for the Unbound's puzzles. In classic adventure game style, they largely revolve around finding items and using narrative and contextual clues to use then in the right places, but the mind exploration aspect adds an interesting dynamic. Puzzles don't get too difficult, but more than posing a challenge to overcome, their value is in how they help bring the world and its characters to life—something they do brilliantly.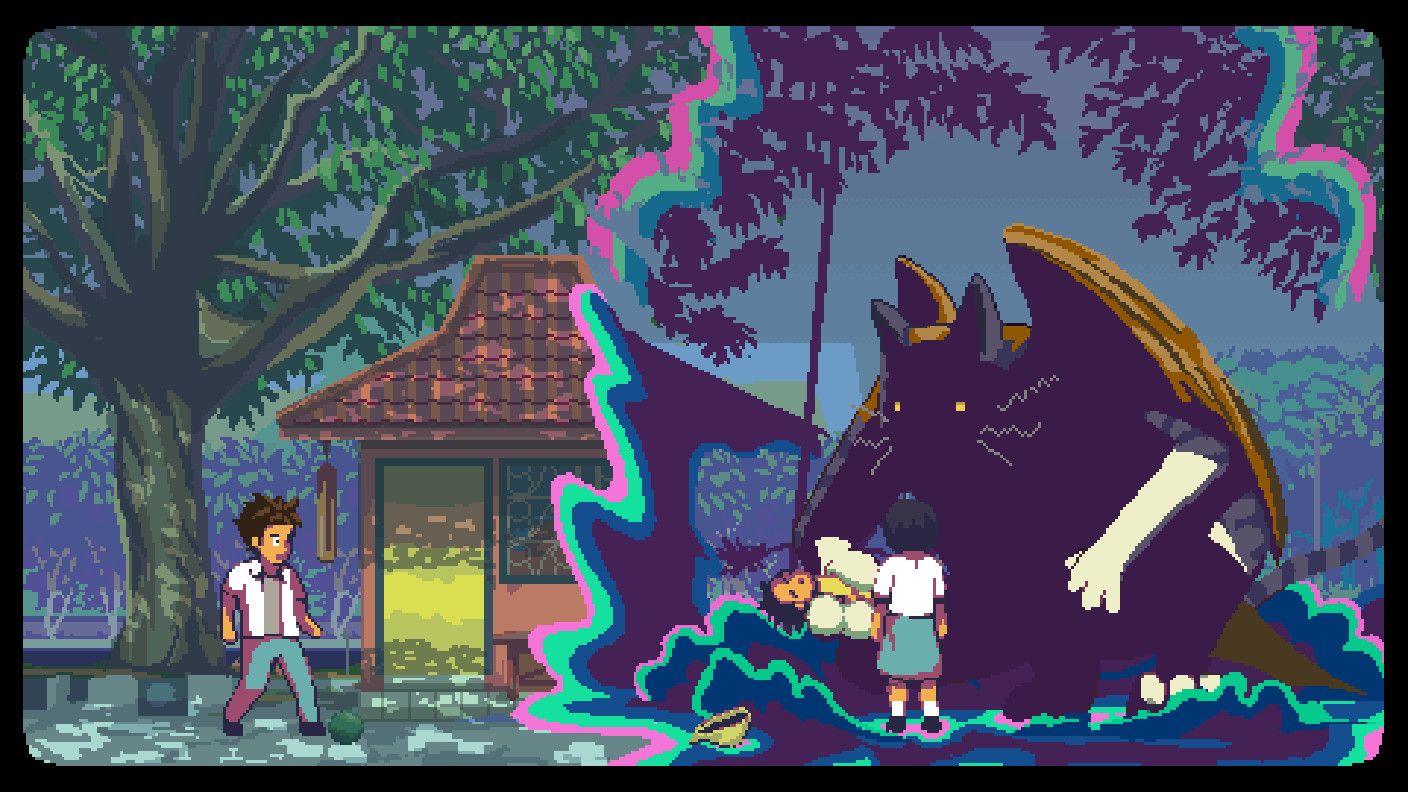 A pixel art style that's not about being "retro" so much as painting a compelling picture helps sell that vision, too. Scenery and characters are all full of detail and beautifully animated, feeling lifelike and alive without getting bogged down in a sterile attachment to realism. It's a truly beautiful game, with a rare mastery over the way pixel art can breathe life into a world.
All this in service of a tale that effortlessly juggles lighthearted humour with careful traversal of serious, difficult themes like domestic violence, while building to an especially emotional conclusion. A Space for the Unbound is an enchanting, sometimes confronting dive into a slice of Indonesian history, and a journey will worth taking.
---
A Space for the Unbound
A review copy was provided to Shindig by the publisher.