Welcome to Quick Hits, a series of mini-reviews grouped around particular themes. In this issue we've got some games you can just pick up and play: Super Meat Boy Forever, Void Scrappers, and RunBean Galactic.
I like grandiose adventures and dense, thinky games as much as anyone—the games that invite you to get lost in their worlds for hours on end, that challenge my perspective and ask me to think about the world in new ways. I like games that pose more questions than they answer, that demand interpretation, that introduce new ideas and send me down all sorts of research rabbit holes to learn more. I like jumping into what I thought would be a cozy farm-life sim and having an existential rug pulled out from under my feet.
There's a time and place for those games, absolutely. But sometimes, I need to just jump into a game with as little set-up as possible, turn off the analytical side of my brain, and just play. The kinds of games you can just pick up and play, even just for a few minutes at a time, to keep occupied on a train ride or just decompress for a moment. No fuss, no nonsense, no drip-feed worldbuilding or trying to remember what you were doing last time—just fire up the game and start playing.
Here are a few I've been playing recently.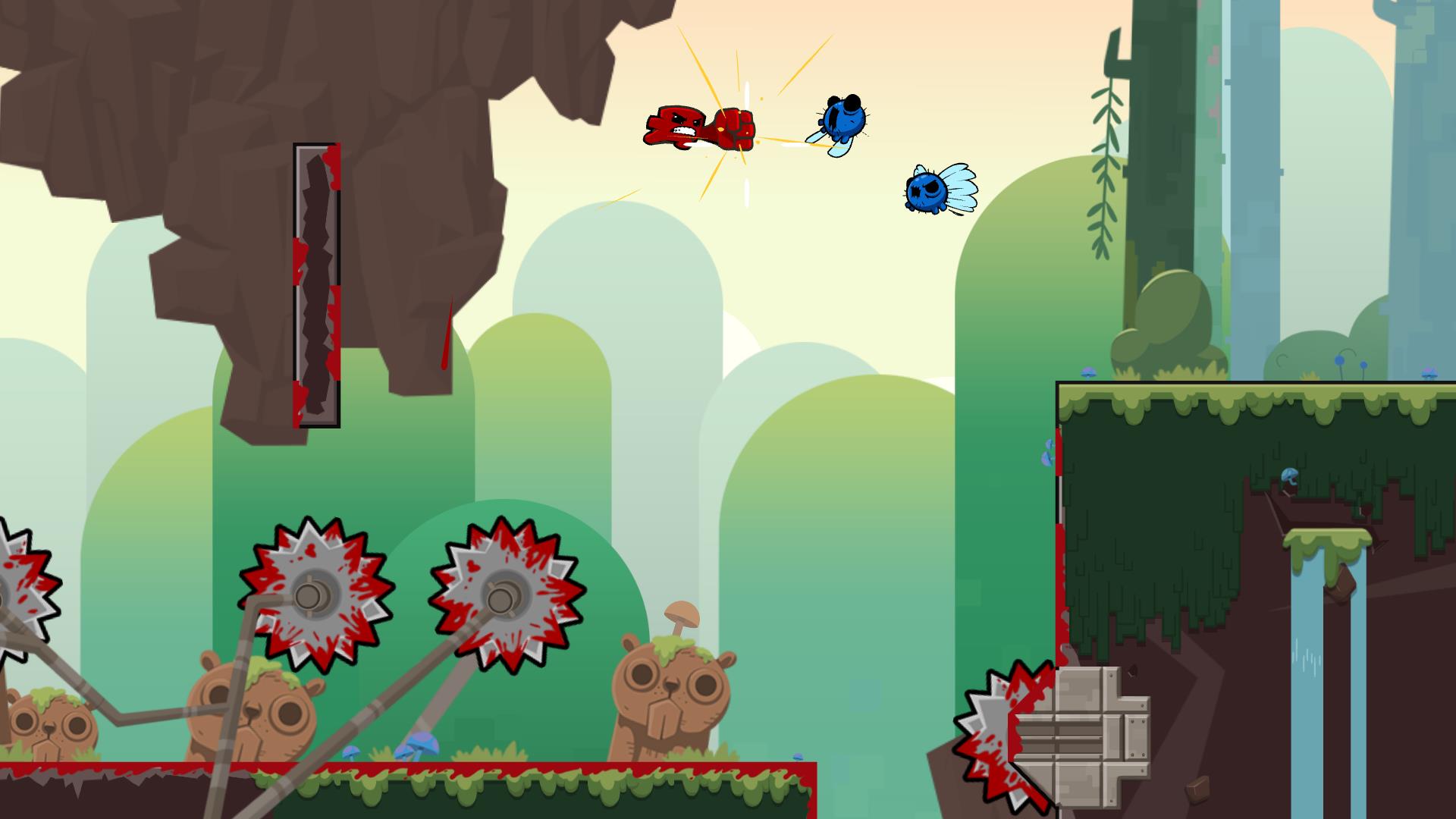 Super Meat Boy Forever (Android)
I was a big fan of Super Meat Boy Forever when it first landed on Switch a few years ago—a controversial opinion, as it turned out. Where a lot of the game's critics took issue with the perceived simplicity of turning Super Meat Boy into a procedurally-generated auto-runner, I enjoyed it precisely because of how its "simple" design allowed for some genius platforming puzzles. You can do a lot, in terms of level design, when you know the player will be moving at a constant, predictable speed, and when pieces of the map are the only way of stopping momentum or changing direction. Add in a small but extremely useful selection of attacks that double as mobility tools, cleverly mapped to two buttons, and you have a recipe for a "simple" game with a whole lot of depth and extremely satisfying die-and-retry platforming.
The biggest surprise was that it didn't come out on mobile at the same time: the elegant simplicity of its design and lack of a need for a joystick or d-pad should make it a natural fit for touchscreen controls. Indeed, there had been plans for a mobile version since the game's announcement, though it hasn't happened until now.
Fast-forward a few years, Super Meat Boy Forever is finally available on Android and iOS, and it's as good as it ever was. Nothing much has changed from the Switch version, and everything I wrote in that earlier review holds true here, too. The two-button control scheme maps as smoothly to mobile as you'd expect, and the inputs are as responsive as you'd expect from a game that demands such a degree of precision.
The biggest difference is, simply, the inherent portability of mobile, even compared to an undocked Switch. Got a couple of minutes to spare? Pull your phone out of your pocket and you can be running and jumping and dying bloody, gruesome deaths in a matter of seconds. Rapid-fire play loops are perfect for dropping in and out, and the frequency of deaths, instant respawns, and generous checkpoints—all staples of a genre designed around success through repeated failure—mean getting interrupted mid-level is rarely a problem.
The other difference is price. One American dollar (or your local equivalent) gets you an extremely good, polished, expertly-crafted platformer that finds a natural home on mobile, with no ads or any of the other nuisance that's so typical of the mobile marketplace. The Switch version of Super Meat Boy Forever was an underappreciated gem, in part because of people writing it off for "feeling like a mobile game". That simplicity was always one of its strengths, though, and the jump to mobile makes that clearer than ever.
Available now on Android (reviewed) and iOS.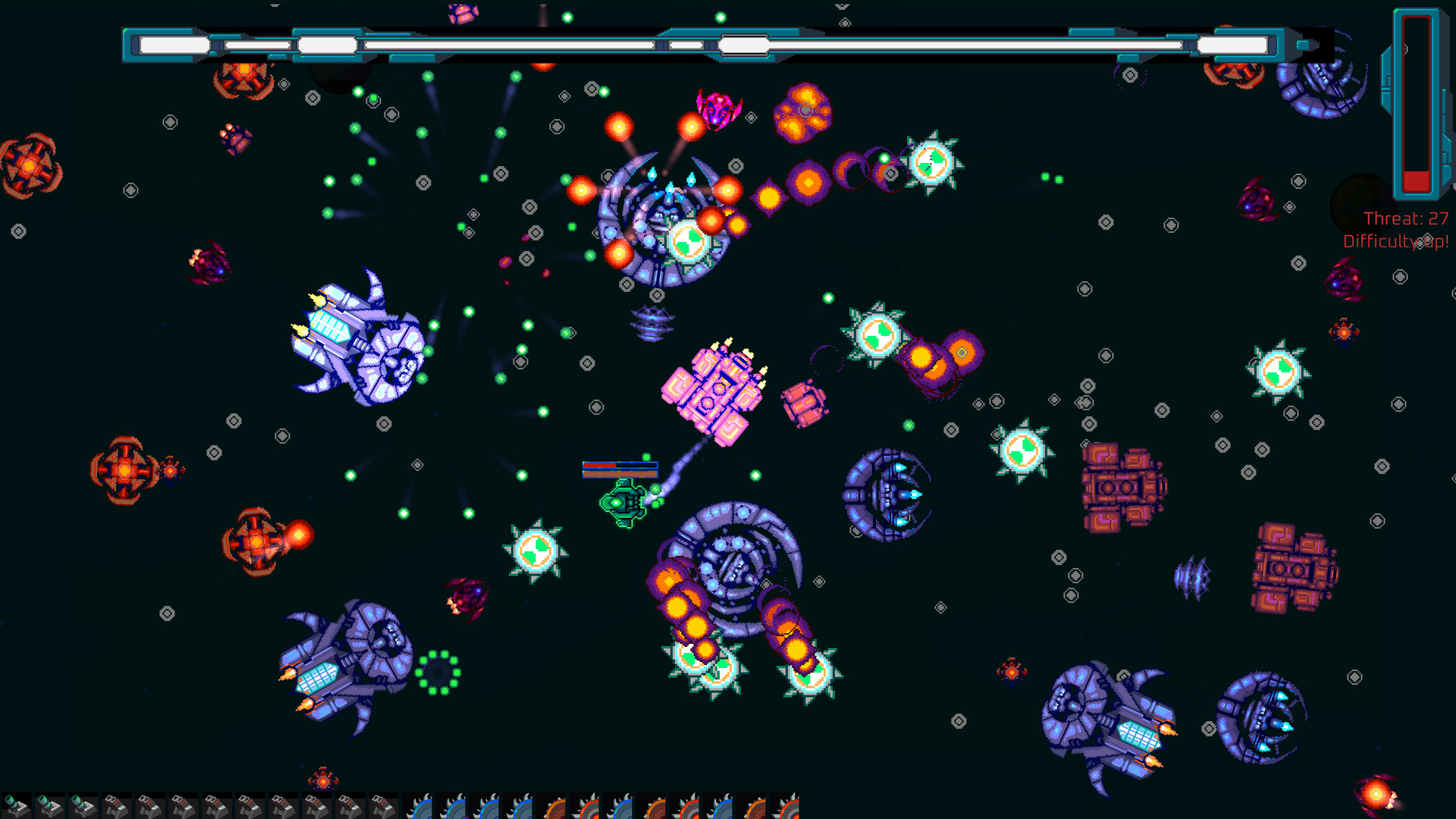 Void Scrappers (Switch)
"Vampire Survivors in space!" is how Void Scrappers was introduced to me, and while I usually try to avoid those kinds of comparisons, it's a fitting one (at least until the dust settles on a genre name for these). The basic idea is very much the same as Vampire Survivors and all those other horde survival / auto-shooter / roguelike things: survive as long as possible while being swarmed by mindless foes, with a growing assortment of auto-firing weapons and buffs to help you deal with ever more numerous hordes. Balancing luck, build strategy, and reflexes is the key to success, and you'll see the fruit of that effort when you turn into a walking death machine killing hundreds of enemies at a time. This time, it's in space.
Again, it's a simple concept, but one that finds depth and variety as you peel back the layers. The moment-to-moment loop is essentially just moving around in open space dodging enemies that home in on you, but the particulars of each different weapon and upgrade, and the synergies between them, dramatically alter how you approach that task. As you get more familiar with the intricacies of each, the potential for clever, creative builds grows, while a host of unlockable characters and permanent buffs continue to add new ingredients to a mechanically straightforward premise.
Vampire Survivors remains the gold standard, in terms of both sheer content and nuance in how those pieces fit together. Void Scrapper is comparatively more limited, with fewer unlockables and less variety in enemy designs and behaviour. At the same time, it puts its own little twists on the formula with its sci-fi theme. Its spaceships come with a high degree of mobility as well as a cooldown-managed invincible dash that can be augmented with power-ups, giving that core "dodge the enemies" design a surprisingly different feel. With spaceships, you also get shields rather than health bars: four hits and you're done, regardless of level, so shield management takes a different turn.
Comparisons to Vampire Survivors are inevitable, and while Void Scrapper doesn't quite hit the same highs, it's an impressive effort that puts its own little twist on the latest genre du jour.
Available now on Switch (reviewed) and PC. Review code provided to Shindig by the publisher.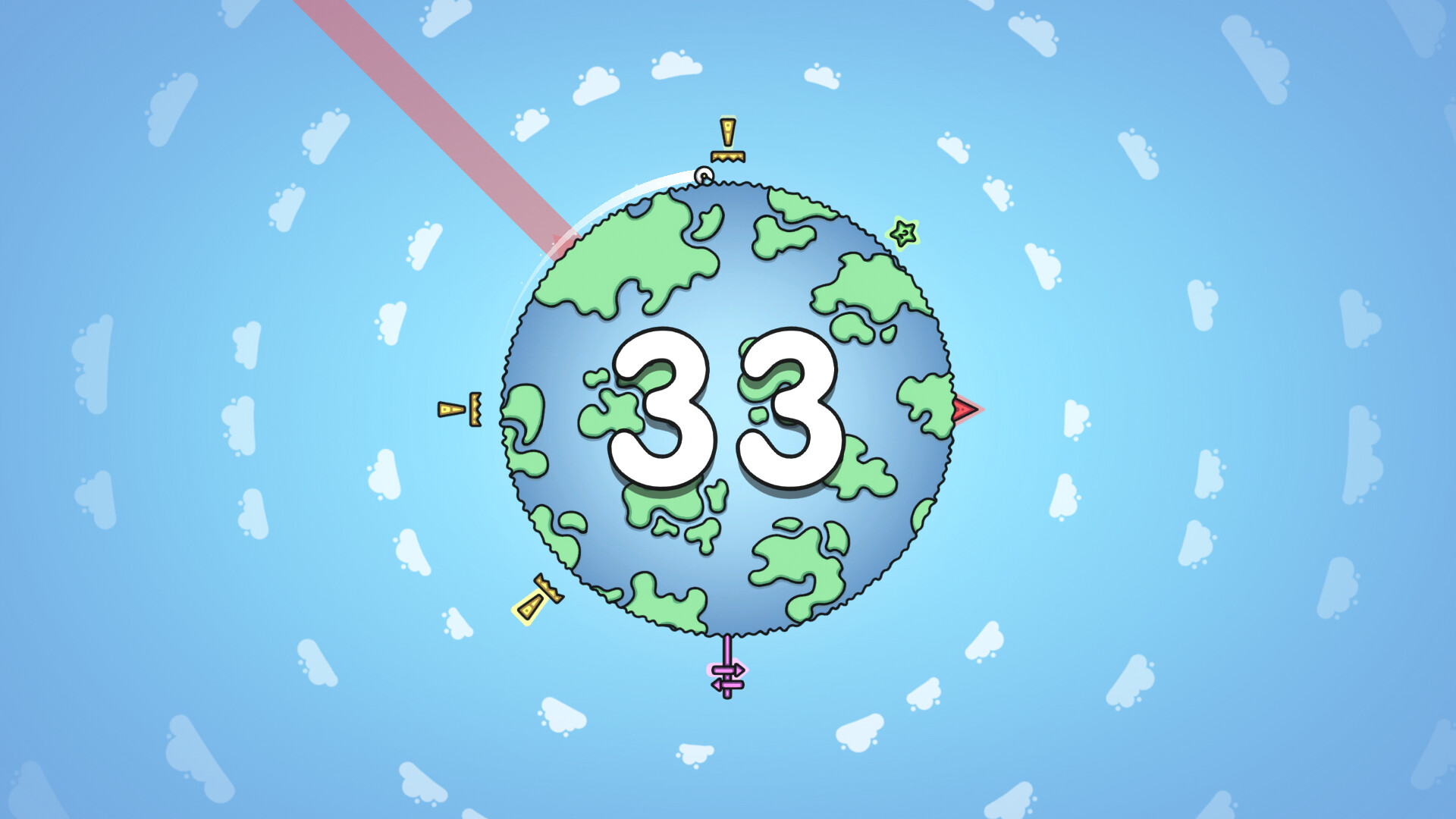 RunBean Galactic (Switch)
RunBean Galactic takes the concept of an autorunner and simplifies it even further. Two buttons and a circular level that loops infinitely is really all there is to it: you control a little astronaut who automatically runs around a small 2D planet, and you need to jump or roll to avoid various obstacles. Your goal is to survive as long as you can, with the types and number of obstacles increasing the longer you run. That's it.
Note that "simple" doesn't mean "easy". The variety of different obstacles is enough to keep you on your toes. Things like signposts that reverse your direction and doors that require a key to pass through are enough to throw off your rhythm, while the gradually increasing frequency of hazards demand ever more precise jump timing. Surviving longer than a minute is a good effort, and if you can last two minutes, you're among the best in the world (based on Switch leaderboards, at any rate). Those short runs make this a great choice for short bursts of play, too. A couple of spare minutes is enough to get a few good runs (or a few more bad ones) and get a sense of completion that you wouldn't get from playing half a level of some other game. 
The trade-off is a lack of any real longevity or depth. Quick bursts are fun, but it doesn't take long for repetitiveness to dull longer play sessions. The game's systems leave little room for experimentation, and there isn't much in the way of intricacies to master—getting better at the game mostly just involves quicker recognition of the different obstacles through exposure. A few cosmetic unlocks are the full extent of meta-progression, and trying to one-up your best score can only carry you so far.
As such, RunBeam Galactic probably isn't a game you'll pour hours into. But for a quick, fun time-waster that keeps faffing to a minimum, it hits the spot.
Available now on Switch (reviewed), PlayStation 4/5, Xbox One/Series, and PC. Review code provided to Shindig by the publisher.