The first three Final Fantasy games have an interesting history when it comes to remakes. Each one has seen multiple releases on multiple platforms, with each new version taking its own direction. More than simply "modernising", different iterations have used different art styles, taken different approaches to game design tweaks and rebalancing, and tacked on bonus dungeons and the like. As such, there's no clear "definitive" version of any of these games, just a bunch of different interpretations with different features stemming from different goals. Each one starts with the same question—"How do we make this older game presentable for contemporary audiences while preserving the spirit of the original?"—and arrives at a different answer.
You'll find my reviews of the individual games below, but first, some general thoughts on the Pixel Remaster project as a whole, as it relates to the first three Final Fantasies, and common features shared between them.
The Pixel Remasters aren't "definitive" versions either, at least in the sense of rolling the feature sets of all the other iterations together into one. They are, instead, fresh answers to that same question—and they're answers that take a more pure approach. There's no bonus "content" for content's sake, and the revamped, pseudo-16 bit art style cuts much closer to the tone and style of the NES originals than that of previous remakes. At the same time, they selectively incorporate some of the adjustments from previous versions, and introduce a few handy new convenience functions of their own. The PS4 and Switch versions, in particular, introduce new options to turn encounters off and on, and to adjust—up or down—multipliers for experience points and money earned.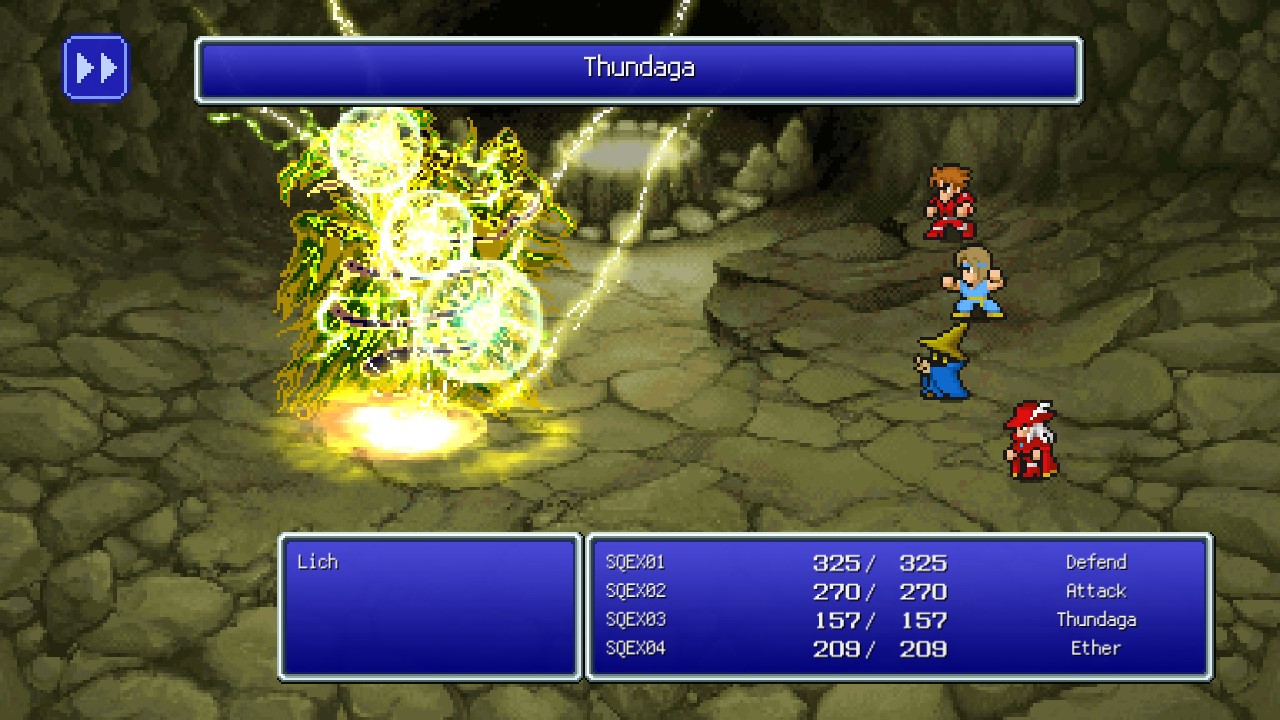 The remastered art style is, naturally, central to the whole series—hence "Pixel Remaster" right there in the title. It's pixel art reminiscent of the 16-bit era, but with various lighting, water, and other environmental effects to help everything really pop. Where earlier remakes tried to mimic the character and monster designs of later Final Fantasy games on Super Famicom, the first three pixel remasters more specifically echo the Famicom originals, just with more detail. 
Each one also has a gorgeous new orchestral soundtrack arrangement, and—new to the console releases—there's also the option of switching to the NES audio. Likewise, the PS4 and Switch versions add an (optional) pixel font that's far more fitting with the overall aesthetic than the widely-criticised font used for the initial mobile and PC releases. It doesn't quite match the character of some of the font mods floating around for the PC version, but it's still nice, and addresses one of the biggest complaints about the earlier Pixel Remaster releases.
The end result? A set of new versions of iconic games that may not be "definitive" in terms of content, but certainly feel "definitive" in the way they capture the atmosphere of the originals. The art style, rearranged soundtracks, and careful decisions about what to "modernise" and what to retain all come together to make these feel like the best effort yet of recapturing the feel of the NES originals, not necessarily as they were, but as rose-tinted nostalgia remembers them.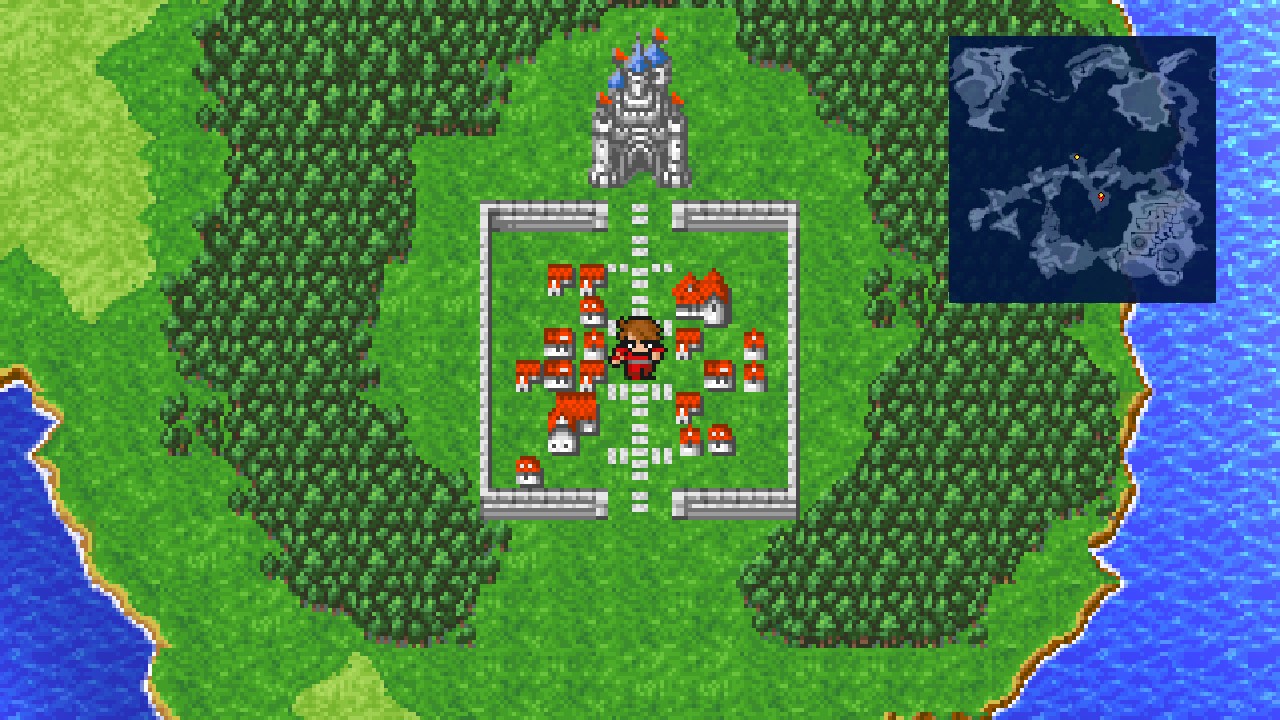 Final Fantasy: Pixel Remaster (PS4) 
The adventure that started it all is also where the idea of "interpretations" is most stark. It's had more remakes and re-releases than any other Final Fantasy game, with most of those diverting from the original quite substantially: new art styles, anime-influenced character redesigns, changes to how magic works, and added bonus dungeons, among various other little tweaks in the name of modernity. Final Fantasy Pixel Remaster, in comparison, well and truly goes back to the game's roots: the charge system is back, the character designs directly channel their 8-bit counterparts: the blonde-haired, anime-style warrior seen in every other remake is no more, and the burly, redheaded form reigns supreme.
These decisions might be divisive—I know I find a typical MP system far more convenient than FF1's charges—but this is also where the Pixel Remaster shows its ethos. Things can be archaic without being antiquated, and while these things may not be to everyone's taste, they still work, and they're truer to what the original incarnation of Final Fantasy was. Likewise, the Pixel Remaster lacks the bonus dungeons seen in each release since Dawn of Souls on Game Boy Advance, and while some will complain about "cut content", Pixel Remaster feels more representative of what Final Fantasy is and—perhaps more importantly—was, in its comparative brevity and focus.
At the same time, a lot of the tweaks from earlier remakes can be found here, too: bug fixes, new cutscenes, some new items, balance adjustments, and so on. The encounter toggle and EXP multipliers are very welcome additions, giving players a degree of control over how grind-heavy they want the game to be. As much as it targets a "purist" interpretation of the original, Final Fantasy Pixel Remaster isn't beholden to the technical limitations or design principles of a game that's a few years out from its 40th birthday.
Which brings me back to my earlier comment about nostalgic vision that drives the Pixel Remasters. In balancing modern conveniences and a deliberate effort to wind back some of the changes made by earlier remakes, Final Fantasy Pixel Remaster avoids both being too archaic and too revisionist. It may not be the "definitive" version of Final Fantasy in terms of raw content, but it certainly feels like the purest interpretation of the original.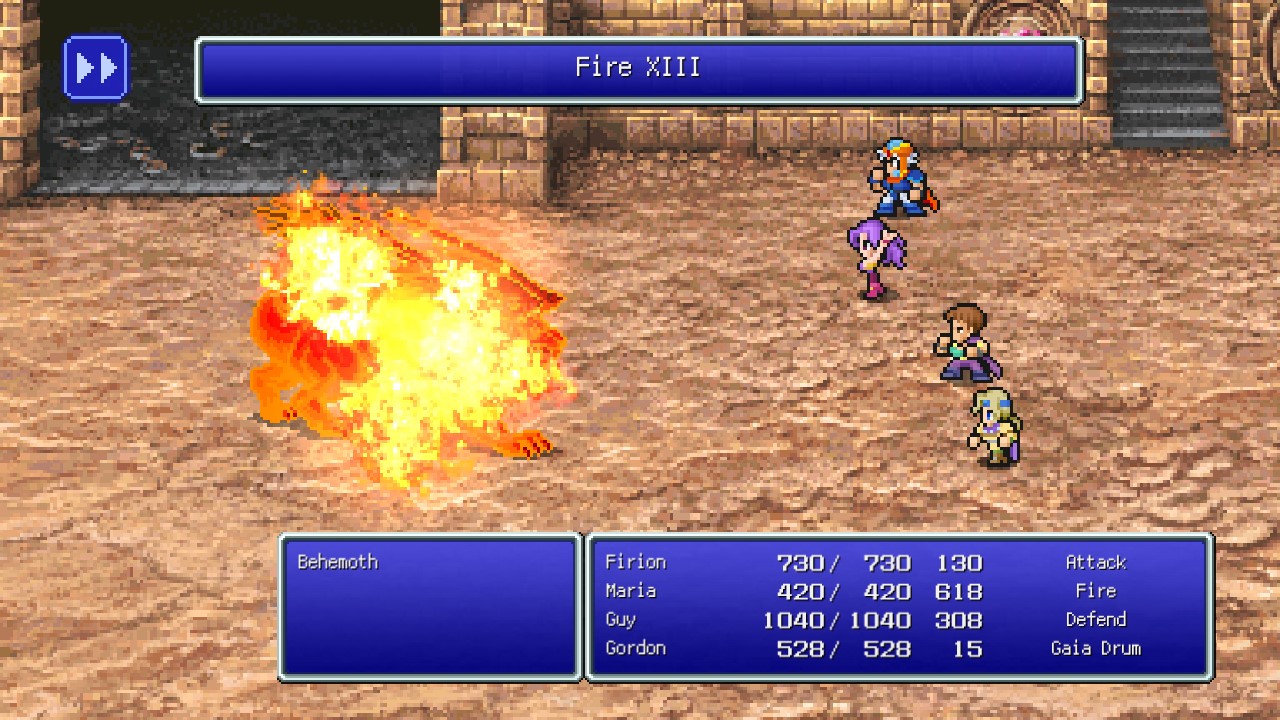 Final Fantasy II: Pixel Remaster (PS4)
Final Fantasy II has a reputation as the black sheep in the series, largely due to its character growth system: instead of experience points and levels, character stats, weapon affinity, spell power, and so on grow individually through use. Every time a character attacks, there's a chance their strength will increase; improving HP and defence relies on getting hit. It's an innovative system and a stark departure from Final Fantasy before it, but also unbalanced and arguably tedious.
But it's also one of the defining aspects of FF2, so the various remakes haven't really tried to "fix" it. Likewise, a focus on character-driven storytelling meant remakes kept character designs more consistent, too. As such, despite seeing almost as many iterations as the first game, the core design has kept largely consistent through all of them. Final Fantasy II Pixel Remaster keeps to that trend: the divisive character growth system remains intact, with some tweaks to growth rates the only real difference. Character sprites, portraits, and monster designs more closely resemble their Famicom counterparts, and the story sticks close to that of the original.
Final Fantasy II Pixel Remaster benefits from the universal new features from this series: quicksave and encounter toggles being of particular use in a game with lengthy, sometimes tedious dungeons. There are some little tweaks in the minutiae of enemy balance, but, where the FF1 and FF3 Pixel Remasters are a bit more revisionist in the mechanical details (despite their stylistic callbacks to Famicom), FF2 feels largely untouched. Unfortunately, this also means it lacks the bonus dungeons from the Game Boy Advance version. In telling side-stories for some of FF2's secondary characters, the "Soul of Rebirth" dungeons felt like a much more meaningful addition than the extra content for other games, and so the absence of them here is far more noticeable.
Like the rest of this collection, Final Fantasy II Pixel Remaster benefits from convenience features and gorgeous new pixel art, and while the absence of bonus dungeons from previous remakes is more noteworthy here, it stays true to the vision of the original game. Final Fantasy II remains divisive , and the Pixel Remaster won't change that—nor does it set out to. Black sheep or no, FF2 is an important game (and an enjoyable one, despite what people say), and the Pixel Remaster keeps its spirit alive.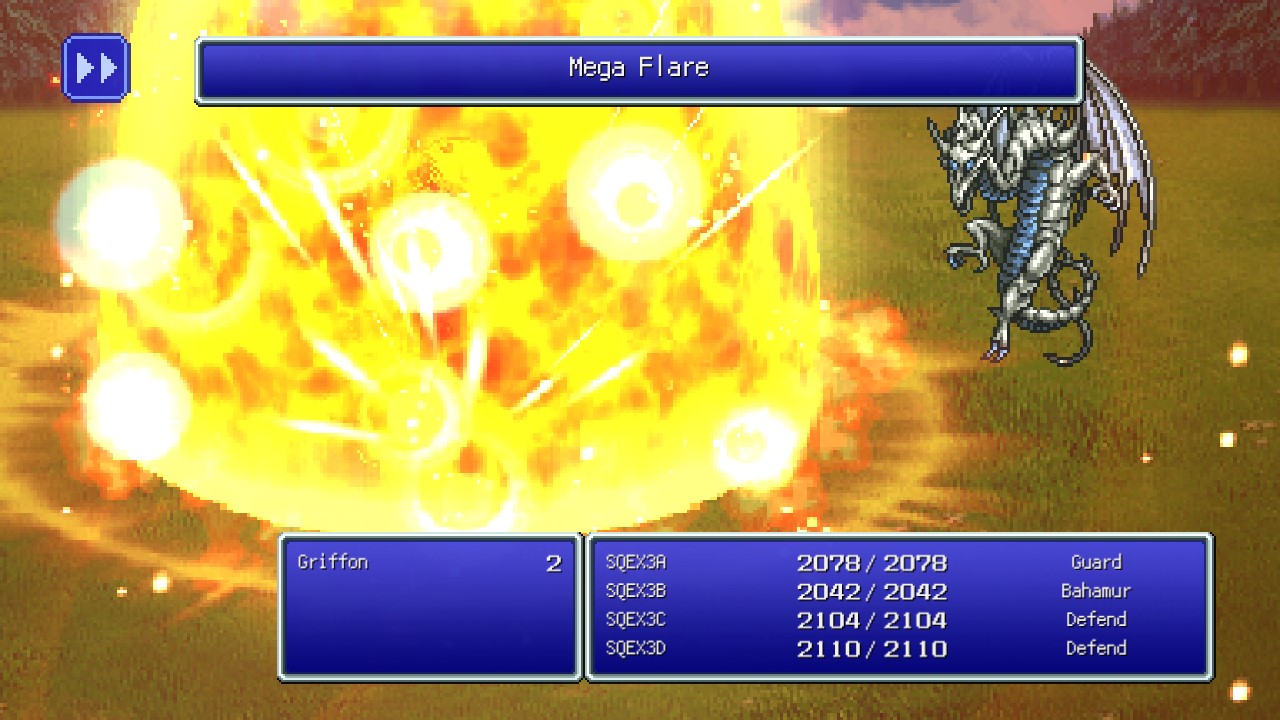 Final Fantasy III: Pixel Remaster (PS4)
Final Fantasy III hasn't seen the sheer number of releases that the two before it did, but the one remake (that's been ported to various systems since its initial release in 2006) was a substantial one: a full 3D remake the revamped the story, fleshed out character details, and reworked fundamental aspects of the iconic job system. It's a great game, both on its own merits and as a fresh spin on its source material, but it's also a rather different experience.
In keeping with the rest of this batch, Final Fantasy III Pixel Remaster cuts much closer to the Famicom original. The party is once again made up of player-created characters rather than authored protagonists, the revamped story has been pared back (though not entirely removed), and the locations of new jobs—many of which were changed for the 3D remake—are as they were originally. The new pixel art keeps the style of the rest of the Pixel Remaster series, and in so doing, character designs, monsters, and overall atmosphere more closely channel their 8-bit counterparts.
But where it hews close to the original stylistically, Final Fantasy III Pixel Remaster doesn't shy away from tweaks and changes aimed at creating a smoother play experience. There's no longer a penalty for changing jobs, some jobs have new or altered special abilities to make them more useful, and the stats and effects for a lot of equipment has been rebalanced. Some enemies and bosses, especially in the later parts of the game, have been toned down a bit, and the infamously lengthy final dungeon now has healing points. FF3 also arguably benefits most from some of the universal Pixel Remaster features—auto-save and quick-save, especially (see, again, those lengthy dungeons).
Until now, the only version of Final Fantasy III that's been available internationally has been the 3D remake: a very good game, but one that looks, feels, and plays rather differently from the original. Final Fantasy III Pixel Remaster gives the world a version that, despite its various tweaks, feels much more representative of FF3 as it was in 1990.
---
Final Fantasy Pixel Remasters available now on PlayStation 4 (reviewed), Switch, PC, and mobile. Review code provided to Shindig by the publisher.