Mini-reviews for Gal Guardians: Demon Purge, Kirby's Return to Dream Land Deluxe, and SpongeBob SquarePants: The Cosmic Shake
Anyone who visits Shindig regularly (or even semi-regularly!) would have noticed there hasn't been a lot happening lately. Without getting into it too much, real life priorities have meant I just haven't had the time or energy to give to this site, resulting in a sort of unplanned semi-hiatus.
That's likely to continue, but I still want to at least keep a toe in the game reviewing pool. I thought about doing tweet reviews for a while—which, among other things, seemed an interesting challenge for someone with my tendency toward verbosity. But with… everything that's happening at Twitter right now, and there still not being a clear frontrunner for an alternative, and the reality that 240 characters is a degree of concision that I'd never be able to manage, I needed something else.
Enter Quick Hits: a periodic collection of short-ish form reviews of things I've been playing lately. We're talking 500-word max: not as in-depth and essay-like as my reviews usually end up being, but hopefully still a little insightful and worth reading.
Enjoy!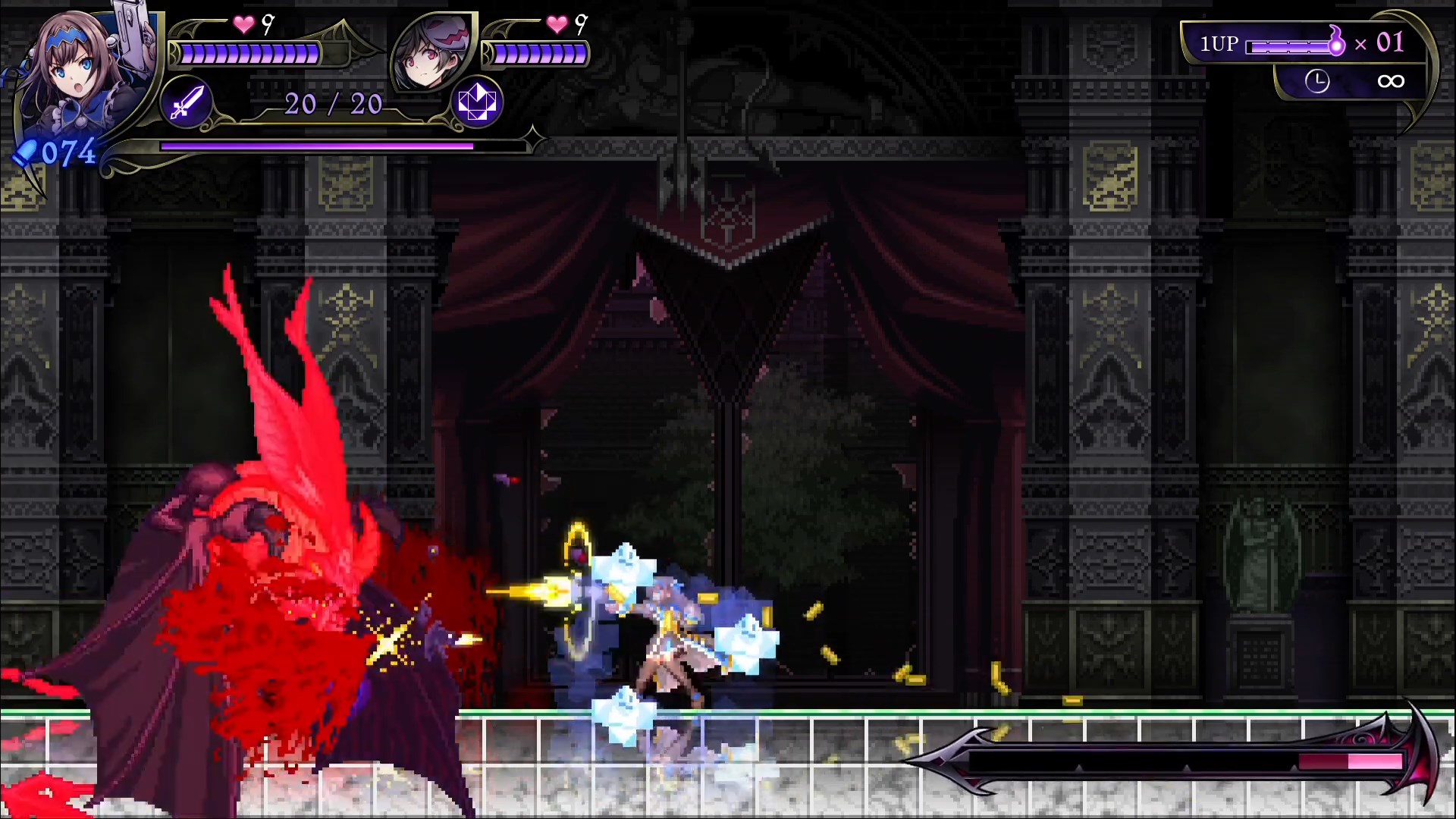 Gal Guardians: Demon Purge (Switch)
Among games that pay homage to Castlevania, there's usually a pretty clear delineation: is it a throwback to the classic, NES-era games, known for linear platform action and brutal difficulty, or Symphony of the Night and its ilk, known for exploration and large, labyrinthine maps? Is it a "Classicvania" or a "Metroidvania"? Gal Guardians: Demon Purge tries to be both—and is more successful at it than you might expect.
This spinoff of Gal Gun: Double Peace (though much less racy, for better or worse) sees demon hunter sisters Shibobu and Maya transported to an ominous castle that'll look more than a little familiar to anyone who's played Konami's vampire-hunting hallmarks. Level design, enemies, a sub-weapon system, the omnipresence of breakable lights for various prizes, the overall atmosphere, and a stage progression that sees you gradually fighting your way to the top of a demonic tower all pay overt tribute to the Belmonts' original adventures.
Yet it weaves Symphony of the Night-esque elements through something as simple as… a level select. The overall structure of Grim Guardians is linear and streamlined, but each level has branching paths that can only be accessed when revisiting with Shinobu and Maya's growing arsenal of special abilities. It's not as exploration-centric as a sprawling, intricately intertwined map, but it still makes revisiting old areas and discovering new secrets feel worthwhile. Speaking as someone whose -vania preference sits firmly on the Metroid side, Gal Guardians still managed to scratch that itch for me.
As much as it channels Castlevania, Gal Guardians makes its own mark, too. A dash of Inti Creates' playful sense of humour, weapon choices that fit a Gal Gun spinoff far more than they would a vampire-hunting mission (Shinobu's assault rifle…), and modern flourishes that let the game feel retro but not archaic all let Grim Guardians stand on its own—even as it wears its classic Castlevania influence so proudly.
Gal Guardians: Demon Purge is a balancing act: between modern and retro game design, between loving homage and forging its own identity, between "Classicvania" and "Metroidvania". It walks those tightropes admirably, and the result is a game that anyone with a fondness for Castlevania—whichever era it may be—should check out.
Available now on Switch (reviewed), PlayStation 4 and 5, Xbox One and Series X|S, and PC. Review code provided to Shindig by the publisher.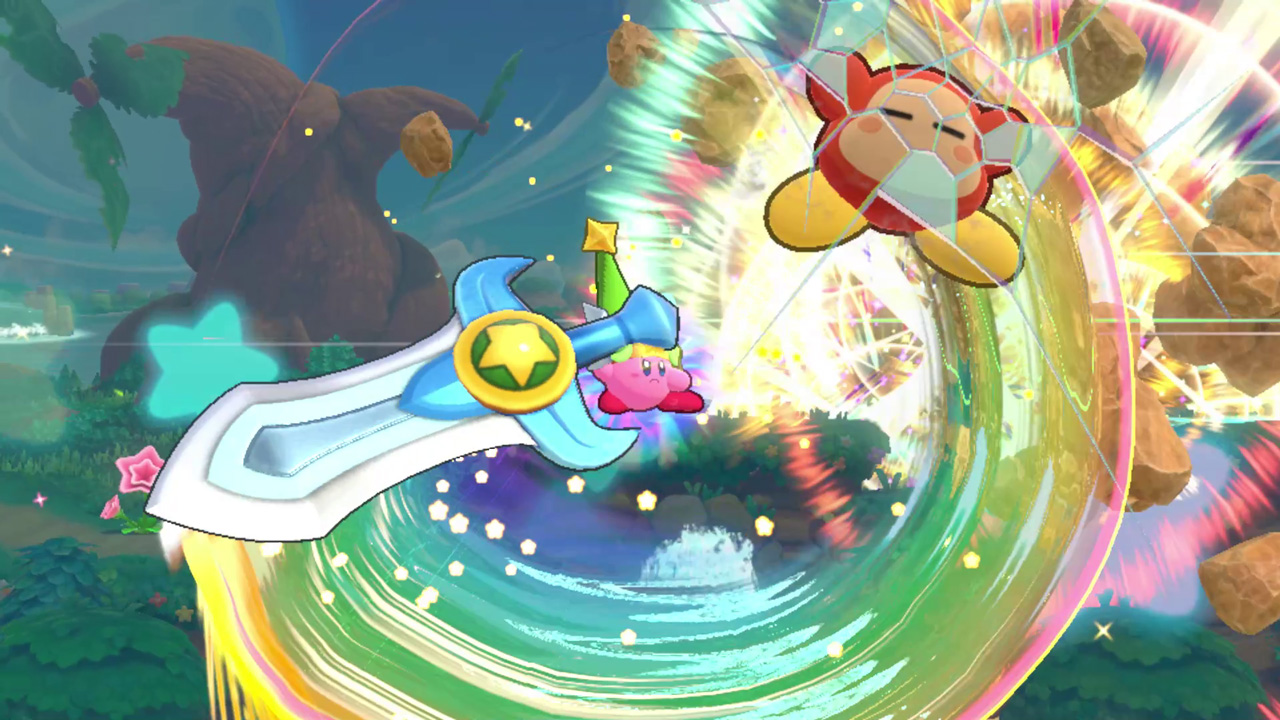 Kirby's Return to Dream Land Deluxe (Switch)
There's no such thing as a bad Kirby game. Within the main series, certainly, but even in the numerous spin-offs, there's a persistent quality and commitment to creative innovation that makes the series so reliable—not to mention the inherent charm of the little pink puff himself. But Kirby's Return to Dream Land Deluxe is in the unfortunate position of landing in the wake of the particularly excellent Kirby and the Forgotten Land (and the very good Kirby: Planet Robobot a few years before that), and while it's not a bad game by any stretch, it comes in a little flat as a result.
Granted, this is a remaster of a game that's more than 10 years old now. It is, by and large, a fairly typical Kirby platformer, with the usual array of copy abilities and short, sweet levels that are fun and well-designed but don't really push any boundaries. Return to Dream Land's main gimmick is "Super Abilities" that turn Kirby into a giant force of destruction who can obliterate parts of the level in front of him—as much fun as it is to power up and just break stuff, these Super Abilities are far less interesting than, say, the mechs in Planet Robobot.
That said, Return to Dream Land Deluxe is more than a simple remaster, with a bunch of welcome new features. Merry Magoland hosts a wide array of minigames that you can jump into at any time, with items and cosmetic masks among the prizes. The new mecha and sand copy abilities are fun and versatile, and Magalor Epilogue introduces fresh new challenges and a light RPG touch when it comes to powering up Magalor's spells. The new comic-inspired art style looks great, and the multiplayer aspects of the original game really get to shine on Switch when you always have at least two Joy Con at the ready.
Kirby's Return to Dream Land is a good game, and by extension, so is Kirby's Return to Dream Land Deluxe. But it's also a remaster of a game that's now more than a decade old, which was itself a deliberate effort to return to the series' roots, and it comes hot on the heels of one of the best—and most creative—games in Kirby's history. Nostalgia and the series' innate sense of joy go a long way, but Return to Dream Land Deluxe struggles to step out of the shadow of Kirby's more recent adventures.
Available now on Switch (reviewed). Review code provided to Shindig by the publisher.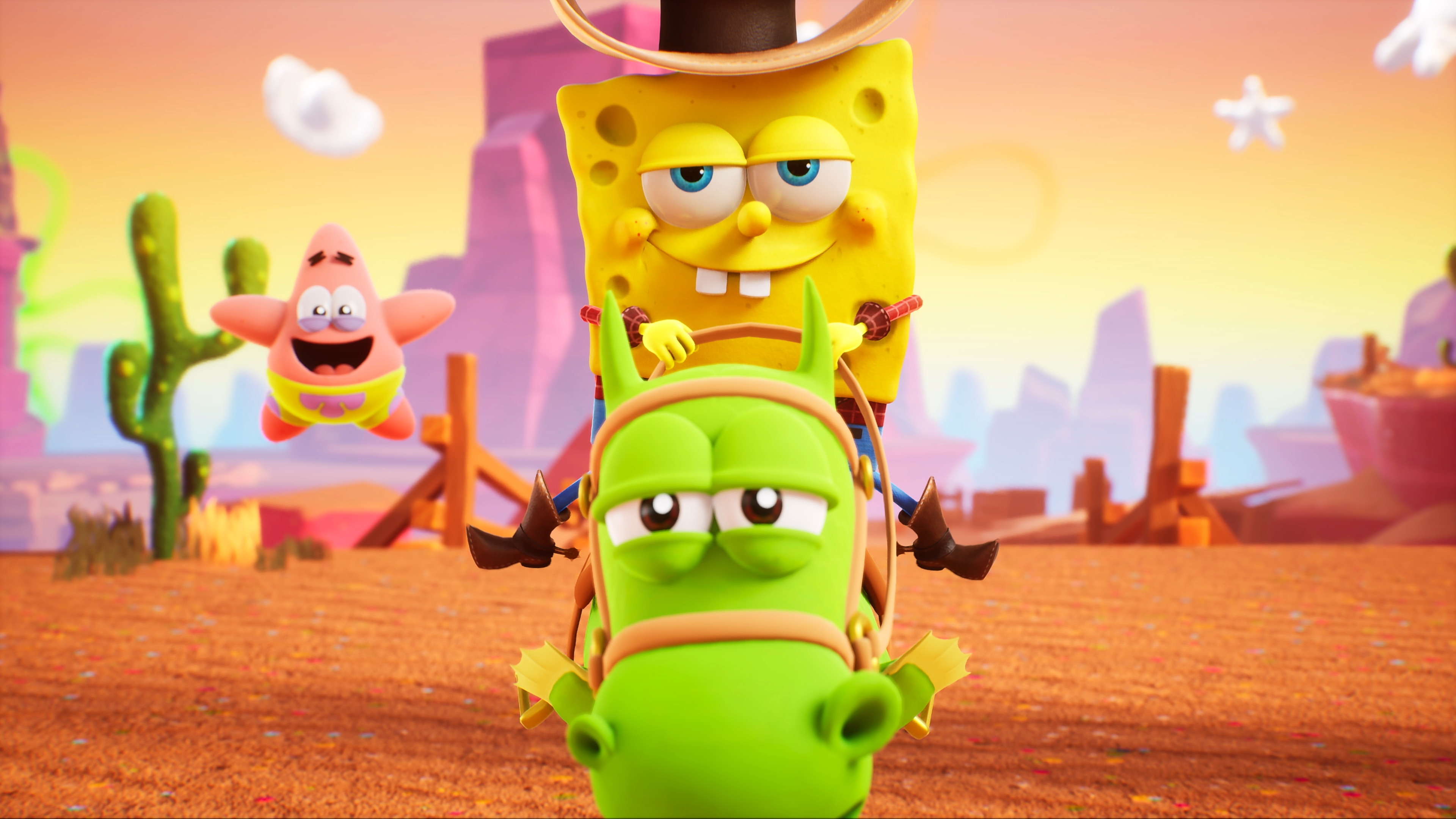 SpongeBob SquarePants: The Cosmic Shake (Switch)
Remember the good old late '90s / early 2000s, when just about every kids' movie and cartoon had a 3D platformer game tie-in? And they were usually kind of clunky, often not that great, but still a lot of fun despite (or even because of) those shortcomings? SpongeBob SquarePants: The Cosmic Shake feels like a throwback to that era—which makes sense, given its a successor of sorts to SpongeBob SquarePants: Battle for Bikini Bottom.
You know the drill: some strange event conveniently turns the world into a platform-filled playground, and sends everyone's favourite cartoon hero on an adventure to solve puzzles, jump around, clobber bad guys, and collect collectibles. In this case, an ill-advised encounter with some magical Mermaid's Tears tears a hole in the fabric of Bikini Bottom's reality, turns Patrick into a balloon, and sends SpongeBob through an assortment of alternate-reality takes on Bikini Bottom to save alternate-reality versions of his oddball friends. It's simple and to the point, admittedly contrived, but a good fit for SpongeBob's irreverent sense of humour.
Each jump into a new portal takes SpongeBob to a zany new location rife with platforming puzzles, secrets, and places to explore. There's nothing here that won't come as a surprise to platformer vets, but the levels are creatively designed with a welcome degree of variety in both setting and level design. They rarely get too challenging–this is a kids' game, after all–but with some optional diversions and secrets that kick things up a notch. A steady stream of new abilities gives SpongeBob new ways to interact with the environment around him and deal with foes; it's not a metroidvania, but revisiting old levels can often be worthwhile.
And in true "tie-in platformer" fashion, everything's just a little bit clunky—probably not deliberately, and usually not to the point of undermining enjoyment, but still just a little rough around the edges. Jumps are floaty and a little imprecise, combat can feel unwieldy when there are lots of enemies on screen at once, and exploring too creatively is a good way to get stuck in places you're not meant to go. Again, none of this is a dealbreaker—it's not a game that demands precision platforming or tight combat, and getting stuck is easily solved by teleporting back to the nearest checkpoint.
There's even a dose of fun nostalgia in the clunkiness, if you're someone who grew up on these sorts of games. Coupled with the timeless charm and humour of SpongeBob, The Cosmic Shake can be a lot of fun—just don't go in expecting anything groundbreaking or especially polished.
Available now on Switch (reviewed), PlayStation 4, Xbox One, and PC. Review code provided to Shindig by the publisher.