Monster Hunter games have always been for a very particular audience. While the marketing behind the franchise's more contemporary releases would have you believe that accessibility has been a key focus for developer Capcom, the reality of the final products often couldn't be further from those claims. 
2021's Monster Hunter Rise followed a similar trajectory: originally a Switch exclusive, the game was praised at launch for its (relative) ease of access to the statistically dense world of "hittin' monsters with big weapons." Fast-forward a few weeks and that sentiment changed. While some argued that the game was easy to pick up—no doubt a feat of the Switch's ubiquity, within equal reach of a magazine or ham sandwich—it still required extracurricular work to make sense of its byzantine systems.
Not much has changed with the game's release on PC—but that's OK. Despite its rotating laundry list of extraneous upgrade trees and Proper Noun overload, the core of Monster Hunter Rise—that is, hunting monsters and killing them to wear their skin—still remains as pleasurable as ever, and the move to more capable hardware just underlines that fact, even if the underlying bones are a little creaky at times.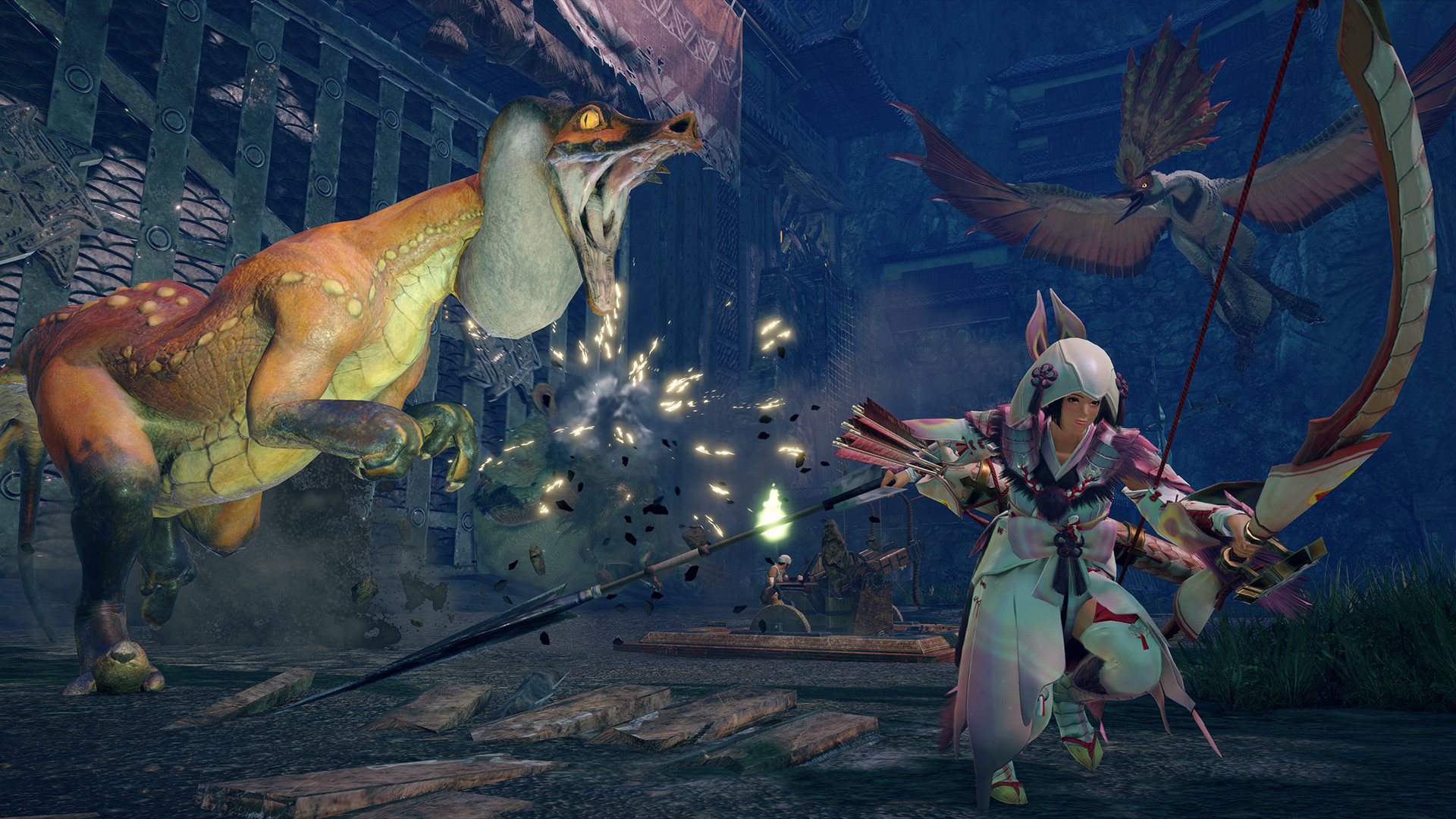 If you're unfamiliar, Monster Hunter is about setting off on expeditions to different biomes—lush forests, dusty plains, icy tundra—and completing contracts therein. Early runs will task you with harvesting flora or quelling packs of local critters, but the real meat is in the hunts: lengthy boss fights against large monsters, each with their own phases, unique abilities, and weaknesses to exploit. Adding to the depth is the wide arsenal of weapons at your disposal, from your standard sword-and-board to the more exotic insect glaive.
The core formula remains the same in Rise, but is elevated through new traversal and mobility options. Not content to just give you a feline friend to run around with this time, Capcom have also introduced Palamutes: big dogs that you can customise and ride around on at speeds previously unheard of in the franchise. More than that though, you can glide these dogs around corners like a Japanese drift car. Not much to add here—it's just cool as hell.
Adding to that are Wirebugs (the second Proper Noun so far—are you keeping track?). Building off the slingshots from 2018's Monster Hunter World, Wirebugs allow you to flit around the battlefield (called Wiredashing—number three), adding more verticality to your movement and letting you wall-run on any surface, bypassing the game's more traditional paths entirely. They also introduce a new class of attack for each weapon (Silkbinds—four). Oh, you can also cancel out of a mid-air stagger animation with them (Wirefalling—five, keep up). If you want to move around the area at an even greater clip, you can uncover Great Wirebugs (six!), which catapult you between select locations.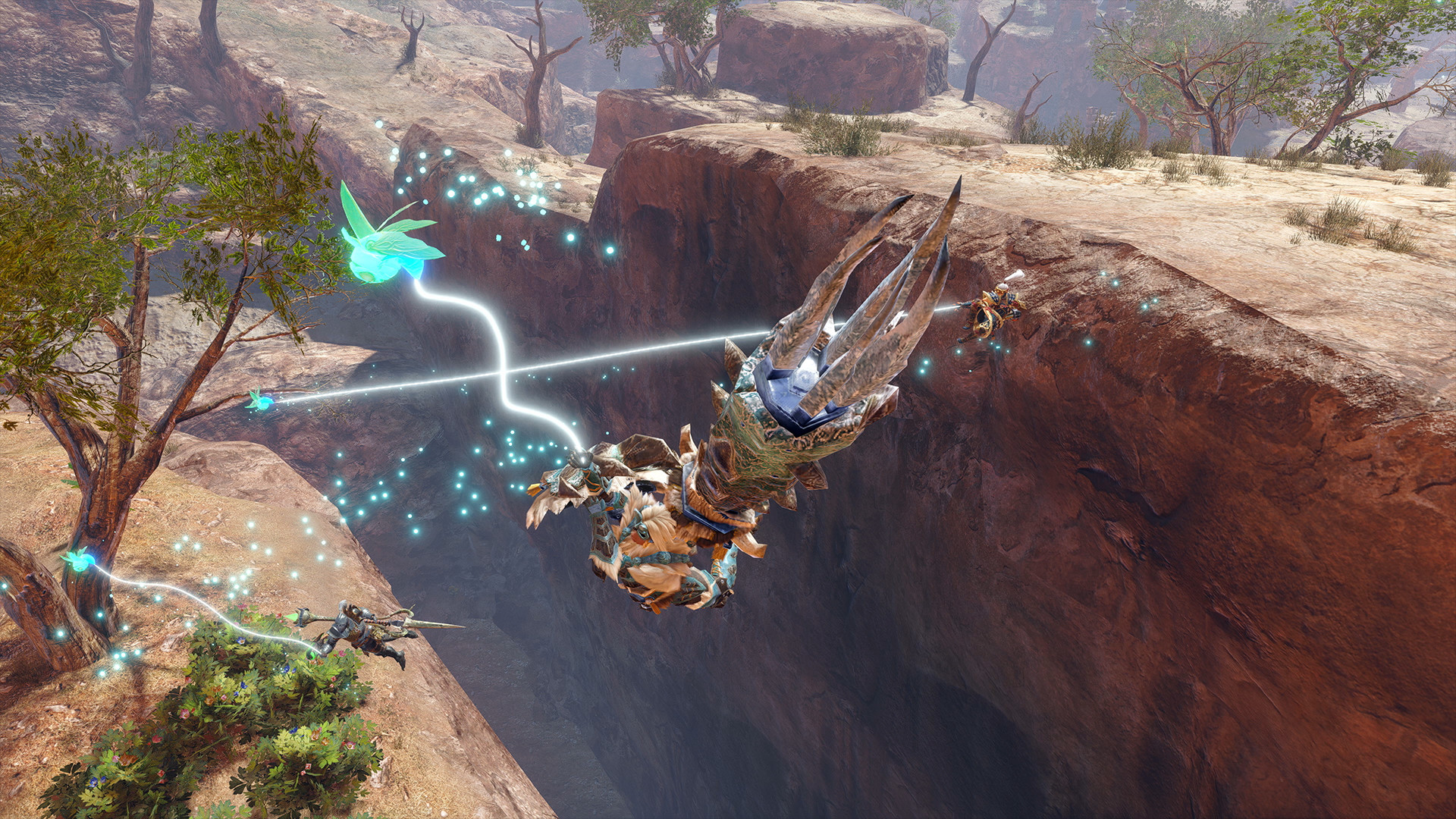 So just to summarise, we have:
Palamutes, which kick ass and let you get to monsters quicker, so you can use your…
Wirebugs, which let you…
Wiredash, Wirefall, and execute…
Silkbind attacks
Keeping up? Great. Because your Wirebug also lets you Wyvern Ride, which is just another Proper Noun way of saying that you can jump atop monsters and control them into fighting other nearby monsters, or crash them into the surrounding scenery. The monsters are such a huge focal point of Monster Hunter's identity, that being able to take charge of them in this manner is a lot of fun, even going so far as to teach you about their move sets and animation quirks in a very organic way. It feels like the type of system that should have been in the series a long time ago, and one of the few serial additions that I hope sticks around.
But Rise wouldn't be a Monster Hunter release without an addition that just has me scratching my head. Alongside your standard hunts are Rampage missions. Instead of focusing on the long-standing, satisfying loop of "hunt monster, kill monster, wear skin, repeat," Rampage missions are laboriously paced tower defence sequences. Forget your carefully constructed weapons and throw all your combos out the window; embrace clunky turret controls and fight back waves of monsters as they whittle down palisade walls. Unfortunately, the mode isn't entirely superfluous either. Completing waves rewards you with tickets you can use to infuse your weapons with Rampage Skills: a set of passive buffs that affect the offensive or defensive capabilities of your chosen weapon. Tying a fairly important upgrade path to a mode that is—at its best—a tedious chore is just a massive pain in the ass.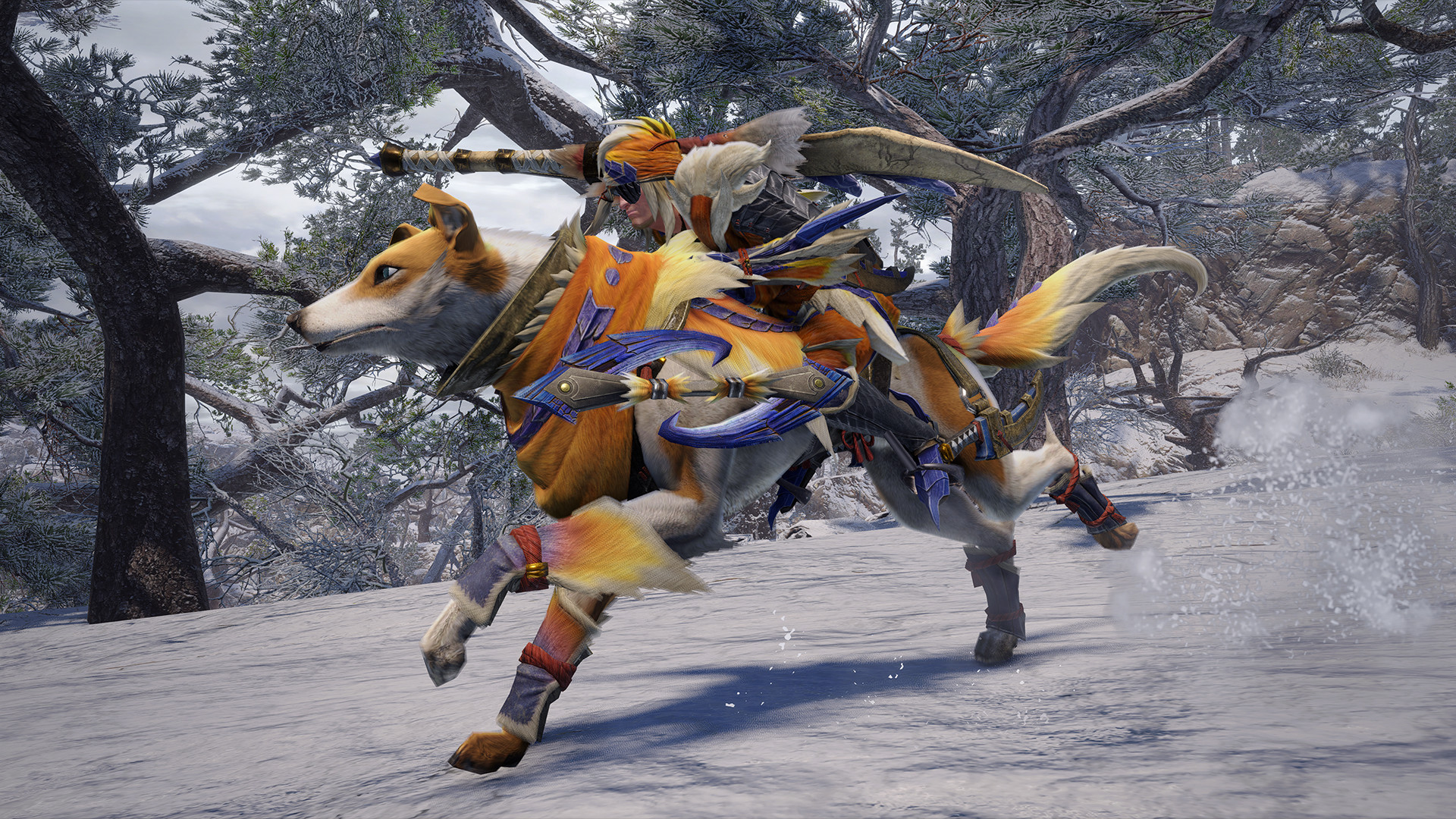 Now, is the way the game introduces you to any of these systems elegant or measured? Not really. The opening hour of Rise is an assault of nested textboxes that casually rattle off terms that no neophyte could ever hope to understand, explaining that "yes indeed, these systems do exist," but never elucidating why they exist. But broadly, these systems don't matter much to have a good time with the game. Like that one Nietzsche quote about there being more wisdom in your body than in your deepest philosophy, when I hit a Diablos square in the head with my big hammer, I feel it in my stomach—and it feels good.
By the way, that's nine new Proper Nouns. Ten, if you include the fact that equipping Rampage Skills is also called "Ramping Up" your weapon. But let's not split hairs, shall we?
Actually, let's: you can tell this is a Switch game running on a PC. There's nothing inherently wrong with that, but compared to Monster Hunter World, the environments are a little more barren and static than you would like—no doubt a performance concession that is foundational to the game's target release platform. Mix this with a series of baffling graphical extras—like a depth of field option that works inversely to how every DOF effect typically does, making the immediate details illegible against the background—and it's hard not to feel like parts of this port weren't given the attention they deserve.
Thankfully, those glaring omissions melt away under a stable, silky-smooth framerate. As previously mentioned, the monsters are the real stars here, and seeing them thrash and flail around without having the performance hitch and hiccough is enough for me.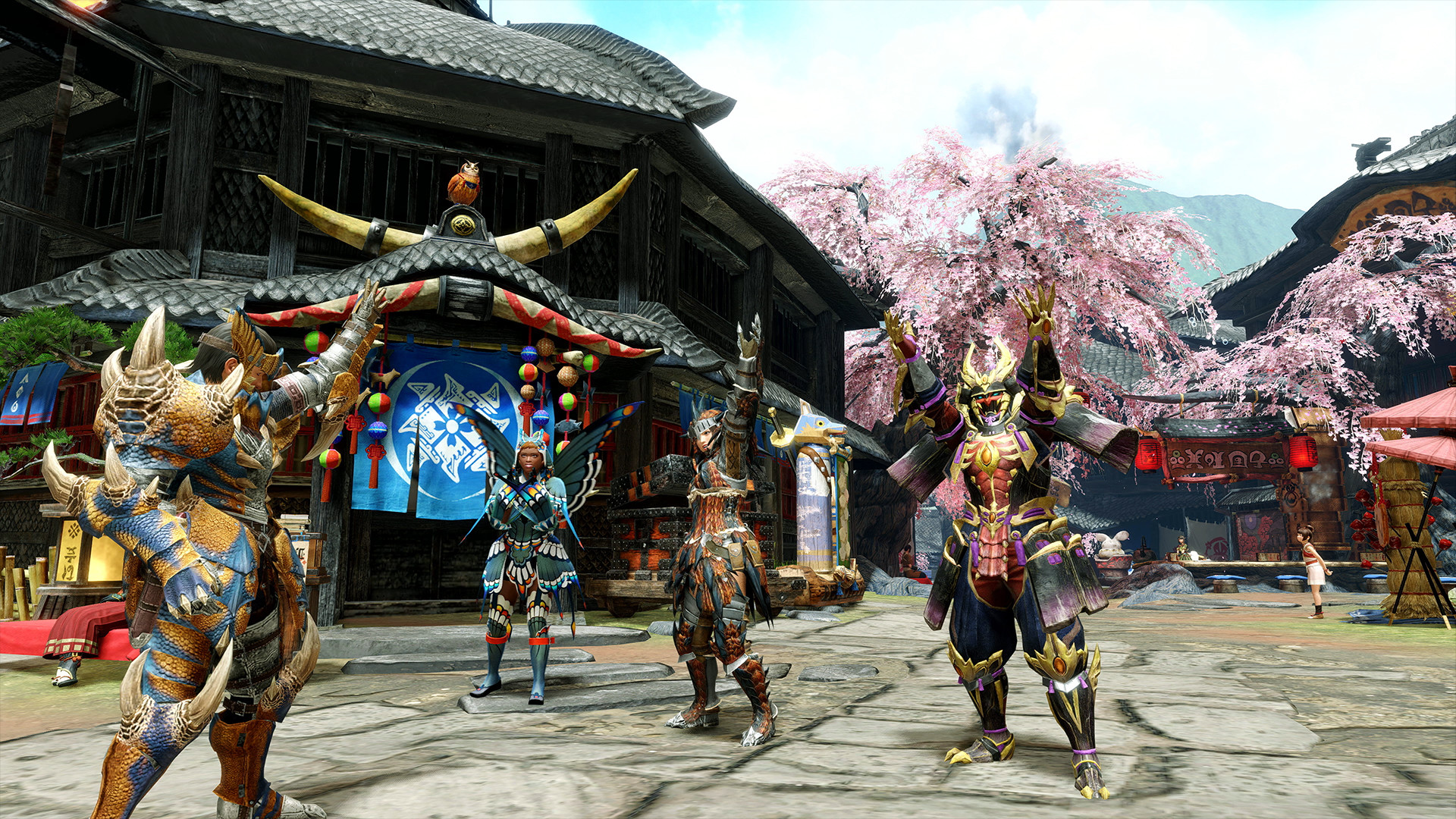 Monster Hunter is a series about systems—Capcom can't escape that, no matter how much marketing and PR they throw at it. But it isn't a series about getting it either, as much as its staunchest adherents would have you believe. It's about feeling it. And Monster Hunter Rise feels good—simple as that.
---
Monster Hunter Rise
Developer: Capcom
Publisher: Capcom
Genre: Action, RPG
Platforms: PC (reviewed), Nintendo Switch
Release date: 13 January 2022 (PC); 26 March 2021 (Switch)
A review copy was provided to Shindig by the publisher.