"What if you had LEGO cars in Forza Horizon?" was, I guess, most literally answered with the LEGO Speed Champions expansion for Forza Horizon 4. With that, you could jump into a LEGO car and drive around an open world adorned with LEGO foliage and buildings and whatnot, collect bricks to build your LEGO house, and so on. LEGO 2K Drive is the game that takes that notion and runs (drives?) with it, going all in on the "LEGO-ness" of it all without the constraints of being an expansion to a game designed around more lifelike cars and environments.
Dropped into Bricklandia, there's little fluff around quickly—and, in typical LEGO fashion, with a healthy dose of silly, self-aware humour—establishing your goal: travel the map, win events to earn the privilege of entering bigger, more exclusive events, defeat oddball rivals, and, ultimately, win the coveted Sky Trophy. LEGO 2K Drive doesn't waste time on an elaborate backstory or narrative framing because, really, you're here to play with a digital rendition of plastic bricks, and laugh at silly puns, and explore and race around a colourful toy-box playground.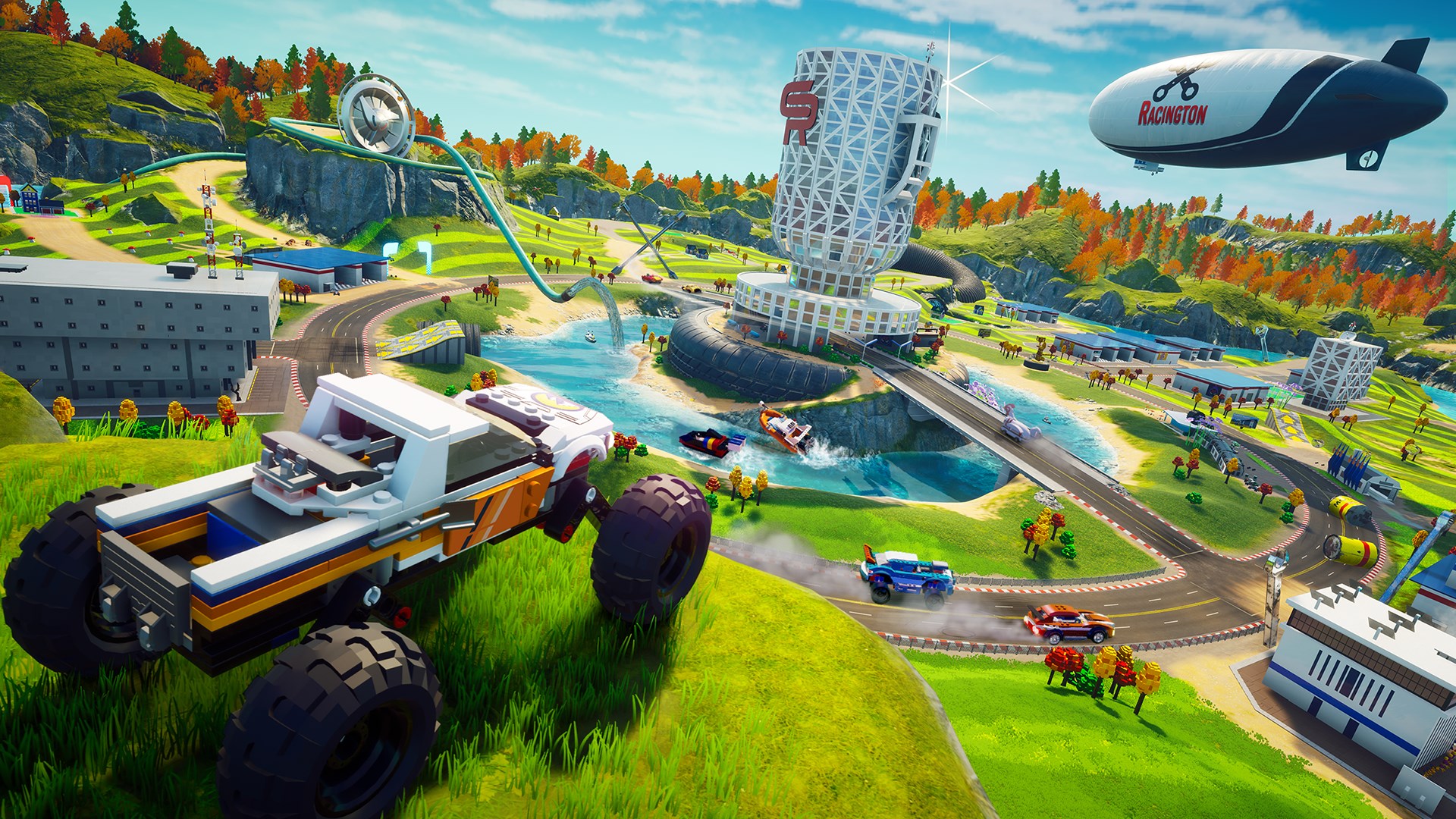 Funny and/or groanworthy as the jokes are (depending on one's ideological persuasion), it's in that last point that 2K Drive really shines. Bricklandia doesn't quite go all in on the "toy cars at toy car scale in a comparatively giant play room" in the way that, say, Hot Wheels Unleashed does, but the way its environments weave LEGO bricks with other household objects makes it hard not to feel like a kid again as you drive around. You'll find hose pipes acting as road edging, tunnels made from sheets of corrugated iron, pickaxe archways, and comparatively giant wildflowers and gold nuggets dotted about the environment, to mention just a few examples. It's great.
Get to the racing itself, and it's pretty stock-standard kart racing with the usual array of weapons, power-ups, hidden shortcuts, and the like. The most unique and interesting part is, again, the world itself, and what that means for course design: the LEGO playroom ethos lends itself to some neat obstacles and track features that build off the layout of the world itself. Automatically shifting between road, off-road, and water vehicles might not be an innovation, but the wide array of options for each means there's plenty of scope to experiment with different loadouts, with freeform customisation—more on that in a sec—opening those options further. While the open world is the main attraction, there are also competent single race and grand prix modes for a more traditional kart racer experience, with local and online multiplayer available.
Though actual races obviously get a lot of attention, Bricklandia sports a wide variety of different world events that help keep things interesting (and give you different ways of accruing experience points and unlockables). Alongside the more rudimentary racing-adjacent challenges—time trials, jump distance challenges, and the like—are quests that see you undertaking Crazy Taxi-esque passenger transport, mowing lawns, fighting aliens, herding farm animals, chasing runaway criminals… LEGO 2K Drive certainly isn't short of stuff to do. But that's also one of its bigger downfalls, in some ways: the quality of these events varies a lot, from genuinely exciting to clear filler, and the game does end up suffering the same "task list overload" diminishing returns that most open-world games do.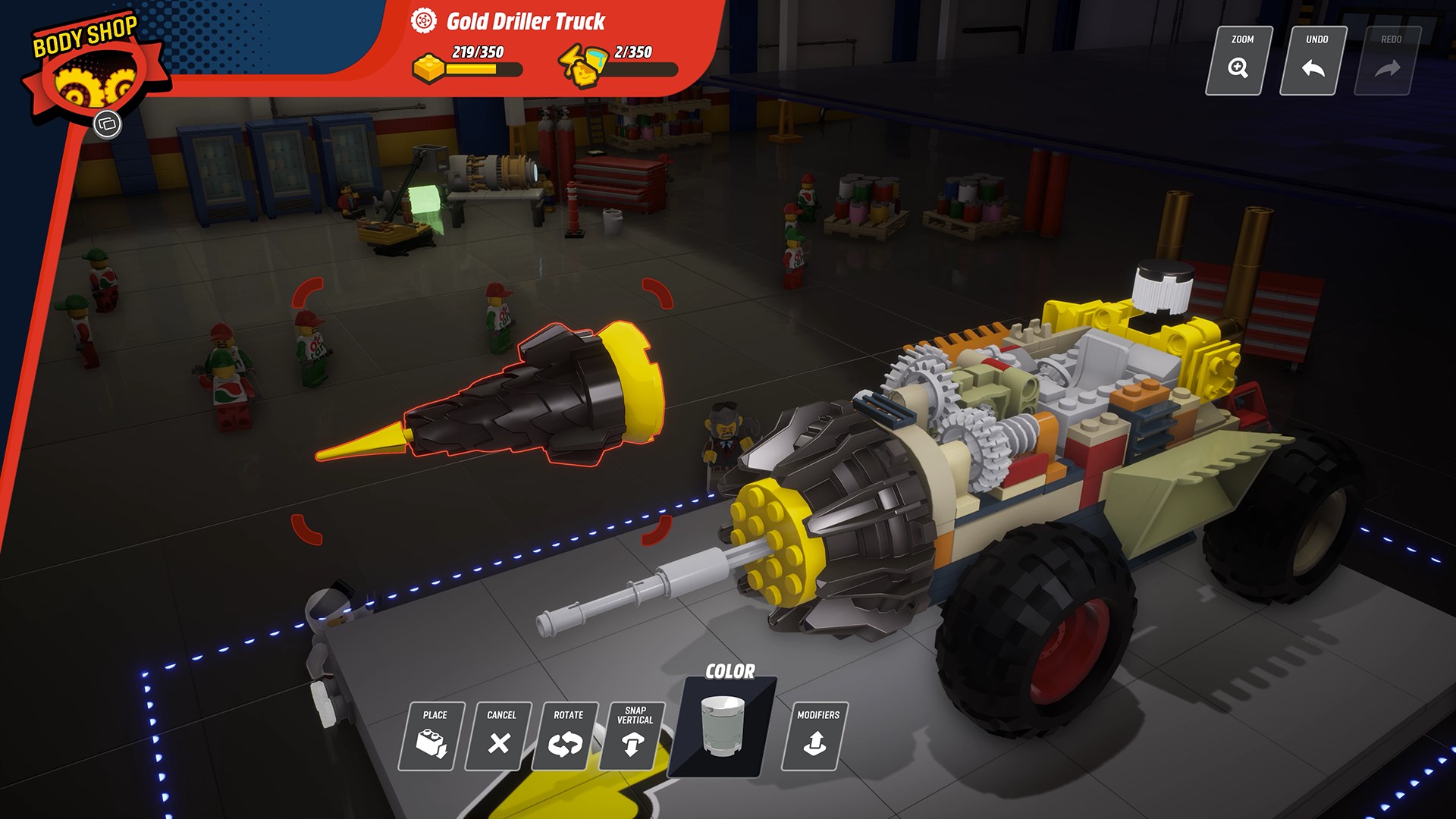 Step away from that big map, and you can find one of 2K Drive's most daunting—but rewarding—features: car customisation. Right out of the gate, you've got unlimited bricks to build just about any car or boat you could dream of, so long as it fits within a generous size restriction and the pieces connect to your chosen base. But physics are physics, so how you build will directly affect your new ride's performance, and finding the right balance of style, personality, and functionality can be a tricky task. Put the effort in, though, and you'll enjoy one of LEGO 2K Drive's most noteworthy—and most quintessentially LEGO-ish—features. If you want to jump in from an easier spot, you can also customise existing rides, and undertake fun little building challenges where you try to reproduce other vehicles with limited instructions.
2K Drive also taps into that other memorable aspect of LEGO: helping you spend your money. Unsurprisingly, there's an in-game store with a bunch of stuff that you can buy, either with real money or the currency that's drip-fed as you play. It's mostly cosmetic stuff; though there are vehicles for sale, too, they tend to not be overpowered compared to what you unlock through playing. The shop itself isn't too invasive while you're actually playing (it's in a separate menu from the main screen), and having the option to disable this entirely is welcome—especially in a game aimed at least partially at kids—although it does mean a chunk of the rewards earnt by playing become useless. Regardless, the mere presence of microtransactions takes a lot of the joy out of collecting stuff, and in a genre that would normally make collecting all the things a big part of the appeal.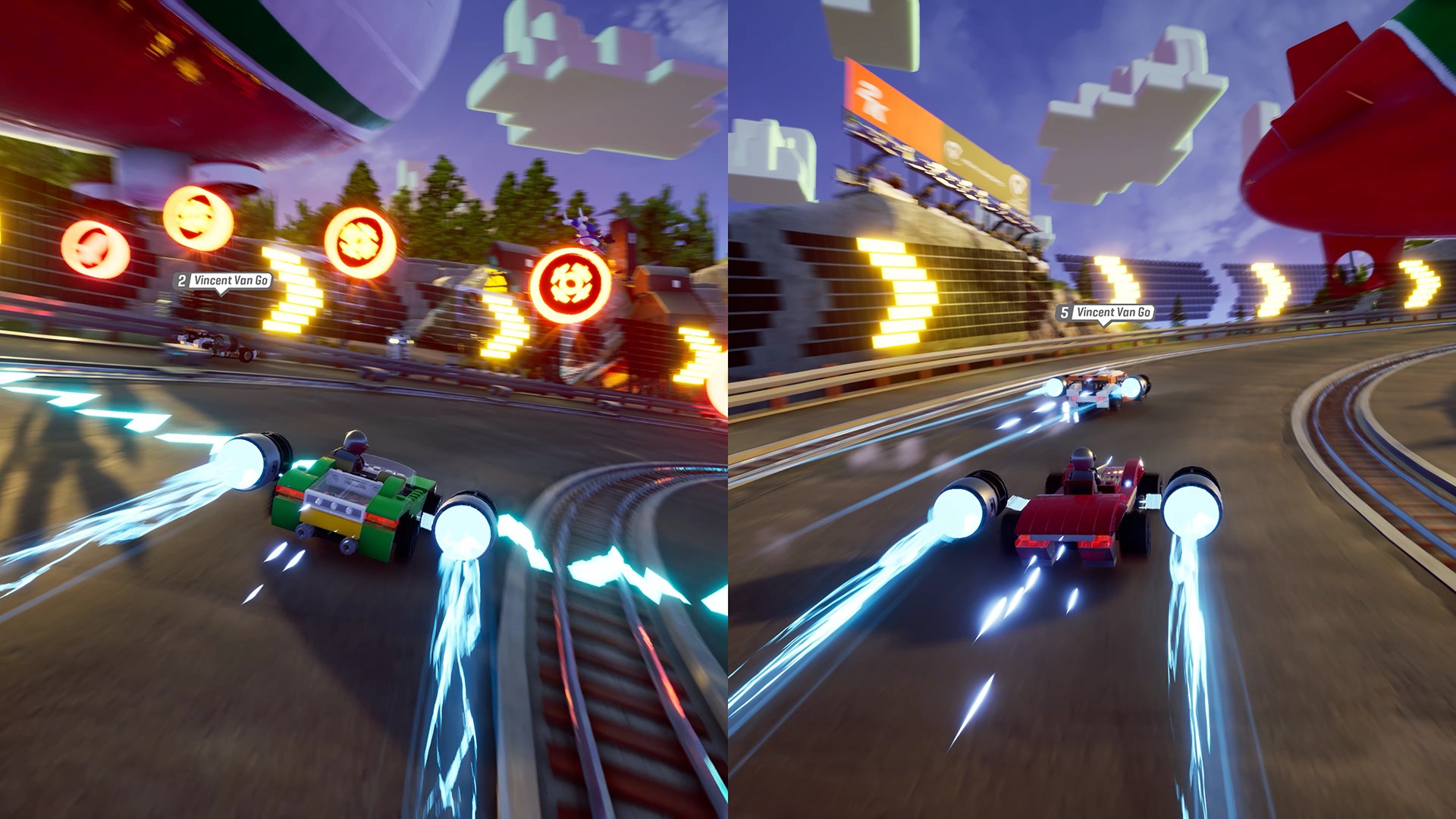 Bricklandia is a wonderful setting to explore, and it's clear that the level designers in particular have gone all out in dreaming up the most playful LEGO world they could imagine. Decent kart racing and an abundance of the goofy sense of humour that's become a defining aspect of LEGO media bring said world to life, and the car building tools introduce an unexpected amount of depth for dedicated builders. Monetisation and open-world fatigue hold 2K Drive back from greatness, but for kids of all ages with some time to kill, it's a lot of fun.
---
Reviewed on PlayStation 5 with a review code provided by the publisher.