At a glance, Moo Lander bears a striking—and intentional, I'd assume—resemblance to Ori and the Blind Forest. Beautiful hi-def 2D scenery with the use of natural colours, corrupted plant life that feels both organic and slightly alien, and level design built around flow and momentum create a similar atmosphere of serenity, wonder, and danger. Only this time, instead of a cute little Ghibli-esque creature, you take control of a … milk-powered UFO, on a quest to capture deadly space cows in order to replenish civilization's dangerously low milk supplies.
So, if you hadn't already guess, Moo Lander is a game that doesn't take itself even slightly seriously. Such a silly premise opens the door to no end of bovine-themed puns: sometimes funny, sometimes (knowingly) groan-inducing. Difficulty options include "Cheasy" and "Legendairy"; among the various milk-themed weapons to unlock is a (sigh) "Mooriken". The banter between an excitable but slightly dim ship captain with shades of Zapp Brannigan and a droll, sarcastic AI are a laugh, thanks in no small part to great delivery and comedic timing from the voice cast. The early moments of the game seen in a demo version (available now on PC and Xbox) are a whole lot of goofy fun, but the also show the potential for some more biting environmentalist-themed satire, and I can only hope the full game delivers on that.
Having a vehicle that can fly freely from the moment you start playing might seem an odd choice for a metroidvania—sorry, "mootroidvania"—given the role platforming and increasing degrees of mobility usually play in the genre. It gives Moo Lander an interesting angle on a crowded genre, though, with labyrinthine level design that emphasises narrow tunnels full of deadly obstacles to avoid and a twin-stick shooter style of action that drives both combat and interaction with the environment. Exploration and upgrade-based progression still play a key role, but in lieu of jumping puzzles, it's all about careful 360 degree navigation and the physics behaviour of a growing suite of tools—like a "milk shield" that reflects enemy projectiles, which can destroy otherwise impassable obstacles if you bounce them the right way.
Twin-stick shooter combat works well, too, with enemies that force plenty of mobility as you dodge their attacks and demand good use of your shield. Again, the physics element plays a role, with foes that try to ram you and then bounce around like billiard balls when they hit your shield, and some that like to lob explosives that can be a powerful counterattack if you can reflect them back accurately. From the demo, Moo Lander already feels smooth and responsive, with a lot of potential for the full game to take things in interesting directions.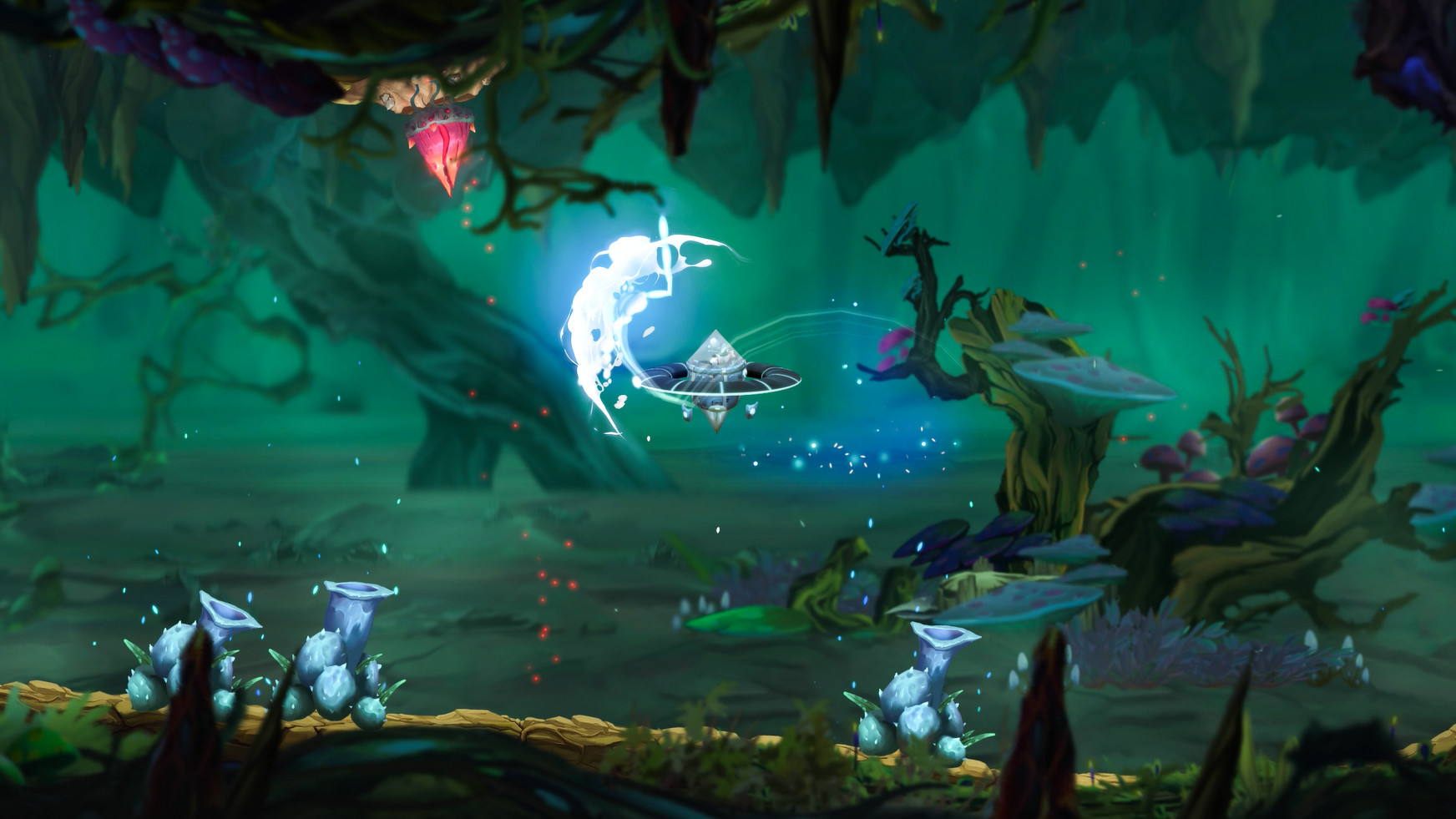 Through all this, the Ori influence is abundant, from the thorny, corrupted vines that form many of the environmental hazards to enemies that don't feel like "evil" creatures so much as natural life equipped with necessary tools for survival. Even the twin-stick action, different though it is to a regular platformer, evokes Ori in behaviour of enemies and the solutions to exploratory puzzles, even if the way you go about responding to them is quite different.
There's every chance that wearing its influence so clearly on its sleeve proves to be Moo Lander's downfall: Ori and the Blind Forest is a truly remarkable game that even its own sequel struggled to live up to, and Moo Lander will inevitably invite comparison. But what I've seen so far shows promise, both as a goofy parody of a game like Ori and one that has enough of its own identity to stand out. I'm curious to see where the milk bottles fall.
Moo Lander launches May 27 for PlayStation, Xbox, and PC, with a Nintendo Switch version planned for later this year. A demo version is available now on PC and Xbox.