Another week, another wave of announcements, teases, leaks, and other such things to look forward to! Here are some of the game news highlights from this week.
Ron Gilbert is working on a new Monkey Island
Thirty years after leaving LucasArts, Monkey Island co-creator Ron Gilbert is back for another Guybrush Threepwood adventure. Return to Monkey Island is a collaboration between Gilbert's studio Terrible Toybox, LucasFilm Games, and publisher Devolver Digital, with Gilbert and Dave Grossman (who also worked in The Secret of Monkey Island and Monkey Island 2) working together once again. This will be the sixth Monkey Island game overall, but the first with Gilbert's involvement since Monkey Island 2: LeChuck's Revenge (aside from some consultation work on Telltale's Tales of Monkey Island).
There's no word on platforms just yet, but it's due out this year, and the teaser trailer above is sure to get the nostalgia flowing.
Indie Apocalype #27 brings sugar daddies, cosmic hotels, and kites to fly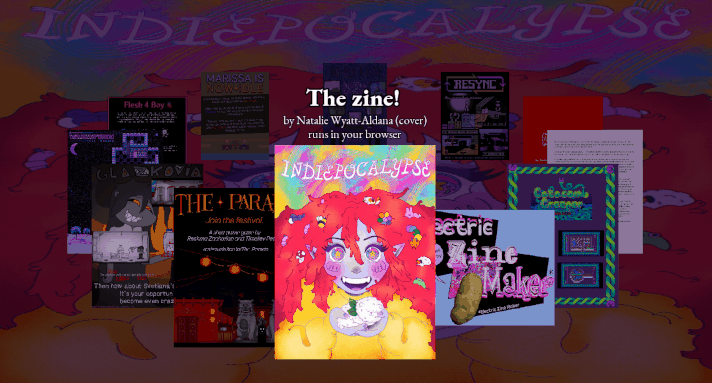 Each month, Indiepocalypse releases a curated bundle of indie games (and a companion zine, and some comics every now and then), with a particular focus on the kinds of experimental, unusual, and personal works that you won't find on Steam or an E3 stage (RIP). April is here, and with it comes a new issue and the usual eclectic mix of games.
This month, there's "an atmospheric moodpiece about exploring a cosmic hotel", a game about trading masks with spirits on the night of a festival, a narrative adventure about flying a kite, and a game where you, ah, "Meet your sugar daddy in a Chinese rice field themed casino and face your worst fears." If you're the sort of person who values interesting concepts over commercial appeal, Indiepocalypse is worth looking out for.
Square Enix trademark hints at a Tactics Ogre remaster
Headlines about big companies renewing trademark renewals are often a lot of hot air (trademark protection is normal, and rarely a hint at something in the work) but new trademarks are far more interesting—especially when the trademark in question is something like "Tactics Ogre: Reborn". The trademark, filed by Square Enix on March 31, was made public earlier this week, adding more fuel to rumours of a Tactics Ogre remaster of some sort.
Tactics Ogre: Let Us Cling Together originally came out for Super Famicom in 1995, directed by Yasumi Matsuno (of Final Fantasy Tactics and Vagrant Story fame). In a lot of ways, it laid the groundwork for Final Fantasy Tactics, though it's an excellent in its own right, too. It got a remake for PSP in 2010, but it's a very good, very noteworthy game that's about due another release on current platforms.
The Wagadu Chronicles is an intriguing-looking African fantasy MMO
It's not every day you see an MMORPG forgoing the common European fantasy or anime style in favour of something less common, but that's exactly what the folks behind The Wagadu Chronicles are aiming for: an "Afrofantasty MMORPG that invites players to immerse themselves in a unique fantasy setting", with its roots in the mythology, peoples, and geology of the African continent. It also aims to put the "role-play" back in RPG, rather than the combat-centric design of most modern MMOs, with a high degree of customisation in character design, skill set, and style of play.
The Wagadu Chronicles is in development at Twin Drums, a studio of African and European developers hoping to "expand gaming horizons to unexplored cultures". It's just entered a closed alpha testing phase, after a few years of development since its successful Kickstarter campaign in 2019.
Deckbuilding roguelite Super Bullet Break guns for "gacha without microtransactions"
If you like the character collection element of gacha games but not the microtransactions and other live-service stuff, you'll probably want to keep an eye out for Super Bullet Break. Developed by BeXide (the studio behind Doko Demo Issyo, from which PlayStation mascot Toro Inoue hails) and published by PQube, it's a strategy deckbuilding game with a roguelite element.
Each run sees you fighting your way through one of seven maps—each based on a different game genre, from dating sims to dungeon crawlers—and collecting the loot necessary to pull more characters and build an ever-stronger deck. It looks like it's got a wide variety of gorgeous character designs, too, which everyone knows is the most important thing in a gacha game.
Super Bullet Break is coming to Switch, PlayStation 4, and PC (via Steam) later this year.
In Other Waters developer's new game Citizen Sleeper launches next month
Citizen Sleeper, the new game from In Other Waters developers Jump Over The Age, is coming to Nintendo Switch, PC, Mac, and Xbox (including Game Pass) on May 5, with the help of indie publisher Fellow Traveller. It's a narrative-centric RPG following the journey of a digitised human consciousness on the run in a stolen artificial body, who winds up in a decrepit space station on the outskirts of an interstellar capitalist society. It draws inspiration from tabletop RPGs, with "bold decisions" and the luck of the dice determining the player's fate, and slick character artwork from comic artist Guillaume Singelin.