Not a week goes by without a slew of game reveals, release date announcements, new game footage, manga licensing acquisitions, and all sorts of other bits of exciting pop culture news. Rather than run myself ragged trying to cover everything, here's a quick highlights reel of the best news from the week that's just been.
A bunch of new Dragon Quest games are on the way
During a 35th anniversary event for Dragon Quest on Thursday, Square Enix announced a whole bunch of new games. There's a brand new mainline game in Dragon Quest XII, announced with a short teaser trailer—although it's being described as dark and mature, "Dragon Quest for adults", which seems to miss the point of what makes Dragon Quest so appealling in the first place (and ignore that Dragon Quest always has been "for adults").
But there's also Dragon Quest III HD-2D Remake, a full remake of Dragon Quest III in the art style of Octopath Traveller. That's a beautiful look, and a perfect fit for one of the best Dragon Quest games. Dragon Quest Treasures is a spinoff of Dragon Quest XI that sees Mia and Erik set out on a "treasure hunting adventure", and Dragon Quest Keshi Keshi (final English name TBC) is a mobile puzzle. In Japan, Square Enix also announced Dragon Quest X Offline, an offline, non-MMO version of Dragon Quest X Online, though there's been no announcement of a global release for this, sadly.
Wave Break has a release date, and it's very soon
Wave Break is a game I've been looking forward to for a while: part jet-ski racing, part Tony Hawk's Pro Skater-esque action sports game, and part shooter, set in an '80s Miami Vice-themed world full of cute, anthropomorphic animals. There's a lot going on in that summary, but it's a bunch of influences that should work well together—or at least, create something interesting and unusual.
The good news is it's almost here! Wave Break launches on June 11 for PC and Nintendo Switch, which is certainly sooner than I was expecting—not that I'm complaining.
The Garden Path is a charming-looking life sim due out later this year
There's a new cozy life sim on the way, and it looks delightful. The Garden Path is a "cozy, pensive taste of the simple life" that sees you bringing life back to a long forgotten garden, drinking tea, fishing, and hanging out with vegetable-headed friends. With a picture book aesthetic and a world that progresses in accelerated real-time while you're not playing, it's a game that's designed to be a low-pressure, tranquil experience that you can enjoy at your own pace and enjoy having new things to look forward to each time you play.
It's looking great, and to make things even more impressive, it's the work of a solo developer—including the art, soundtrack, and everything else. The Garden Path is due out later this year, on PC and other platforms to be announced.
The next Indie Live Expo is set for June 5
Indie Live Expo is always a great dose of news and trailers for upcoming indie games, and the next one's been scheduled for June 5 at 2am PDT (that's 9pm NZST, 7pm AEST, 6pm JST). It's promising more than 300 games included in the show, from a wide range of studios and publishers including 505 Games, Inti Creates, and Playism, as well as presentations from sponsors of the event and the reveal of a new project from Touhou Luna Nights creators WHY SO SERIOUS?.
The five-hour long (!) event will be livestreamed in English, Japanese, and Chinese. The English stream will be hosted by Japanese idol Kaori 'Kaotan' Horiuchi, comedian Atsugiri Jason, and bilingual content creator J-Mon.
The cast of Netflix's Sandman adaptation is looking great
It's always a bit worrisome when a big budget adaptation of something you hold dear to your heart gets announced, but the latest cast announcement for Netflix's The Sandman keeps it firmly in the "cautiously optimistic" range. (And in a world were The CW's Powerpuff is somehow a thing, I'll take every "cautiously optimistic" I can get.)
Among others, we've got Mason Alexander Park as Delirium (a non-binary actor playing a non-binary character!), Jenna Coleman as Johanna Constantine, Patton Oswalt as the voice of Matthew the Raven, Kyo Ra as Rose Walker, Sanda James Young as Unity Kincaid, and Stephen Fry as Gilbert. I'm most excited about Kirby Howell-Baptiste as Death—this seems like perfect casting, and that's not something I say lightly when it comes to one of my favourite characters of all time, across any medium.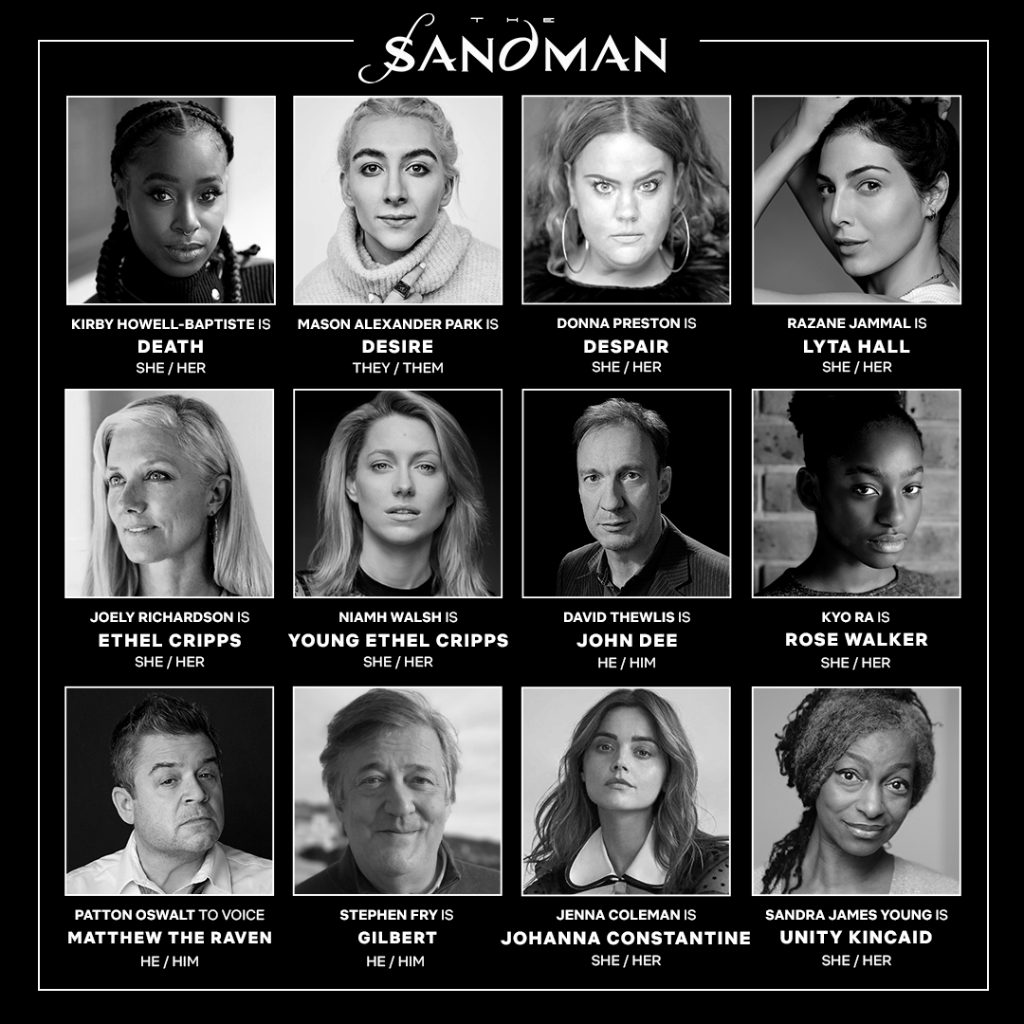 Mini Motorways is coming to Steam and Switch
Mini Motorways, the newest game from the Wellington-based creators of Mini Metro, is finally coming to new platforms after a year of being an Apple Arcade exclusive. It comes first to Steam for PC and Mac on July 20, with a Switch release to follow early next year.
Mini Motorways continues the relaxed, minimalist simulation strategy of Mini Metro, but this time with a focus on road planning: traffic light management, roundabouts, building density to work around, motorways, and all that good stuff. The Steam release will see the addition of two new maps and various other new features (which will also be rolled out to the Apple Arcade version at the same time—don't worry, early adopters!).
Kodansha has some exciting new manga releases for June
Earlier in the week, Kodansha unveiled its digital manga debuts for June, with some interesting-looking picks among them.
Dragon Star Varnir is coming to Switch
Idea Factory continues its moves to expand its presence on Switch with a re-release of Dragon Star Varnir, Compile Heart's dragon-themed JRPG that originally came out for PlayStation 4 in 2018 and PC in 2019. The Switch version will include additional weapons and armour and increased level caps that were previously only available as DLC.
Drawing on a Brothers Grimm'-style fairy tale aesthetic, Dragon Star Varnir tells the tale of a war between knights and dragons, and the witches caught in the middle. In true Compile Heart fashion, it's got a complex and fascinating battle system, and a story that leans into its B-grade attitude while also delving deep into some thought-provoking ideas. More JRPGs on Switch is always a good thing.
There's some new footage from Horizon Forbidden West
And finally, Sony held a State of Play broadcast on Friday morning to show off new gameplay footage from Horizon Forbidden West, the upcoming PlayStation 5-exclusive sequel to Horizon Zero Dawn. The 14-odd minute demo offered a good look at the more tropical setting in which at least part of Forbidden West takes place, along with some new enemies and features. There are new navigational tools this time around in a grappling hook and a glider, and underwater exploration. I personally wasn't the biggest fan of Zero Dawn, but Forbidden West looks like it could be a whole lot of fun.