Today, Nintendo announced Game Builder Garage, a no-coding-required game development tool that's making its way to Nintendo Switch on June 11.
Game Builder Garage lets you program your own games by connecting colourful creatures called Nodon, each of which represents some different object, function, or programming logic. In one example you'll see in the trailer, there's a "Stick" Nodon associated with analog stick inputs; by drawing a line from the "Left/Right" arm of this creature to the "Left/Right" arm of another one that acts as the control module for the player's character, you create a simple control mechanism. Tie a "Button" Nodon to the player controller's Jump action, and you've got the basics of a simple platformer game.
By wiring up functions in this way, Garage Builder Garage will "let your imagination—and curiosity—run wild". Just from this trailer, you can see shoot-'em-ups, fighting games, a baseball game, a match-three puzzle game, poker, a dungeon crawler, whack-a-mole, a racing game, and something with the particularly intriguing title of "Tuna Cube Factory 2".
Game Builder Garage includes both a Lesson Mode and Free Programming mode. The lessons are "designed to be fun, engaging and perfect for people of all experience levels, with checkpoints in between for players to test their knowledge by solving small puzzles or tasks," while Free Programming mode is exactly as you'd expect: the place where you can get creative.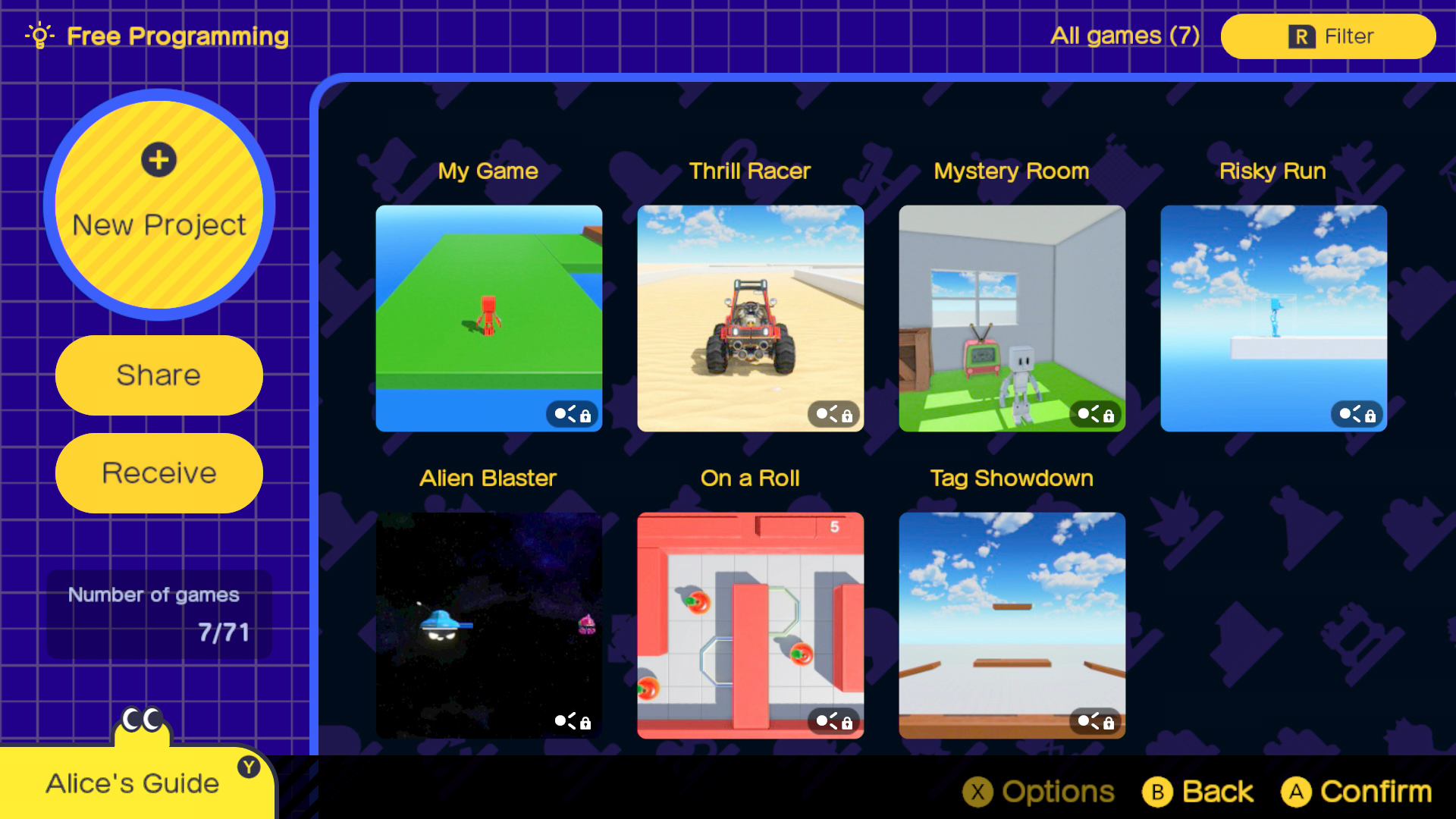 You can also share your creations, both with friends over a local connection or with the world via the internet, and play what others have shared, and even peek behind the curtains of other people's games in Free Progamming mode to see how they're built.
With a focus on visual programming and easy entry into game development, Game Builder Garage is reminiscent of RPG Maker, Roblox, Media Molecule's Dreams. But while those comparisons are certainly apt, it's easy to forget that Nintendo's been in this space before with the likes of Super Mario Maker and the creation tools in Nintendo Labo.
Game Builder Garage launches June 11 for Nintendo Switch.