Alfa Team's classic shoot-'em-up Castle of Shikigami 2 is making its way to Nintendo Switch and Steam this December, with two new game modes and a new English translation, thanks to Degica Games.
Originally released for arcade in 2003, Castle of Shikigami 2 is a dark fantasy shmup set in the skies above Tokyo, following the appearance of a "twisted castle" home to a number of god-hunting armaments (and plenty of monsters to shoot, of course). With seven different characters, each packing unique magical abilities, it boasts a bigger and more varied roster than most. Each character has their own story, and an ambitious twist on two-player mode sees different events unfolding for each different pair of players.
As such, it's a much more story-heavy game than many shmups, and the Steam and Switch releases will come with a new English translation. So far, the only official English release has been the PS2 version, and that translation—while unintentionally hilarious—leaves much to be desired, so it'll be nice to have a version with a more polished and tonally-consistent script.
The new release also comes with two new game modes, Entry Mode and Dramatic Change Mode. The former might sound like some sort of novice mode, but its description makes it sound more like an arrange mode, with "Revamped enemy placement in all stages, lots of changes that will surprise even the most experienced!" Dramatic Change Mode, meanwhile, is a way of letting a solo player experience the two-player stories by switching characters.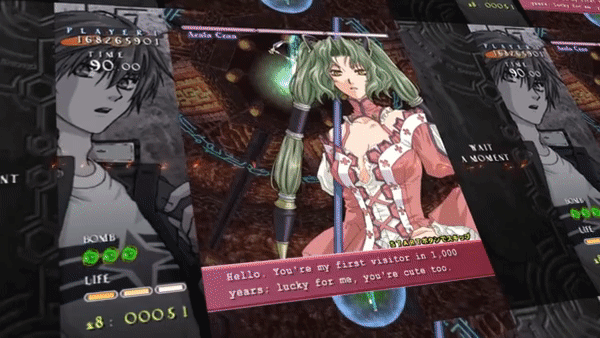 Key features, as per the Steam listing:
• Enjoy the storyline with the different personalities of each of the seven main characters!

• Fight using three types of attack methods: normal attack, shikigami attack, and special attack

• 5 stages in 3 parts (each stage x 3 parts + a boss in each part)

• Aim for a high score with the TBS (Tension Bonus System), which allows players to earn high scores by getting close to enemies or enemy bullets.

• Two player simultaneous play (local only)

• Plenty of Steam achievements and trading cards available
Castle of Shikigami 2 launches in December 2021 for Nintendo Switch and Steam. There'll also be a demo available during Steam Next Festival (October 1-7), with three characters and two stages.